Tomato bruschetta  is a fresh warm bread topped with a zesty ricotta and mascarpone spread, then topped with heirloom, cherry tomatoes and basil.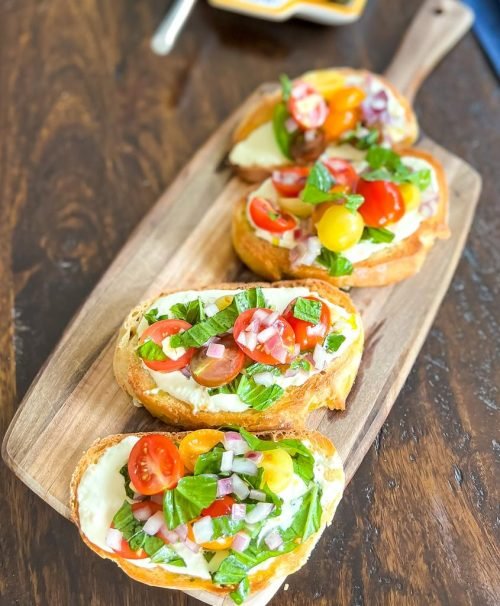 Bruschetta is a traditional Italian dish usually served as an appetizer. This version of bruschetta makes things a little more interesting. The creaminess of the mascarpone cheese and ricotta mixed with the freshness of the tomato and basil makes this appetizer mouth watering good.
Serve this dish any time of year. It can be eaten as a light snack or served during a gathering or social event.
Use gf or regular bread if desired. If you have a sensitivity to dairy you can opt for a dairy free alternative.
Enjoy!
If you like this recipe, please leave a comment or share it with someone you know.
For more recipes like these try some of our other recipes:
To follow Nikki regularly and stay up to date on what she's doing, follow her on the gram!
Ingredient Lists
Heirloom cherry tomatoes
Onion
French baguette
Mascarpone cheese
Ricotta
Lemon
Basil
Garlic powder
Olive oil
Salt and pepper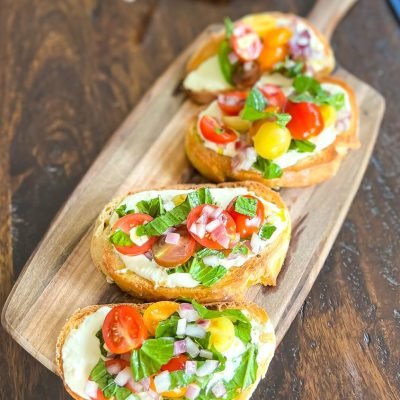 Toast Bruschetta with Creamy Ricotta and Mascarpone Spread
Ingredients
1

container

of heirloom cherry tomatoes, halved

1/2

an onion, diced 

1

loaf of French baguette, sliced ( gluten free optional )

1/4

cup

mascarpone cheese

1/4

cup

of ricotta 

1/2

zest

of lemon

1/4

cup

of basil, chopped

garlic powder

olive oil for drizzling

salt and pepper to taste
Instructions
Turn on the broiler in your oven. Place bread slices on a baking sheet, drizzle with olive oil and sprinkle with garlic powder. Cook until golden brown in the oven.

In a small bowl, add the ricotta cheese, mascarpone cheese, lemon zest, 3 tbsp of olive oil, a pinch of salt and pepper, mix together and taste. Add additional salt if needed for taste.

In a second bowl, add the tomatoes, onion, and basil, mixed together and season with salt and pepper and a pinch of garlic powder, then drizzle with a touch of olive oil.

Taste and add additional seasoning if needed. To plate, place bread slices on a serving plate. Spread the mascarpone cheese and ricotta mixture over the top. Finish with the tomato mixture and garnish with extra basil as needed. Serve and have fun!