Nikki's Chicken Marsala with Quick Mushroom Risotto is an organic, free-range chicken, garlic, and spices in a creamy Marsala wine sauce.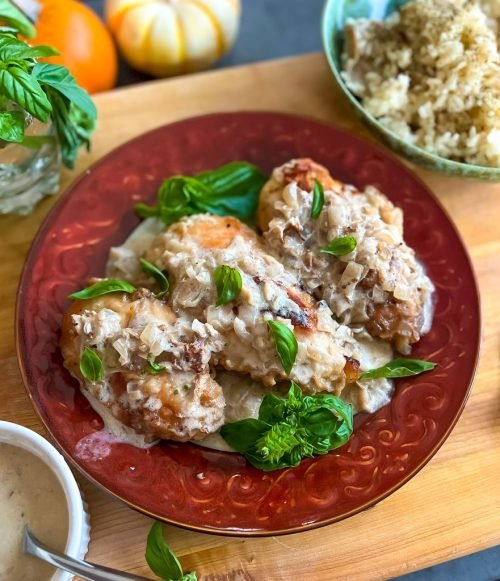 Fall calls for all of the comfort classics like this gorgeous dish. Chicken Marsala is an Italian classic and full of so much flavor.
This is a quick version of the traditional recipe. Made in less than 30 minutes, Chicken Marsala is easy to make during the week.
Make the nikki's chicken marsala with a quick mushroom risotto, pasta, or whipped potatoes.
You can serve the sauce on the side or over top of these gorgeous chicken breasts.
This meal is made with some of my favorite "clean" ingredients, like:
-brown rice flour
-organic chicken stock
-organic heavy cream
-butcher box free range chicken breasts
I hope you enjoy this delicious recipe!
If you like this recipe, please leave a comment or share it with someone you know.
For more recipes like these try some of our other recipes:
To follow Nikki regularly and stay up to date on what she's doing, follow her on the gram!
Ingredient Lists
Arborio rice
Chicken stock or vegetable stock
Dried portini mushrooms
Italian seasoning blend
Boneless skinless chicken breast
Brown rice flour or regular flour
Seasoning salt
Marsala wine or sherry wine
Heavy cream
Yellow onion
Garlic
Olive oil
Avocado oil
Salt and pepper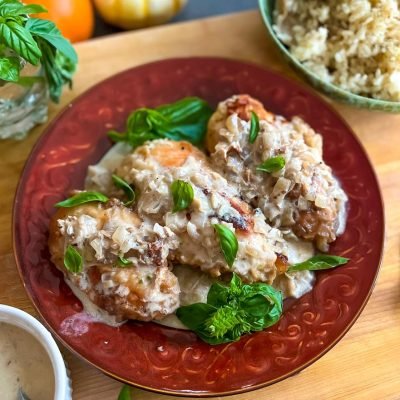 Nikki's Chicken Marsala with Quick Mushroom Risotto
Ingredients
2

cups

of Arborio rice

4

cups

of chicken stock or vegetable stock if desired

1

package

of dried portini mushrooms

1

tbsp

of Italian seasoning blend

4

boneless skinless chicken breast

1

cup

of brown rice flour (or regular flour if desired)

2

tbsps

of seasoning salt

1/4

cup

of marsala wine or sherry wine

1/4

cup

of heavy cream

1

yellow onion, chopped

2

cloves

garlic, minced

olive oil for drizzling

avocado oil for drizzling

salt and pepper to taste
Instructions
Place a medium pot over high heat. Add arborio rice and chicken stock. Bring it to a boil, then add the mushrooms and Italian seasoning mix. Add a pinch of salt to taste and a couple dashes of olive oil. Then cover.

Reduce the heat to medium-low and leave the rice to simmer for 15-20 minutes. While the rice is cooking, prepare your chicken. Place a large pan over medium-high heat.

Drizzle the bottom with avocado oil. Place your chicken breasts, one at a time, between parchment paper and lightly beat with a mallet to tenderize and thin them out.

In a large bowl, place the brown rice flour and seasoning salt and mix them together using a fork. When the pan is hot, dredge the chicken breast in the brown rice mixture and place it in the pan. Repeat until all the chicken breasts are coated in the pan.

Brown the chicken breasts on each side for about five minutes until a golden brown crust is formed. Remove the chicken from the pan and place it on a clean plate. 

Using the same pan, reduce the heat to medium. Add a touch of avocado oil to the pan and add the garlic and onions. Saute for 2–5 minutes until the garlic and onions are soft and fragrant.

Pour the marsala or sherry wine in. Reduce the mixture by half and add chicken stock to the pan. Bring the mixture to a boil. Add salt and pepper to taste and place the chicken back in the pan. Cover it and let it simmer for 15 minutes.

When the chicken is done cooking, remove the chicken from the pan and place it on a serving platter. Pour heavy cream into the sauce, stir to combine, taste and add extra salt and pepper as needed to serve. 

Place portini rice in a bowl and spoon sauce over plated chicken. Serve immediately. Enjoy!