Gluten-free Blueberry Pancakes is a fresh blueberry pancake with delicious maple butter.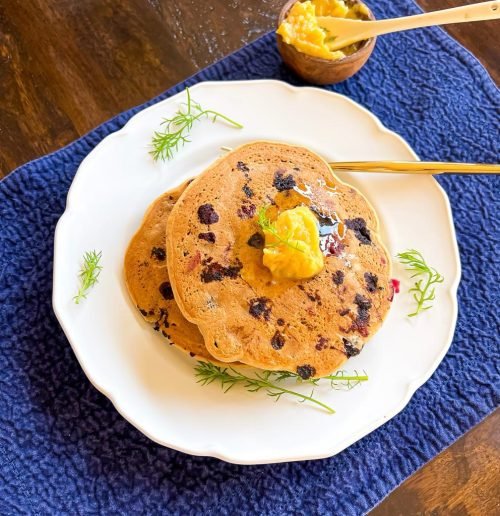 The weekends are the best time to enjoy a family breakfast. One recipe that tends to be a family favorite is blueberry pancakes.
This recipe is a little different and jazzs things up with the addition of maple butter. Instead of adding maple syrup and butter to your pancakes, you can combine the two to make maple butter. What I like about the butter is that the syrup doesn't overpower the pancakes and the butter adds some creaminess to the pancakes.
I promise your family will go crazy for these pancakes. This recipe is gluten-free. If you're not gluten-free, feel free to use regular flour.
I hope you enjoy this recipe! Don't forget to leave comments or requests below.
If you like this recipe, please leave a comment or share it with someone you know.
For more recipes like these try some of our other recipes:
To follow Nikki regularly and stay up to date on what she's doing, follow her on the gram!
Ingredient Lists
Cassava flour
Brown rice flour
Coconut sugar
Baking powder
Salt
Eggs
Milk
Vanilla
Fresh blueberries
Butter
Maple syrup
 Avocado oil Spray
Gluten-free Blueberry Pancakes with Maple Butter
Ingredients
1

cup

of cassava flour

1

cup

of brown rice flour 

3/4

cup

of coconut sugar 

1

tbsp

of baking powder 

1

tsp

salt

2

eggs

1-1/2

cup

of milk

1

tbsp

of vanilla

1

cup

of fresh blueberries

1

stick

of butter, softened

2

tbsp

maple syrup

avocado oil for spray
Instructions
Place a large pan over medium-high heat. Spray the bottom with avocado oil and let the pan heat up.

While the pan is heating, place your dry ingredients—both flours, salt, and baking powder in a bowl and mix well to combine.

Next, mix the softened butter and maple syrup, then add your eggs, milk, sugar, and vanilla. Mix well, using a whisk to combine the ingredients. The texture should be thick, but not too thick, and have a slight thinning (see video for an example).

You can leave the mixture like in the video, and if the consistency of the mixture is too thick, add more milk. If it's too thin, add a touch of flour. Add your blueberries and stir to combine when the desired consistency is achieved.

When the pan is hot, turn the temperature to medium heat, do a pancake test using a 1/4-cup measuring cup, and spoon some mixture into the pan. 

Cook on one side until you see little air bubbles forming around the pancake. That's how you know the pancake is almost done and ready to be flipped. Flip the pancake to the other side and check to see if the pancake is golden brown. You want a golden brown pancake on each side.

Once the desired appearance is achieved, continue spooning in your batter until all of them have been used and you have stacked fresh blueberry pancakes. Serve with fresh maple butter.