What a beautiful summer recipe this is! Makes me feel like I am in the Wine country, or somewhere in Europe, sipping wine and eating this delicious salad. The fresh peaches cooked in a honey dressing and the creaminess of the goat cheese, just melt in your mouth and excite your taste buds. I love this recipe when its a work night and I don't feel like making a big effort in the kitchen. It's a very easy dish and completely satisfying. You can make this salad for guest when you're entertains, it makes a great appetizer as well.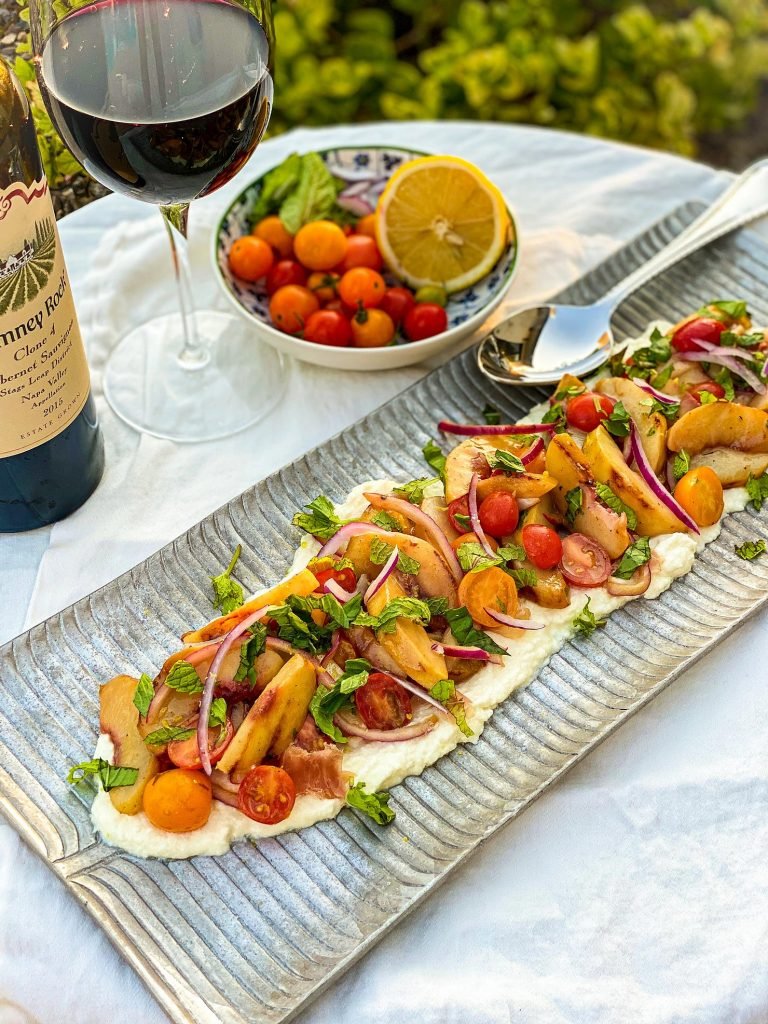 Ingredients
Serves: 4-5 people
Prep/Cook time: 30 minutes
3-4 peaches peeled and cut in half
1/4 cup cherry tomatoes cut in half
1/4 red onion sliced
2 tbsp honey
2 tbsp olive oil
1 tbsp Dijon mustard
2 tbsp lemon juice
salt/pepper for taste
4 oz mascarpone cheese
4 oz feta cheese
prosciutto (optional)
1 tbsp of chopped mint
1 tbsp of chopped basil
Directions:
Turn your grill on medium heat. Peel your peaches and place in a bowl. Drizzle with 1 tbsp of honey and mix well. Place on the grill for about 5 minutes each side. Watch the peaches to make sure they don't get too charred. Turn down the heat if needed. When done place in a bowl and set aside.
Next, place your mascarpone cheese and feta in a food processor. Add 1 tbsp of honey and puree. Mixture should be nice and creamy. Set aside until ready to use.
For the dressing place olive oil, lemon juice, dijon mustard, salt and pepper in a bowl and mix well. Get your peaches and slice them, place them back in the bowl and spoon your dressing a little at a time onto your peaches. You want them to be dressed but not drenched in the dressing. Add your sliced onions and cherry tomatoes. Mix well.
Get your mascarpone mixture and spread on a plate. Use the back of your spoon to smooth it out. If using prosciutto, tear into pieces and place on the mascarpone spread. Place your peach mixture on top and then sprinkle with mint and basil for garnish.