It always seems like a challenge to make a good, juicy, perfect steak. Let me assure you that the challenge is over. I have always feared cooking steak, it seemed like an impossible task, but this recipe will conquer any doubt you've ever had in your mind about cooking a nice steak.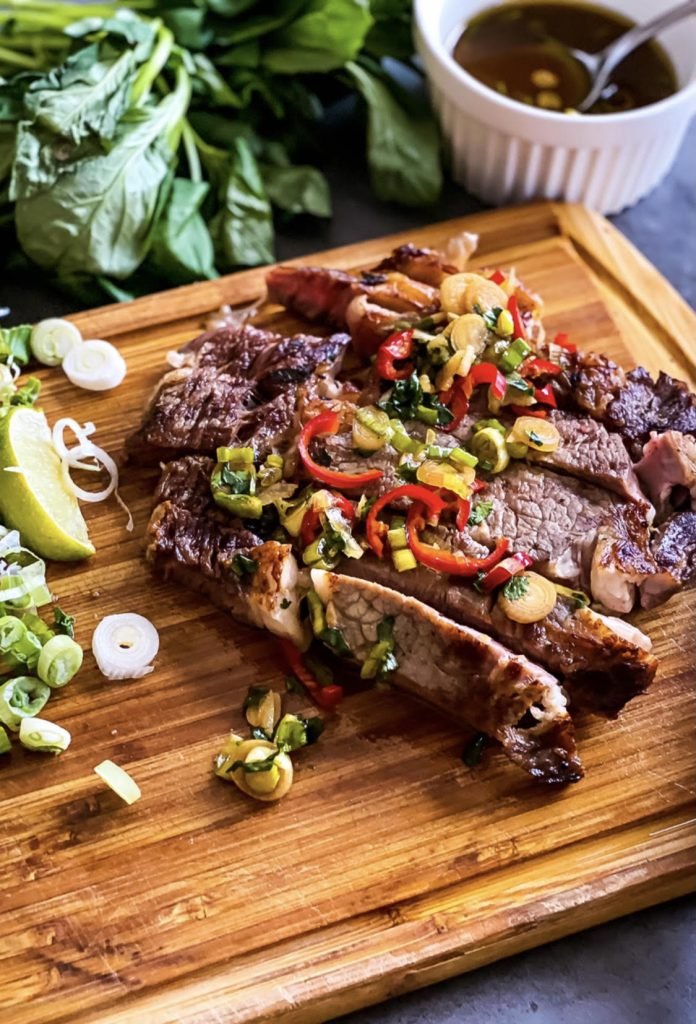 the Marinade
This is a marinated steak, so allow time for the steak to sit in the marinade. The fresh marinade is so simple as well. To start I added 1 cup of olive oil, 1 tbsp. lime juice, 1/4 cup chopped green onions, 2 cloves of minced garlic, 1 whole red chili that I seeded and cut into slices. Along with 1 tsp. of agave syrup (if you don't have agave, honey can be used as a substitute), and then finally combining 1/4 cup of chopped cilantro. Mix these ingredients effectively and set aside 1/4 cup of the sauce for later.  Place the steaks to marinate in this combination and refrigerate for up to 24 hours for maximum flavor.
Time to cook!!
After your preferred marinating time has passed, place the steaks on a plate. I found that cooking them at room temperature made them that much more delicious and tender. Once steaks are around room temperature, heat a cast iron skillet to a medium/high eat and with a drizzle of avocado oil into the hot skillet.
When the oil is hot, add the steaks to the pan. Searing both sides until a dark, golden, crust is formed. I prefer my cooked medium rare, which was about 7 minutes per side. Adding more or less time per side for your preference. Without a heat thermometer or slicing the steak you can tell how done the steak is by lightly pressing the middle of each steak. The more firm the center of the steak, the more done it will be
Ready to serve
When steaks are at preferred density and temperature, remove from the stove and slice if desired. To serve the tender and juicy steak, I used the reserved marinade sauce over top. 
You will find that after this recipe you will feel more confident than ever when cooking steak. Not to mention the flavor that the marinade brings to every single bite. I hope you enjoy this simple yet delicious recipe, and I hope it encourages you to keep these tricks in mind as you continue to create flavorful dishes.
If you like this recipe, please leave a comment or share it with someone you know.
For more recipes like these try some of our other recipes:
Chicken Coq au Vin
Slow Cooked Green Chili Pulled Pork
Mexican Stew
To follow Nikki regularly and stay up to date on what she's doing, follow her on the gram!
Ingredient Lists:
Ribeye Steaks
red chili
cilantro
garlic
green onions
olive oil
fish sauce
agave syrup
lime juice
salt
pepper
The Perfect Steak with Fresh Chili Sauce
Grass fed ribeye steak marinated and cooked to perfection. Served with a fresh chili sauce.
Ingredients
2

Ribeye Steaks

1

red chili- seeded, cut in half and sliced

1/4

cup

cilantro- chopped

2

cloves

garlic- chopped

1/4

cup

green onions- chopped

1

cup

olive oil

1

tbsp

fish sauce

1

tsp

agave syrup

1

tbsp

lime juice

salt/pepper for taste
Instructions
Mix olive oil, lime juice, green onion, garlic, red chili, fish sauce, agave and cilantro. Add salt/pepper for taste. Set aside 1/4 cup of the sauce in a separate bowl. Add steaks to the remaining sauce and coat each side. Let the steaks marinate in the refrigerator for up to 24 hours.

When steaks are ready to cook, take them out and place steaks on a plate. Let the steak come to room temperature before cooking. Heat a cast iron skillet on medium/high heat. Drizzle the bottom with avocado oil.

When oil is hot, add the steaks to the pan. Sear on both sides until a dark crust is formed. Cook your steak for about 7 minutes on each side for medium rare. To test the temperature of your steak, use tongs or a spoon and lightly press on the middle of the steak. The softer the center is the more rare the steak is. The firmer the middle is, the more well done the steak is.

When steaks are at preferred temperature, remove from the stove and place on a cutting board. Slice the steak if desired. To serve, place steaks on a plate or platter and spoon reserved chili sauce overtop. Enjoy!