Its January and I have made a goal to clean up my diet, but also still want to be able to enjoy my food. With most of my recipes you may have noticed that I specialize in healthy meals that don't skimp on taste. This salad is great example of how I have achieved that goal. I personally love salad, but struggle sometimes to have variety. Looking at seasonal ingredients I decided to incorporate some of my favorites to create the Orange and Avocado Salad. Ripe avocados, fresh oranges, thinly sliced fennel, and fresh herbs all topped with a dijon and white wine dressing, then sprinkled with crunchy pistachios. This salad is so tasty and healthy, but also is super easy to create at home.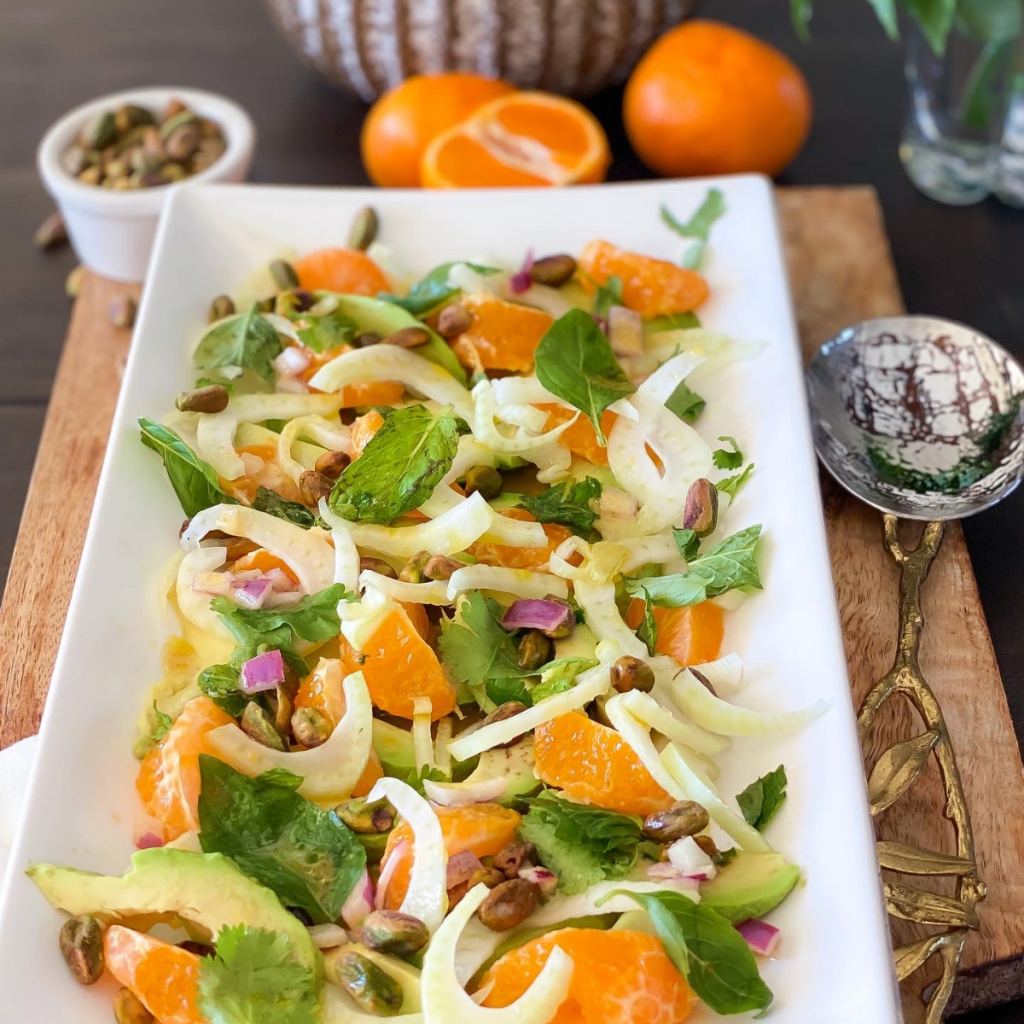 What types of oranges should I use?
In the Orange and Avocado Salad I used small clementine oranges because they are sweeter and juicier than bigger oranges. You really can use whatever oranges are in season. Blood oranges would be delicious in this salad as well. Just make sure the oranges are nice and ripe and not hard in texture. You want a soft and juicy orange. When slicing the orange remove the pith (white part) from the orange. The pith can make the orange taste bitter.
Can I use shallots for the dressing instead of red onion? 
Yes! Shallots would work perfect for this recipe. Either option would taste great. Shallots tend to be a little more delicate and more mild than a red onion. Red onion is an easier option because most people have red onions in their pantry.
What goes well with this salad?
Really any Mediterranean, French, Italian, or American dish would work with this salad. It's very versatile and can be served with an array of meals. The Orange and Avocado Salad can be eaten as a lunch or served on the side of pasta, chicken, soup, fish, with crunchy bread, etc. There are so many foods that goes well with this salad. Options are endless!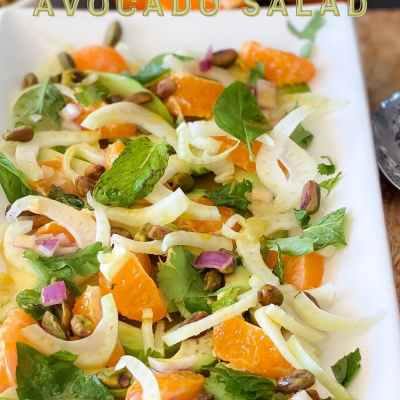 Orange and Avocado Salad
Ripe avocados topped with fresh oranges and thinly sliced fennel then drizzled with a white wine and dijon dressing. Garnished with fresh mint, basil, and cilantro.
Ingredients
2

ripe

avocados- peeled and sliced

3

small

oranges- peeled and sliced

1

bulb

fennel- sliced

1/4

cup

cilantro

1/4

cup

mint

1/4

cup

basil

1/4

cup

pistachios- shells removed

3

tbsp

olive oil

1

tsp

white wine vinegar

1

tsp

honey

1

tsp

dijon mustard

1

tbsp

red onion-chopped

salt/pepper for taste
Instructions
Place avocado slices on a serving plate. Next, add orange slices in between and on top of the avocado slices. Scatter fennel slices on the avocado and oranges.

To make your dressing, place olive oil, vinegar, honey, red onion, dijon, and salt/pepper in a small bowl. Whisk all of the ingredients together.

Drizzle the dressing on top of the avocado, orange, and fennel mixture. Start by adding a little at a time. You want to make sure not to add too much dressing.

Sprinkle pistachios all over the salad. Next, using your fingers pick pieces of the herbs from the stem and place on top of the salad.

Voila! Your salad is complete.