Tiramisu Cheesecake is a mixture of cream cheese and mascarpone cheese that's mixed with a coffee mixture and then spread on top of crushed lady fingers. A coffee whipped cream is then spread all over the cheesecake before being decorated with fresh ladyfingers that have been lightly soaked in a coffee and kahlua mixture. Fresh berries are placed on top to finish the Tiramisu Cheesecake. 
This dessert is so delicious and perfect for anyone that is not a baker and doesn't like to spend all day in the kitchen. Within in minutes the cheesecake is put together and then sent to the oven to bake, leaving you with time to do other things. Make this dessert for any special occasion, family gathering, or dinner party. Tiramisu Cheesecake is the perfect addition to any meal.
What is Tiramisu?
Tiramisu is an Italian dessert using ladyfingers, which are Italian cookies, that are soaked in a coffee before being layered with a mascarpone cream mixture. This is a very traditional Italian dessert that can be found on any Italian restaurant's menu. It's easy, delicious and a classic. One of my favorite desserts of all time.
Can I use anything else besides Mascarpone Cheese? 
Yes, you can can use all cream cheese. If you can't find mascarpone cheese then substitute it for extra cream cheese. Most grocery stores now carry Mascarpone Cheese, so finding it shouldn't be an issue. Try specialty grocery stores if your local store doesn't carry it.
What is Mascarpone Cheese?
Mascarpone Cheese is an Italian cream cheese that is a little lighter than the traditional American cream cheese. It adds a fluffiness to whatever dessert it is added to. Mascarpone cheese can be used in sweet and savory recipes. I personally prefer it over traditional cream cheese.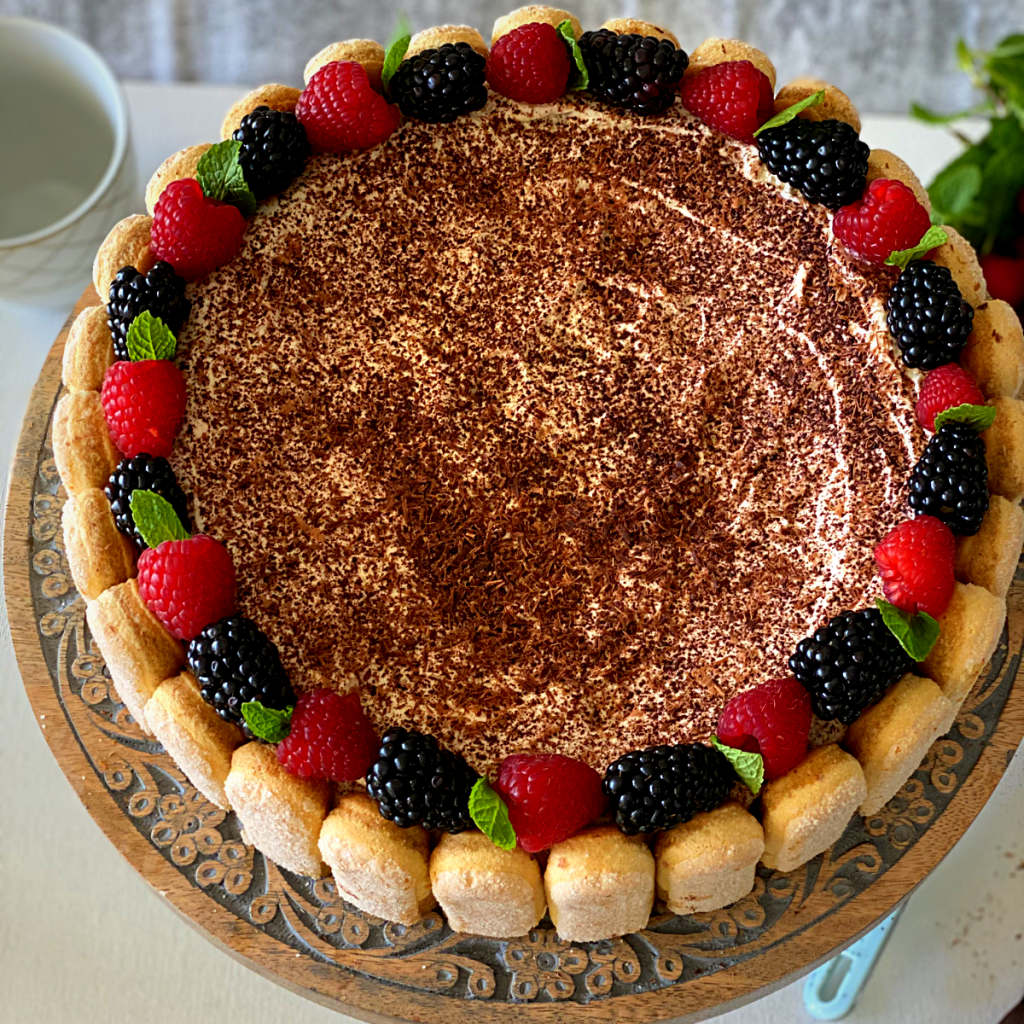 What you will need for this recipe. 
hand/ stand mixer
mixing bowl
spatula
spring-form pan
non- stick spray
cake stand or dessert platter

Tiramisu Cheesecake
Coffee flavored cream cheese and mascarpone mixture on top of crushed lady fingers, then smothered in a coffee whipped cream, before adding fresh berries and sifted cocoa.
Ingredients
1 3/4

cup

lady fingers- crushed

1/4

cup

butter- melted

1

tbsp

sugar

2

8 oz

containers of cream cheese

2

8oz

containers of mascarpone cheese

1

cup

sugar

3/4

cup

coffee

1/4

cup

kahlua

cinnamon spice if you can find it

1

tsp

vanilla extract

1/4

cup

flour

2

eggs

1/2

cup

cocoa

for sifting

1

bar

bitter sweet chocolate

1

cup

mixed berries for decorating

1-2

packages

whole lady fingers-cut in half

1

cup

heavy cream

2-3

tbsp

confectioners sugar
Instructions
Pre-heat oven to 350 degrees

In a bowl mix crushed lady fingers with melted butter and 1 tbsp of sugar. Mix until well combined. Spray a 9 inch spring-form pan with non stick spray. Avocado spray works well.

Place ladyfinger mixture in the pan and firmly press down all around the bottom to form a crust. Make sure it is even all around. Set aside. In a small bowl combine coffee and kahlua.

In a large mixing bowl place mascarpone cheese, cream cheese and sugar inside. Using a stand up mixer or hand mixer beat at medium speed until soft and fluffy. Next, add flour, 2-3 tbsp of coffee/kahlua mixture, and vanilla. Mix well to combine. Last, add two eggs and beat at a low speed until all ingredients are mixed well.

Pour cream cheese mixture over the ladyfinger crust. Using a spatula spread the cheese mixture until it sits evenly on top of the crust.

Place the cheesecake in the oven. Make sure to place it in the middle of the oven. In another baking pan add water and place at the bottom of the oven. This will help to keep the cheesecake moist and prevent cracks. Bake for 40-45 minutes.

When cheesecake is done baking turn off the oven and let cheesecake rest for another 30-40 minutes. When this process is completed remove the cake and let it cool completely.

When cheesecake is fully cooled place it in the fridge and chill for at least three hours.

While cheesecake is baking make your whipped cream. In a large mixing bowl add cream, sugar, and 2-3 tbsp of coffee/kahlua mixture. Beat at high speed until peaks are formed. Set aside until ready to use.

When cheesecake has chilled for at least three hours remove from the fridge and place on an even surface. Remove the springform portion of the pan. Using a spatula spread the whipped cream mixture all over the cheesecake. Make sure to cover the sides and top evenly. Using a sifter, sift cocoa all over the top of the cake.

To decorate the cake with ladyfingers, pour the remaining coffee mixture in a small shallow bowl. Dip each ladyfinger into the coffee mixture just slightly. You dont want to completely soak the finger in the liquid. Just a light dip on the bottom. Place the finger against the side of the cheesecake. Continue this process until the entire perimeter of the cheesecake is covered. Decorate with berries and mint if desired.

Using a vegetable peeler, shave chocolate on the top. Place cake on a platter or cake stand and serve.