Sweet Potato Cornbread Muffins with jalapeño and a side of goat cheese and mascarpone whipped butter that is finished with a spicy honey. These muffins are not only delicious, but are also gluten free making them the perfect solution to anyone in your family who can't have gluten. The sweet potato makes these muffins so moist and almost cake like. They do not at all mimic traditional cornbread that can sometimes be too dry. Jalapeño gives these muffins a little spice and adds flavor, making the Sweet Potato Cornbread Muffins the best cornbread muffins that you have ever had. The best part about these muffins is that they are easy and quick to make in your kitchen. These are the perfect side dish or appetizer for any dinner or gathering.
Should I use canned sweet potato or fresh?
Fresh sweet potato is what is recommended, although canned can be used if you're trying to save time. Using fresh sweet potato doesn't have to be time consuming when cooking. Poke holes in the sweet potato all over and then place in a 400 degree oven until soft. You can also steam the potato, or place it in the microwave until tender.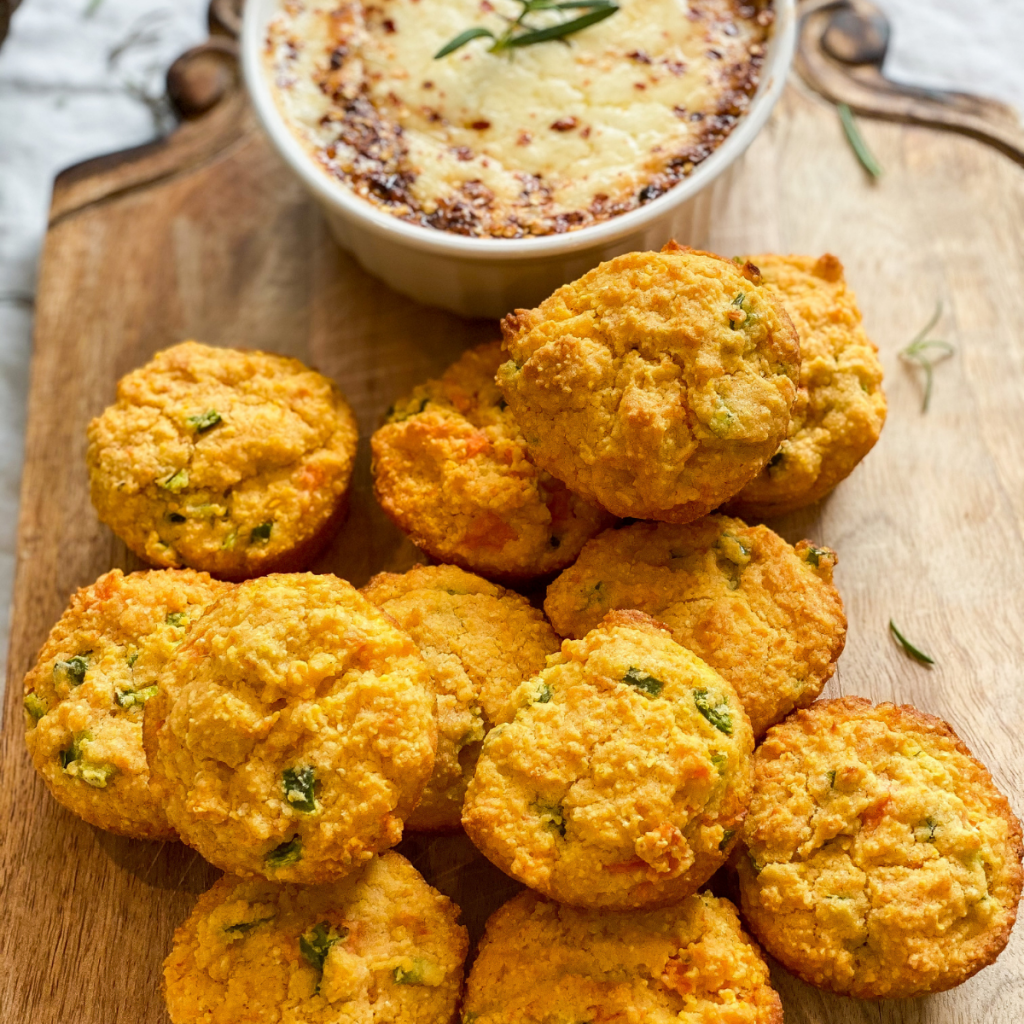 What should these muffins be served with?
These muffins are great by themselves or as the perfect addition to certain meals. Chili is the main dish that these muffins would complement, but really any type of Mexican dish would work well, Thanksgiving meal, roast chicken and mashed potato dinner, or just serve them as an appetizer at any gathering or family dinner. These muffins are also great for breakfast. The perfect grab and grow option. Below is a link for my delicious chili recipe that goes great with these cornbread muffins.
http://sanitasbynikki.com/sweet-potato-cornbread-muffins/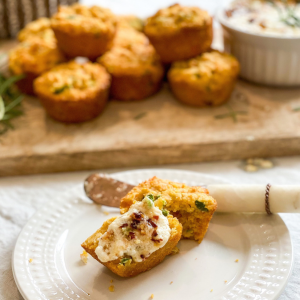 Sweet Potato and Jalepeno Corn Bread Muffins (GF)
Cornbread muffins that are filled with sweet potato and jalapeños, then served with a side of mascarpone and goat cheese whipped butter that is topped with a spicy honey.
Ingredients
1

cup

gluten free flour

regular flour can be used as well

1

cup

cornmeal

1

tbsp

baking soda

1

tsp

salt

2-3

tbsp

honey

1/2

cup

butter-melted

2

eggs

1-2

jalapeños- chopped

1/2

cup

cooked sweet potato- mashed

4

oz

goat cheese

8

oz

mascarpone cheese

cream cheese can be substituted

1/4

cup

honey

1-2

tbsp

crushed red pepper
Instructions
Pre-heat the oven to 350 degrees. Spray a muffin pan with avocado oil or other non-stick spray.

In a medium bowl mix flour, cornmeal, baking powder, and salt together with a whisk. Make sure the ingredients are well combined.

In a large bowl place, eggs, sweet potato, butter, jalapeños, and honey inside. Mix well with a whisk to combine all of the ingredients.

Slowly start to pour the dry ingredients into the wet ingredients. Whisk while doing this to mix everything together. Make sure that all ingredients are well combined.

Using a 1/4 cup measuring cup scoop the batter into each tin. Make sure every tin is almost even with the amount that it contains.

Place in the oven for 17-20 minutes

While muffins are baking place goat cheese and mascarpone cheese in a food processor and blend until the mixture is nice and creamy. Place the whipped cheese in a small oven safe dish. In a second bowl mix the remainder of the honey and crushed red pepper together. Pour the honey mixture on top.

When muffins are done baking remove from the oven and let cool. Place goat cheese mixture in the oven and bake for 10 minutes, or until spread is nice and hot.

Place muffins and cheese spread on a serving plate or board. Enjoy!