If you're a fan of seafood and love a good kick of spice, then this Spicy Salmon Recipe will be right up your alley. I recently tried this recipe, and let me tell you, it did not disappoint.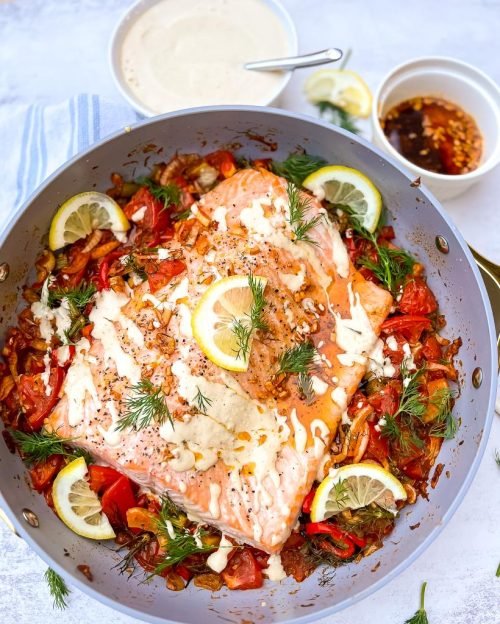 Firstly, let's talk about the salmon itself. It was cooked perfectly, flaky and moist, and melted in my mouth. But what made this dish stand out was the spicy seasoning. The combination of paprika, Fresno chilies, and garlic gave the salmon a rich, smoky flavor with a satisfying heat level. I especially loved how the spices formed a delicious crust outside the fish, adding a satisfying crunch to each bite.
To complement the salmon, I served it with a simple side of roasted vegetables, perfect for the spicy flavors. The entire meal was well-balanced and incredibly satisfying.
One of the things I loved most about this Spicy Salmon Recipe was how quick and easy it was to prepare. With just a few simple ingredients and minimal prep time, I had a delicious and healthy meal on the table in no time.
I highly recommend this Spicy Salmon Recipe to anyone looking for a flavorful and easy seafood dish that packs a punch. Whether you're a seasoned foodie or just starting to explore the world of cooking, this recipe will surely impress.
If you like this recipe, please leave a comment or share it with someone you know.
For more recipes like these try some of our other recipes:
To follow Nikki regularly and stay up to date on what she's doing, follow her on the gram!
Ingredient Lists:
fresh wild-caught salmon
garlic
Fresno chilies
tomatoes
fennel bulb
fennel seed
avocado oil
salt and pepper
Spicy Salmon Recipe
Ingredients
3

pounds

of fresh wild-caught salmon

2

cloves

of garlic, sliced

2

Fresno chilies, sliced

4

tomatoes, roughly chopped

1

fennel bulb washed and sliced

1

tablespoon

of fennel seed

avocado oil for drizzling

salt and pepper for taste
Instructions
Preheat oven to 425 degrees. In a large pan, drizzle the bottom with avocado oil, add garlic and red chili sauté for a minute or two until soft and fragrant.

Add in fennel seeds, and sprinkle with salt and pepper. Add fennel slices, and sauté for a few minutes.

Add tomatoes and let the mixture simmer for two to three minutes or until the veggies are soft. Sprinkle salmon with salt and pepper and drizzle the top with avocado or olive oil.

Place salmon in the pan and the mixture in the oven for 15 minutes. You can drizzle with extra avocado, oil, garlic, and paprika if desired when the mixture is done.

Serve with a side of tahini sauce.