Get ready for a truly indulgent culinary experience with our recipe for Butter Chicken! This dish is the epitome of comfort food, with its creamy, rich sauce and tender, juicy chicken that practically melts in your mouth.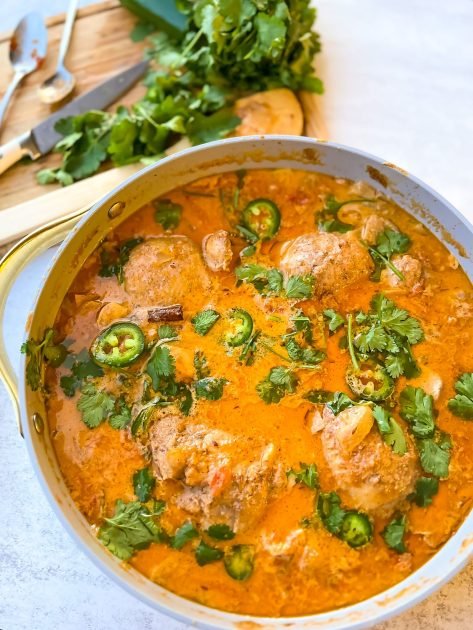 Our recipe is made with a blend of aromatic spices and herbs that create a complex and savory flavor profile. The chicken is simmered in a luxurious, buttery sauce infused with garlic, ginger, and tomato flavors, creating a perfect balance of creamy and tangy.
This dish is perfect for a cozy night in when you're craving something comforting and delicious. It's also great for entertaining, as it's sure to impress your guests with its flavorful and decadent taste.
So, if you're looking for an indulgent and satisfying dish, try our Butter Chicken recipe. It's sure to become a favorite in your kitchen and leave you wanting more.
If you like this recipe, please leave a comment or share it with someone you know.
For more recipes like these, try some of our other recipes:
To follow Nikki regularly and stay up to date on what she's doing, follow her on the gram!
Ingredient Lists:
chicken skin-on chicken thighs
boneless skinless chicken breasts
ginger
garlic
Garam Masala
lemon
Greek yogurt
cumin seeds
jalapeno
yellow onion
medium tomatoes
heavy cream
ghee
avocado oil
salt and pepper
Butter Chicken
Ingredients
3

Ibs

skin-on chicken thighs

1.5

Ib

boneless skinless chicken breasts- cut into pieces

1 two-inch piece of ginger- minced

4 cloves garlic- minced

1 tablespoon of Garam Masala

the juice of one lemon

2 cups Greek yogurt

1 tablespoon cumin seeds

1 jalapeno, chopped

1 cup chicken stock

1

Tbsp

Tomato paste

1 yellow onion, chopped

2 medium tomatoes, chopped

1/2 a cup of heavy cream

3 tablespoons ghee

avocado oil for drizzling

salt and pepper for taste
Instructions
Start by marinating the chicken in a large bowl. Add Greek yogurt, ginger, two cloves of minced garlic, garam masala, lemon juice, salt, and pepper.

Mix all the ingredients and add your chicken. Be sure to coat evenly on all sides. Place the chicken in the refrigerator for at least one hour, or overnight.

Next, place a large pan over medium heat, and drizzle the bottom with avocado oil and one tablespoon of ghee. When the ghee is melted add cumin seeds and the remaining garlic cloves. Sauté for a few minutes. Add in your onion and saute until translucent.

Next, add chili pepper and tomato. Let this simmer down for a few minutes.

Add your chicken and marinade to the pan. Brown the chicken on both sides for about three to four minutes.

Reduce heat to medium and allow the chicken to simmer for 20 to 25 minutes. Add heavy cream, tomato paste, and the remaining ghee to finish the dish.

Continue to simmer for about five to 10 minutes. Taste and add salt and pepper as needed. Serve this recipe with fresh basmati rice. Enjoy.