If you're looking for a dish that's crispy, juicy, and full of flavor, then look no further. Chicken Milanese will satisfy your taste buds and leave you feeling satisfied.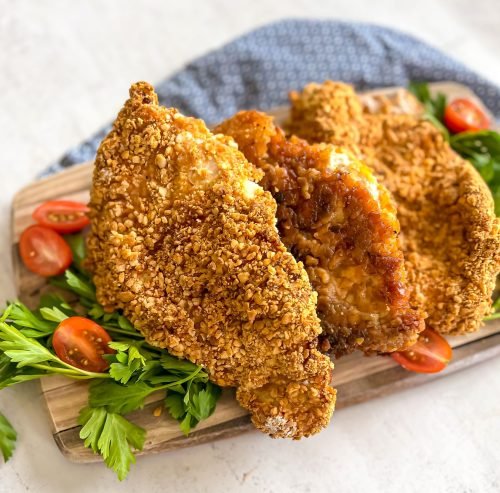 The chicken is breaded and fried to golden perfection, creating a crunchy outer layer that gives way to tender, juicy meat inside. The flavors of the herbs and spices in the breading perfectly complement the savory chicken, making every bite delicious.
To create this mouthwatering dish, you'll start by dredging your chicken breasts in a simple mixture of flour, anti-inflammatory seasoning blend, egg, and breadcrumbs, then pan-frying them until crispy and golden brown. The result is a deliciously crispy exterior that gives way to juicy, tender chicken inside.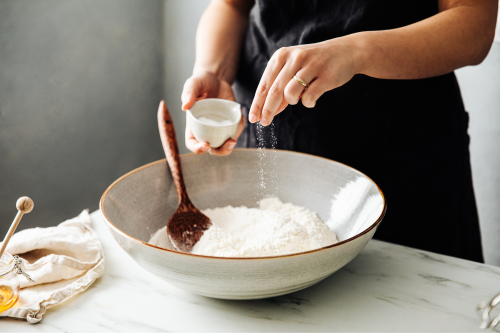 Chicken Milanese is a versatile dish that can be served as a main course or paired with a side of your choice. Whether you're in the mood for some crispy chicken on a bed of greens or want to serve it alongside roasted vegetables, this recipe will not disappoint.
Whether you're looking for a quick and easy weeknight meal or a crowd-pleasing dish for your next dinner party, this Chicken Milanese will surely hit the spot. So why not try it and enjoy the delicious flavors of Italy right in your own home!
If you like this recipe, please leave a comment or share it with someone you know.
For more recipes like these try some of our other recipes:
To follow Nikki regularly and stay up to date on what she's doing, follow her on the gram!
Ingredient Lists:
boneless skinless chicken breasts
large egg
Panko breadcrumbs
cassava flour or other flour of choice
avocado oil
salt and pepper
Chicken Milanese
Ingredients
2-4

boneless skinless chicken breasts

1

large

egg

1

cup

Panko breadcrumbs

1

cup

cassava flour or other flour of choice

3

tbsp

anti-inflammatory seasoning blend

recipe below

avocado oil for drizzling

salt and pepper as needed for taste
Instructions
Sprinkle the chicken breasts on each side with salt and pepper. Using a large plastic wrap, place one chicken breast on top of half the plastic wrap and fold the other half over the top to cover.

Using a mallet, pound the chicken until 1/4 inch thick.

Place breadcrumbs and anti-inflammatory seasoning blend in a bowl and mix. In a second bowl, add flour; in a third bowl, add your egg and whisk with one tablespoon of water.

Place a large pan over medium-high heat and drizzle the bottom with avocado oil.

Working in an assembly line, place one chicken breast in flour, being sure to coat on all sides. Next, dip it in the egg mixture. And then finally, into the breadcrumb mixture, making sure to coat on all sides.

When the pan and oil are hot, add the breaded chicken breast to the pan and brown for about five to six minutes on each side until a Golden Crust has been created.

Continue this process with the remaining chicken. When the chicken is golden on each side, cover it with a lid and let it cook until done or reach an internal temperature of 165 degrees.

Remove from the pan and serve with a nice green salad, potatoes, and your favorite dipping sauce. Enjoy.