Fresh organic ground turkey, jalapenos, tomato, garlic, beans, charred corn, and crispy tortillas make this skillet tasty and unique. Mexican skillet is the perfect weeknight meal to feed the whole family and leave leftovers for lunch the next day.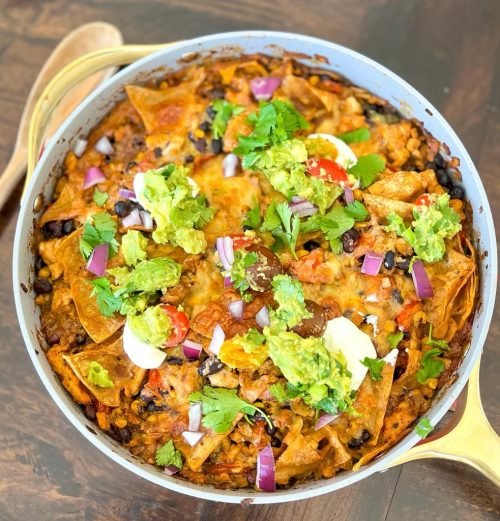 Made in less than 30 minutes, this recipe will surely please even your pickiest eaters.
If you're vegetarian, leave out the meat and add more vegetables.
Top with guacamole, red onion, cilantro, and Greek yogurt instead of sour cream.
Eat this meal for breakfast, lunch, or dinner. You can even top it with a fried egg if you serve it for breakfast.
Enjoy!
If you like this recipe, please leave a comment or share it with someone you know.
For more recipes like these try some of our other recipes:
To follow Nikki regularly and stay up to date on what she's doing, follow her on the gram!
Ingredient Lists:
grass-fed organic turkey
mixed chili beans
onion
jalapeno
garlic
corn tortillas
organic roasted corn
avocado oil
Mexican seasoning blend
garlic powder
cumin 
coriander
black pepper
Monterey Jack cheese
Mexican skillet
Ingredients
2

packages

of grass-fed organic turkey

2

cans

of mixed chili beans

1

onion, diced

1

jalapeno, seeded and diced

2

cloves

of garlic, chopped

1

package

of corn tortillas, cut into wedges

1

package

of organic roasted corn

avocado oil for drizzling

Mexican seasoning blend

1

tbsp

of garlic powder

3/4

tbsp

of cumin 

3/4

tbsp

of coriander

1/8

tsp

of black pepper

1

package

of Monterey Jack cheese, shredded
Instructions
Preheat the oven to 375 degrees. Place a large skillet over medium-high heat. Drizzle the bottom with avocado oil and add the ground turkey, breaking it up as it cooks brown on all sides. 

Add the Mexican seasoning blend, and next, coat all of the turkey. Next, add onions, garlic, and jalapenos. Saute for a few minutes and add the tomatoes, beans, corn, and chicken stock. Bring to a boil, then turn off the heat.

Remove the skillet from the heat. Add the tortilla wedges and three-quarters of a cup of Monterey Jack cheese.

Mix the combination together. Sprinkle more cheese on top. Cover loosely with tinfoil and place in the oven at 375 degrees for 25 minutes. 

When the skillet is done cooking, remove the foil, turn the heat up to 400 degrees, and add more cheese to the sprinkle. More cheese on top Allow the mixture to brown and the tortillas to become crunchy.

Remove and garnish with fresh cilantro and red onion, guacamole, and any of your other favorites. Serve and enjoy!