Fresh ginger, turmeric, lemon, and black pepper are mixed together to make an anti-inflammatory juice that may help digestion. Boost your energy, reduce inflammation, and support your immune system during any season.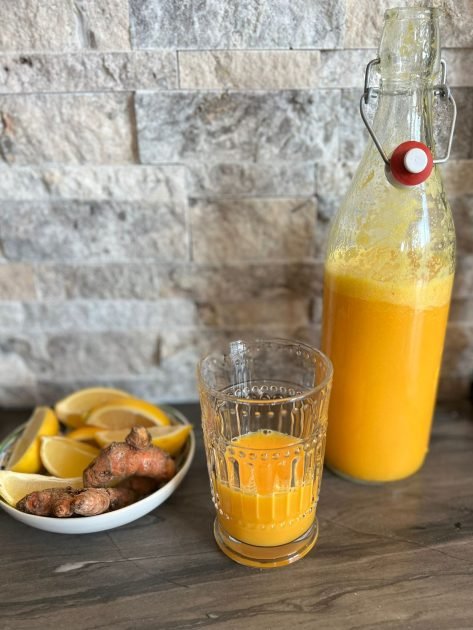 This juice is great if you are feeling a little sluggish or under the weather. The fresh ingredients help to energize you and reduce any inflammation that may be causing you to feel sluggish, tired, and in pain.
Make this juice once a week and store it in your fridge to drink as needed to get all of its health benefits.
Enjoy.
If you like this recipe, please leave a comment or share it with someone you know.
For more recipes like these try some of our other recipes:
To follow Nikki regularly and stay up to date on what she's doing, follow her on the gram!
Ingredient Lists:
turmeric
ginger skin
lemons
filtered water
black pepper
Anti-Inflammatory Juice
Ingredients
1 4-inch

piece

of turmeric, skins removed, lightly chopped

1 4-inch

piece

of ginger skin, removed and lightly chopped.

2

lemons

1

cup

of filtered water

1/8

tsp

of black pepper
Instructions
Place water in a blender and add ginger and turmeric. Cut your lemons in half and then in quarters, and carefully cut away the flesh from the peel.

Add the lemon flesh to the blender, along with the black pepper, and blend.

Pour the juice into a glass container and store it in the fridge.

Drink a cup each day to help boost your immune system and reduce inflammation in the body.