This easy and tasty Bacon Egg and Cheese Bake is made with cage-free eggs, sharp cheddar cheese, bacon, and vegetables.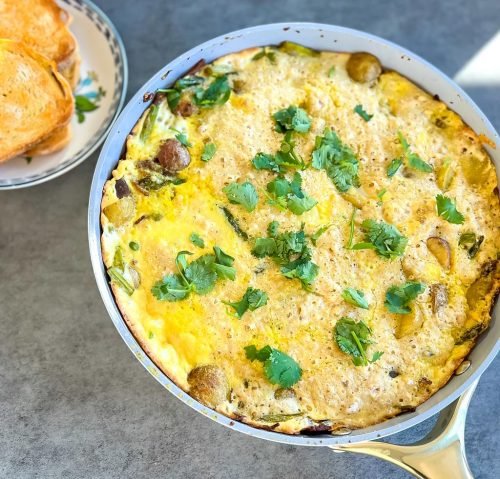 This recipe is great for weekend mornings with your family when you want to create a delicious breakfast that is simple and has little to no cleanup.
The best part about this recipe is that you can save the leftovers for during the week, in your busy schedule, when you don't have time to make breakfast. Feel free to add in your favorite ingredients and substitute some of the vegetables for other things like broccoli, tomatoes, mushrooms, etcetera.
Depending on your preferences, you can also use different types of cheese. Use gluten-free flour and gluten-free baking powder if you are gluten-free.
Otherwise, you can use regular flour as well. Serve this recipe with avocado toast, plain toast, or your other favorite breakfast edition. Enjoy.
If you like this recipe, please leave a comment or share it with someone you know.
For more recipes like these try some of our other recipes:
To follow Nikki regularly and stay up to date on what she's doing, follow her on the gram!
Ingredient Lists:
uncured bacon
baby potatoes
asparagus
shallot or onion
eggs
regular or gluten-free flour
heavy whipping cream
cheddar cheese
baking powder
avocado oil
salt and pepper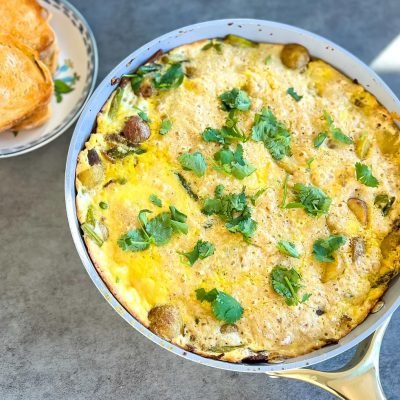 Bacon Egg and Cheese Bake
Ingredients
1/2

pound

of uncured bacon, diced

baby potatoes, quartered

1

bunch

of asparagus, chopped

1

shallot or onion, minced

8

eggs

1/4

cup

of regular or gluten-free flour

1/2

cup

of heavy whipping cream

1

cup

of shredded cheddar cheese

1

teaspoon

of baking powder

avocado oil for drizzling

salt and pepper to taste
Instructions
Pre-heat the oven to 350 degrees. Place a medium pan over medium-high heat. Add the chopped bacon and sauté until brown and crispy. When the bacon is crispy, remove some of the oil from the pan.

Add the shallots and asparagus and sauté until lightly tender. Season with a pinch of salt and pepper.

In a medium bowl, add eggs, cheese, flour, baking powder, and cream; mix well, then pour the egg mixture into the pan with the asparagus mixture.

Spread the mixture over the vegetables evenly. Place the egg pan in the oven for 15-20 minutes, or until a knife comes out clean when inserted.

Serve with sourdough toast or any of your favorite breakfast recipes. Enjoy!