Get ready to satisfy your craving for Mexican food with this irresistible Bean and Corn Taquitos recipe! I recently made these taquitos, which were an absolute hit with everyone at the dinner table.
The filling for these taquitos is a combination of hearty black beans, sweet corn, and flavorful spices like cumin and chili powder. The result is a delicious, savory, satisfying, and nutritious filling. I am rolling up the filling in crispy tortillas and baking them until golden brown, creating a perfect combination of textures and flavors.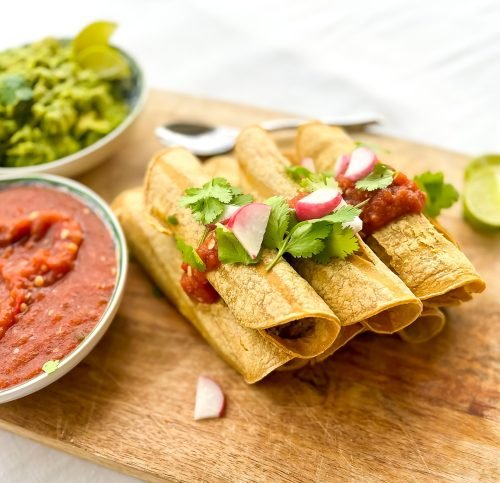 One of the things I love about this recipe is how versatile it is. You can easily switch up the filling ingredients to suit your preferences or use whatever ingredients you have. Add some diced bell peppers, shredded cheese, or spicy jalapenos to give the taquitos an extra kick.
Another great thing about this recipe is that it's easy to make in large batches, which makes it perfect for serving at parties or family gatherings. You could even make the filling and assemble the taquitos before baking, making this recipe a convenient and time-saving option.
Overall, if you're a fan of Mexican food and looking for a delicious and easy recipe to add to your repertoire, these Bean and Corn Taquitos are a must-try. They're packed with flavor, simple to make, and sure to be a hit with everyone at the table. So go ahead, give this recipe a try, and let me know what you think!
If you like this recipe, please leave a comment or share it with someone you know.
For more recipes like these try some of our other recipes:
To follow Nikki regularly and stay up to date on what she's doing, follow her on the gram!
Ingredient Lists:
sea salt
black pepper
paprika
chili powder
cumin
coriander
cayenne pepper
oregano
garlic salt
cooked beans (black kidney chili beans)
garlic
jalapeno
green onions
corn
Mexican seasoning
corn tortillas
Monterey jack cheese
Bean and Corn Taquitos
Ingredients
2 cups of cooked beans (black kidney chili beans)

2 cloves of garlic minced

1 jalapeno, seeded and chopped

1/4 of a cup of green onions, sliced

1 cup of corn

2 tablespoons of Mexican seasoning

1 package of corn tortillas

1/2 cup of Monterey jack cheese (optional)
Taco Seasoning
1 tablespoon of sea salt

1/8 teaspoon of black pepper

1 teaspoon of paprika

1 teaspoon of chili powder

1 teaspoon of cumin

1 teaspoon of coriander

1/8 teaspoon of cayenne pepper

1/2 teaspoon of oregano

1 teaspoon of garlic salt
Instructions
Preheat your oven to 400 degrees.

Put a large pan over medium heat, drizzle the bottom with avocado oil, add garlic and onions, and sauté for a few minutes.

Add in jalapenos. Sauté for another minute or two. Add your beans, seasoning, and corn, and sauté for about five minutes until all the flavors combine.

Heat your tortillas in the microwave for about 30 to 40 seconds.

When the bean mixture is cooked, use a fork or a hand blender to puree the mixture and mash up the beans to make a nice paste. If adding cheese, stir it in. Taking one tortilla at a time, scoop in the bean mixture. Roll each tortilla like a burrito.

Place the taquitos on a baking sheet and then place in the oven for 10 minutes. Serve with a side of salsa and guacamole.