I am excited to share a classic and comforting recipe for homemade biscuits. There's nothing quite like the smell of freshly baked biscuits wafting through your home, and this recipe will satisfy your cravings.
The key to making the perfect biscuit is to use cold butter and handle the dough as little as possible. It will ensure that your biscuits are light, flaky, and tender.
These recipe are perfect for breakfast, brunch, or anytime you need a comforting and satisfying treat. They are also a great way to impress your friends and family with your baking skills. Try this recipe, and let me know what you think in the comments below!
If you like this recipe, please leave a comment or share it with someone you know.
For more recipes like these try some of our other recipes:
To follow Nikki regularly and stay up to date on what she's doing, follow her on the gram!
Ingredient Lists:
baking powder
butter
milk
coconut sugar
salt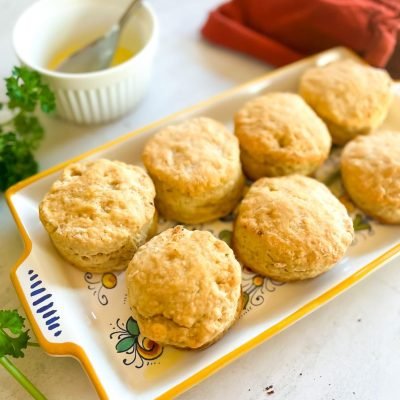 Homemade biscuits
Ingredients
3

cups

flour

1

tablespoon

baking powder

6

tablespoons

butter, cold or frozen

1

cup

milk

vegan or regular. You can also use half heavy cream and half water.

1

teaspoon

coconut sugar

1

teaspoon

salt
Instructions
Preheat oven to 425 degrees in a large bowl. Combine flour, sugar, and salt using a whisk. Mix well.

Next, grate the butter into the flour mixture using a cheese grater. Using your hands, mix well to create a crumbly mixture.

Slowly pour in your milk and use your hands to mix everything until a ball of dough is formed. If the ball is too sticky, add extra flour. If the ball is too dry, add a touch more milk.

Place the dough on a floured surface and gently knead the dough by pushing the dough away from you and then pulling it towards you. Do this about five times, and be careful not to over-knead the dough.

Flatten the dough with your hands (Don't use a rolling pin). Flatten the dough until it is about one inch thick.

Using a round cookie cutter or biscuit cutter, cut small circles into the dough and place them on a greased baking sheet. Ensure the dough circles are about 1/2 inches apart.

Place the biscuits in the oven and bake full for 20 to 25 minutes or until golden.

Add melted butter to serve. Enjoy!