Prepare to be blown away by the ultimate salsa experience with this amazing Air Fryer Salsa recipe! If you're a salsa fanatic, then you know that the key to the perfect salsa is in the balance of fresh ingredients and bold flavors. And let me tell you, this recipe hits all the right notes.
The air fryer takes the traditional salsa-making process to the next level by adding a delicious char and smoky flavor that is out of this world. The combination of plump, juicy tomatoes, tangy onions, and spicy jalapenos is roasted to perfection in just a few minutes, creating a mouth-watering salsa that is bursting with flavor.
What's great about this recipe is that you can easily adjust the heat level to your liking, making it as mild or as fiery as you desire. Plus, the fresh ingredients make this salsa a healthier alternative to store-bought salsas that are often loaded with unnecessary additives and preservatives.
Whether you're hosting a party, having a movie night, or simply enjoying a snack, this Air Fryer Salsa is the perfect accompaniment. It pairs beautifully with crispy tortilla chips, as well as tacos, burritos, grilled meats, and more.
The best part about this recipe is how quick and easy it is to make. With just a handful of ingredients and a few minutes in the air fryer, you can have a delicious and flavorful salsa that will have your taste buds singing.
So why settle for mediocre salsa when you can have the best of the best with this Air Fryer Salsa recipe? Give it a try and you won't be disappointed!
If you like this recipe, please leave a comment or share it with someone you know.
For more recipes like these try some of our other recipes:
To follow Nikki regularly and stay up to date on what she's doing, follow her on the gram!
Ingredient Lists:
large ripe tomatoes
cloves of garlic
jalapeno stems
Fresno chili stems
red onion
Mexican seasoning
avocado oil
salt and pepper
Mexican Spice Blend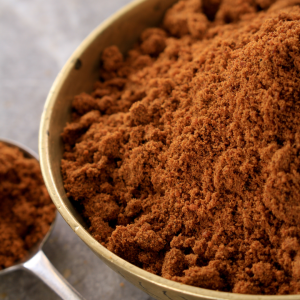 sea salt
black pepper
paprika
chili powder
of cumin
coriander
cayenne pepper
oregano
garlic salt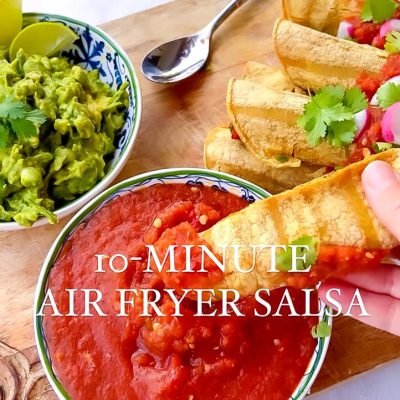 Air fryer Salsa
Ingredients
4 large ripe tomatoes

2 cloves of garlic

1 jalapeno stems, removed

1 Fresno chili stems, removed

1/2 red onion cut into quarters

2 tbsp of Mexican seasoning

avocado oil for drizzling

salt and pepper
Mexican Spice Blend
1 tablespoon of sea salt

1/8 teaspoon of black pepper

1 teaspoon of paprika

1 teaspoon of chili powder

1 teaspoon of cumin

1 teaspoon of coriander

1/8 teaspoon of cayenne pepper

1/2 teaspoon of oregano

1 teaspoon of garlic salt
Instructions
Preheat the air fryer to 350. Place vegetables on an air fryer tray and season with salt, pepper, and a touch of avocado oil.

Place the vegetables in the air fryer for 10 minutes. Remove when cooked.

Place the vegetables in a blender or food processor, add the Mexican seasoning, blend to a puree, add additional seasoning if needed, and enjoy with your favorite tortilla chips or your favorite Mexican recipe.