Get ready to take your taste buds on a journey to Japan with this incredible recipe for Ramen with Soft-Boiled Egg. This dish is the epitome of comfort food, and it's sure to become a staple in your recipe collection.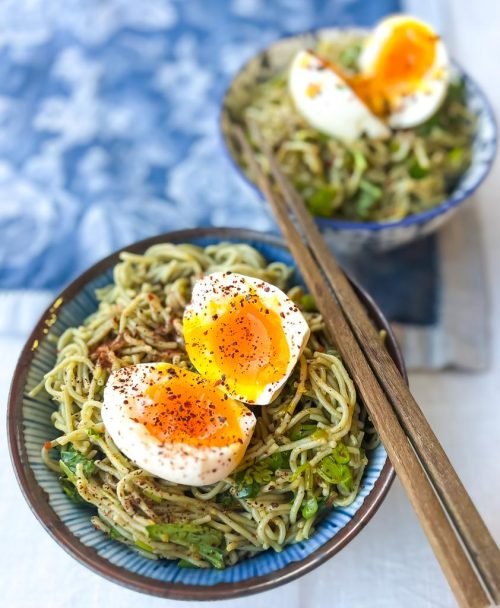 The combination of these ingredients creates a flavor that is deep, complex, and incredibly satisfying.
The noodles are cooked to perfection and are the perfect vehicle for soaking up all that delicious broth. And the soft-boiled egg adds a creamy and luxurious texture to the dish, making it even more indulgent.
One of the things I love about this recipe is how customizable it is. You can add in your favorite toppings, like sliced pork belly, nori, green onions, or bean sprouts, to make it truly your own.
And the best part? It's surprisingly easy to make! With just a few key ingredients and a little bit of patience, you can create a restaurant-quality ramen dish in the comfort of your own home.
So if you're looking for a comforting and hearty meal that will warm you up on a chilly day, look no further than this Ramen with Soft-Boiled Egg recipe. It's the perfect combination of flavor, texture, and comfort, and it's sure to become a new favorite in your household.
If you like this recipe, please leave a comment or share it with someone you know.
For more recipes like these try some of our other recipes:
To follow Nikki regularly and stay up to date on what she's doing, follow her on the gram!
Ingredient Lists:
rice ramen noodles
ginger
garlic
scallions
basil
cilantro
liquid aminos
sambal
toasted sesame oil
avocado oil
egg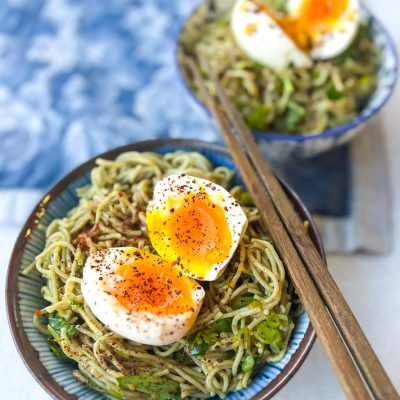 Ramen with Soft-Boiled Egg
Ingredients
1 package of rice ramen noodles (cooked)

2-inch piece of ginger graded

2 cloves of garlic, graded

2 scallions chopped, the white parts separated from the green part

1/2 cup basil chopped

1/4 cup cilantro chopped

2 tablespoons of liquid aminos

1 tablespoon of sambal

1/4 cup of toasted sesame oil

1/4 cup avocado oil

4 eggs
Instructions
Place a medium pot of water on high heat and bring it to a boil. When the water comes to a boil, gently add your eggs and set a timer for six minutes. Cook the eggs until the timer goes off. Drain and rinse the eggs with cold water, and set them aside until ready to use.

Place a large pan over medium-high heat. Add in avocado oil and sesame oil. When the oil is hot, add the ginger and garlic and sauté for a minute or two. Add in the white part of your green onions and sauté for another minute. Add the sambal and mix well. Remove the pan from the heat and set it aside.

In a large bowl, add the basil, cilantro, and the green parts of your scallions. Pour in the hot oil. Add the liquid aminos and mix well. Pour the oil over the cooked rice noodles and mix well.

Next, remove the shell from the eggs. Place on top of your ramen, and using a knife, cut in half to let the yolk drizzle onto the noodle.

Serve with additional chili flakes or other seasonings. Enjoy.