When it comes to soothing our souls and warming our hearts, few dishes can rival the timeless classic of Chicken and Rice Soup. This beloved recipe has been passed down through generations, offering comfort and nourishment with every spoonful. With its simple yet satisfying flavors, this homemade version will transport you to a cozy haven, wrapping you in a blanket of culinary delight. What's best about it? It's great for gut health, and whenever you're having stomach issues, it's a great way to soothe stomach discomfort. So grab your ladle and prepare to embark on a journey of warmth and satisfaction!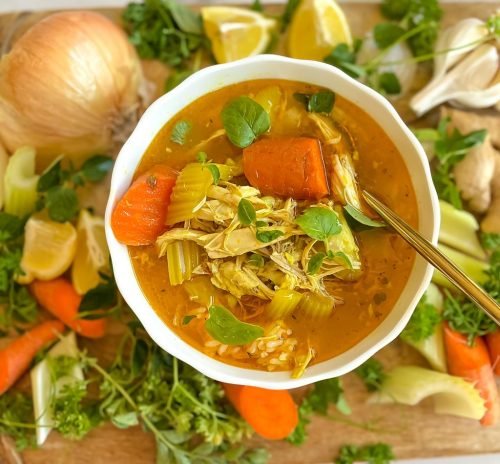 At the heart of this delectable soup lies tender chicken, slow-cooked to perfection and mingled with aromatic herbs and wholesome vegetables. With its melt-in-your-mouth tenderness, the chicken imparts a rich and savory flavor that infuses the broth with depth. Each spoonful delivers a burst of comforting warmth, bringing solace to even the weariest of souls.
But what truly sets this chicken and rice soup apart is the addition of delicate grains of organic rice. They weave their magic, adding a hearty element that transforms this soup into a satisfying and wholesome meal. The rice absorbs the flavorful broth, releasing its starches and creating a thick, comforting texture that lingers on your palate.
The medley of vibrant vegetables that dance in this soup adds a delightful crunch and a burst of freshness. Carrots, celery, and fennel bulbs contribute to their earthy sweetness. Each ingredient plays its part in creating a symphony of flavors that will leave you craving just one more spoonful.
Whether you're seeking warmth on a chilly winter evening or seeking solace from a tiresome day, this homemade chicken and rice soup is the ultimate answer. It's a bowl of comfort that will envelop you in its embrace, reminding you of the simple joys of life. So grab your favorite soup bowl, cozy up with loved ones, and let the nourishing flavors of this timeless classic carry you away on a culinary journey you won't soon forget.
If you like this recipe, please leave a comment or share it with someone you know.
For more recipes like these try some of our other recipes:
To follow Nikki regularly and stay up to date on what she's doing, follow her on the gram!
Ingredient Lists:
whole organic chicken
carrots
celery stocks
garlic
fennel bulb
lemon
bay leaf
parsley
4 sprigs
oregano
filtered water
ginger
organic white rice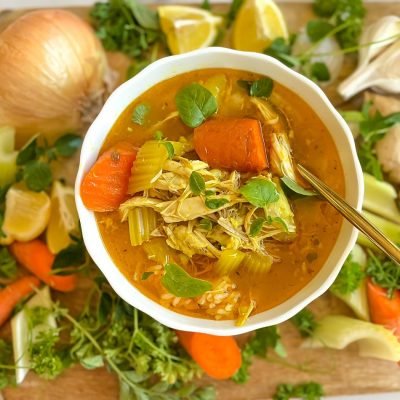 Chicken and Rice Soup
Ingredients
1 to 3 pounds of whole organic chicken are rinsed, and the insides are removed and discarded.

2 carrots, roughly chopped

2 celery stocks, roughly chopped

3 to 4 cloves of garlic, peeled and smashed

1 fennel bulb, ends removed and sliced

1 lemon, sliced

1 bay leaf

1/2 cup parsley, roughly chopped

4 sprigs oregano

anti-inflammatory seasoning blend

8 cups of filtered water

1 three-inch piece of ginger, washed and sliced

2 to 4 cups of cooked organic white rice
Instructions
Place a large pot over high heat. Add the chicken and water. Next, add your herbs and all of your herbs and vegetables to the pot.

Add the anti-inflammatory seasoning blend and bay leaf. Using a wooden spoon, stir the mixture to mix all of the ingredients together. Bring the mixture to a boil, then cover with a fitted lid and reduce to a rapid simmer. Simmer the ingredient for two hours or until it's ready.

The chicken should be tender and fall off the bone when it is done cooking. Remove the chicken to a clean plate and remove the meat from the bones. Place the meat back into the pot.

Using a slotted spoon, remove the herbs and ginger. Let the mixture simmer for a few minutes, taste the broth, and add additional seasoning if needed.

To serve, place cooked rice in the bottom of a single serving bowl and spoon in the chicken and broth mixture. If you like a little spice, add fresh herbs and crushed red pepper. Enjoy.