Prepare your taste buds for an explosion of flavor with this mouthwatering Lamb Burger recipe that will take your burger game to a whole new level. I recently had the pleasure of sinking my teeth into this juicy masterpiece, and let me tell you, it was a burger experience like no other.
The star of the show, of course, is the ground lamb. The lamb brings a unique and robust flavor that elevates this burger from ordinary to extraordinary. Combined with the aromatic blend of parsley and garlic, it creates a tantalizing symphony of tastes that will leave you craving more.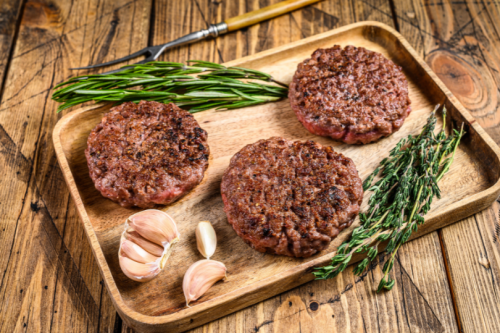 But that's not all—the addition of Parmesan cheese takes these burgers to new heights of indulgence. As it melts into the meat, it adds a delightful tanginess that perfectly complements the savory lamb. It's truly a match made in burger heaven.
To bind everything together, eggs and liquid aminos are incorporated into the patty mixture. The eggs lend moisture and richness, while the liquid aminos provide a savory umami kick that amplifies the overall flavor profile.
Now let's talk about the seasoning. A paprika, garlic powder, salt, and a dash of black pepper work their magic to infuse the lamb patty with layers of smokiness and depth. Each bite is a symphony of well-balanced spices that dance on your palate, leaving you yearning for the next mouthful.
Of course, a burger is incomplete without its accouterments. I opted for a slice of fresh, ripe tomato and a handful of large basil leaves. The juicy tomato brings a burst of acidity that cuts through the richness of the lamb, while the fragrant basil adds an herbaceous note that ties everything together.
This lamb burger recipe is a culinary adventure that showcases the unique flavors of lamb in burger form. Bursting with savory goodness, this masterpiece will satisfy even the most discerning burger aficionados. So fire up your grill, gather your ingredients, and get ready to indulge in a burger experience that will leave you craving for more.
If you like this recipe, please leave a comment or share it with someone you know.
For more recipes like these try some of our other recipes:
To follow Nikki regularly and stay up to date on what she's doing, follow her on the gram!
Ingredient Lists:
ground lamb
parsley
garlic
Parmesan cheese
eggs
liquid aminos
paprika
garlic powder
salt
black pepper
tomato
basil leaves
Lamb Burger
Ingredients
1 and a half pounds of ground lamb

1/4 cup parsley, finely minced

2 cloves of garlic, finely minced

1/2 cup Parmesan cheese

2 eggs

2 tablespoons of liquid aminos

1 teaspoon of paprika

1 teaspoon of garlic powder

1 teaspoon of salt

1/8 teaspoon black pepper

1 tomato sliced

5 to 7 large basil leaves

bread crumbs (optional)
Instructions
Preheat the air fryer or place a large pan over medium-high heat and drizzle the bottom with olive oil.

In a large bowl, add lamb, parsley, garlic, parmesan cheese, egg, liquid aminos, and seasoning. Mix well with a spatula to combine the ingredients.

Using your hands, form the meat into patties about a half-inch thick. Placed on a clean plate.

When the air fryer is hot, place the patties on an air fryer-safe pan. Put them in the air fryer for 10 to 15 minutes, or until fully cooked.

If you're using a pan, put your patties inside the pan, reduce heat to medium, and cook on both sides for about five to seven minutes, or until fully cooked.

To serve, place the patties on a plate and top with tomato and basil. Drizzle with balsamic vinegar if desired.