Nikki's version of Shepherd's Pie, Lamb Bourguignon topped with fennel and mint whipped potatoes. Tender lamb meat and vegetables simmered in dry red wine and spices until the meat melts in your mouth. Buttery whipped potato puree with hints of mint and fennel, bring out the flavor of the lamb. This dish is not only easy to make, but it feeds a large amount of people. So, whether you are hosting a small dinner party or feeding a large family, this dish is perfect to give you more than enough food to keep everyone full and happy!
What is Lamb Bourguignon? 
Bourguignon is a red wine stew that originated in Burgundy, France and typically is made with beef. This recipe is made with lamb instead of beef for the flavor. Lamb tends to have a unique taste that pairs well with mint, fennel, and red wine. The bourguignon stew is always made with carrots, onions, red wine and bacon. The bacon or pancetta helps to add even more flavor to this dish. Fresh herbs complete this recipe by adding a subtle note of flavor.
What do I serve with this dish?
First, you definitely want to serve this recipe with crusty bread to soak up the delicious sauce. Most vegetables can be served on the side. Steamed asparagus, a lovely garden salad, brussels sprouts are just a few of the vegetables that would work well with this recipe. Remember to also serve a nice glass of dry red wine with the dish. The wine will bring out the flavor of the lamb meat.
What will I need for this recipe?
cutting board
kitchen knife to cut the meat
chopping knife
hand blender or food processor
large saute pan with lid
baking dish
medium pot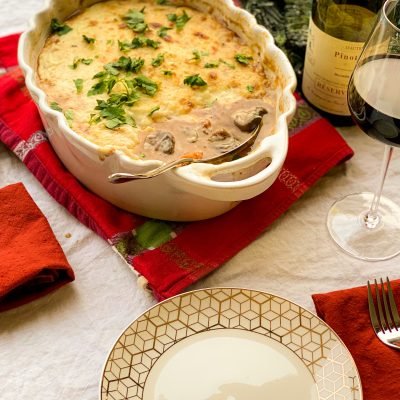 Lamb Bourguignon with Mint and Fennel Whipped Potatoes
Nikki's version of Shepherds Pie. Lamb simmered in a red wine sauce with carrots and pearl onions. The stew is topped with a fennel and mint whipped potato.
Ingredients
2

Ibs

boneless lamb roast- cut into cubed pieces

Leg of lamb would work

3

cloves

garlic-chopped

3

large carrots- sliced diagonally

1/4

cup

pearl onions

If using raw, place onions in boiling water for 5 minutes before peeling them

1

container

sliced mushrooms

2

tbsp

tomato paste

1/4

cup

pancetta- chopped

bacon can be used as well

1/2

cup

dry red wine

1

cup

beef broth

3

sprigs

fresh thyme

1

bay leaf

salt/pepper for taste

1/4

cup

avocado oil

1/2

cup

arrowroot starch

5

large russet potatoes- peeled and cut in half

5

cups

chicken broth

8

oz

mascarpone cheese

1/4

cup

fresh mint leaves

1

fennel bulb- sliced
Instructions
Place cubed meat in a large bowl and add arrowroot starch and 1 tbsp of salt/pepper. Mix well. Place a large pan over medium heat and add avocado oil. When pan is hot add the meat to the pan. Brown on both sides. Add pancetta and continue to brown.

When meat has been browned add garlic and saute for a 2-3 minutes. Next, add carrots and saute for a minute or two. Add red wine and deglaze the mixture. When mixture has been reduced by half add tomato paste, beef broth, herbs, onions, and mushrooms. Bring mixture to a boil then cover with a lid and reduce heat to low. Let mixture simmer for 1 hour.

While stew is simmering place chicken stock in a medium pot over high heat. When liquid comes to a boil add potatoes and fennel. Cook potatoes and fennel until tender. Being sure to save 1 cup of the cooking liquid, place potatoes in a colander and drain the remaining liquid. Return potatoes and fennel back to the pot. Add mascarpone cheese and a 1/4 cup of the cooking liquid. Using a hand blender or food processor to puree the mixture. If potato mixture is too thick add a little more of the liquid. When desired consistency is achieved add salt and pepper for taste. Set aside until ready to use.

When Stew is done cooking place it in a baking dish and top with potato mixture. Place under the broiler until top is golden. Serve with your favorite vegetable and crusty bread.