Prepare to be whisked away on a culinary adventure with this Green Goddess Grilled Chicken Salad recipe! Bursting with vibrant colors, fresh flavors, and wholesome ingredients, this salad is a true delight for both the eyes and the taste buds.
Let's start with the star of the show: the grilled chicken. Tender, juicy, and infused with the smoky char from the grill, it adds a savory note to the salad that beautifully complements the crispness of the vegetables. The combination of fresh lettuce, vibrant cherry tomatoes, creamy avocado slices, and crunchy cucumber creates a medley of textures that keeps each bite interesting and satisfying.
Now, let's talk about the Green Goddess dressing. This heavenly concoction is a blend of fresh herbs, tangy lemon juice, and smooth avocado. It's like a flavor explosion in your mouth! The dressing not only adds a burst of brightness to the salad but also brings everything together with its luscious, herbaceous notes. It's truly a match made in culinary heaven.
What I particularly love about this Green Goddess Grilled Chicken Salad is how versatile it is. You can easily customize it to suit your preferences and dietary needs. Add some crumbled feta cheese for an extra tangy kick or sprinkle some toasted nuts for a delightful crunch. The possibilities are endless, and you can get creative with your own twist on this already sensational recipe.
Whether you're looking for a refreshing lunch, a light dinner, or a vibrant side dish, this Green Goddess Grilled Chicken Salad is a winner. It's a celebration of fresh ingredients and bold flavors that will leave you feeling nourished and satisfied. So grab your salad bowl, whip up this culinary masterpiece, and indulge in a moment of pure culinary bliss. Bon appétit!
If you like this recipe, please leave a comment or share it with someone you know.
For more recipes like these try some of our other recipes:
To follow Nikki regularly and stay up to date on what she's doing, follow her on the gram!
Ingredient Lists:
skinless chicken breasts
mixed greens (butter, lettuce, romaine, arugula, and kale).
red onion
cucumber
cherry tomatoes
avocado
lemons
basil
parsley
olive oil
paprika
garlic powder
turmeric
pepper
sea salt
liquid aminos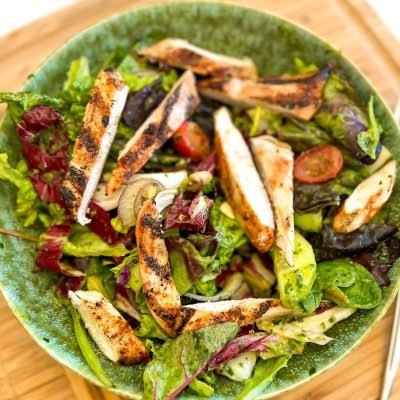 Green Goddess Grilled Chicken Salad
Ingredients
One pound of boneless skinless chicken breasts

Three cups of mixed greens, thoroughly washed (butter, lettuce, romaine, arugula, and kale)

One half of a red onion sliced

One cucumber, peeled, sliced, and cut into quarters

Two cups of cherry tomatoes cut in half
Dressing
One avocado peeled

Two lemons, juiced

One-half cup of basil

One-half cup of parsley

One cup of olive oil

One teaspoon of paprika

One teaspoon of garlic powder

One-half teaspoon of turmeric

One-eighth teaspoon pepper

One teaspoon of sea salt

Two to three tablespoons of liquid aminos
Instructions
Preheat your grill to medium heat. Season chicken breasts with salt, pepper, and garlic.

Place on the grill and grill on both sides until fully cooked. About five minutes on each side.

While the chicken is cooking, place the washed greens in a large bowl.

Add cucumber, onion, and cherry tomatoes mixed together in your dressing by placing avocado, lemon juice, herbs, seasonings, and liquid aminos in a large blender or food processor and pureeing until slowly smooth.

Pour in olive oil and continue to puree to create a silky dressing. Note: If the dressing is too thick, add additional olive oil. Taste and add additional ingredients if needed.

When the chicken is done cooking, slice it and set it aside.

Pour the dressing over the salad, mix it well with the grilled chicken, and enjoy.