Prepare your taste buds for a delightful journey with my latest culinary adventure: Homemade Gluten-Free Granola. I recently embarked on a quest to create a delicious, wholesome, and gluten-free granola recipe, and let me tell you, the results were beyond my wildest expectations.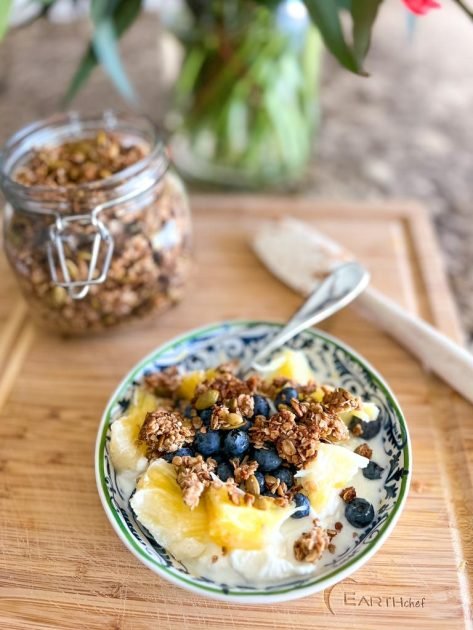 First off, let's talk about the texture. This granola is perfectly crunchy without being too hard or chewy. The combination of gluten-free rolled oats and pumpkin seeds creates a satisfying crunch that's oh-so-satisfying. And the best part? The recipe is completely customizable. You can add your favorite nuts, seeds, and dried fruits to make it your own.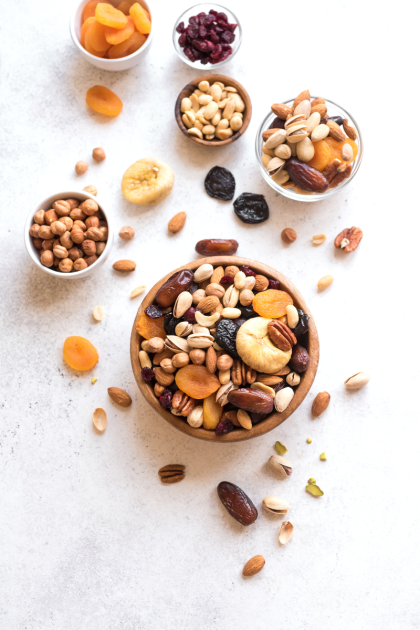 Now, let's talk about the flavors. This granola has just the right amount of sweetness, thanks to maple syrup and coconut oil. It's also loaded with warm, comforting spices like cinnamon, which add a cozy, autumnal vibe to every bite.
One of the things I love most about this homemade gluten-free granola is how versatile it is. I sprinkle it over my morning yogurt or smoothie bowl, use it as a topping for oatmeal, or even eat it straight out of the jar as a midday snack.
But perhaps the best thing about this granola is that it's gluten-free. I am always on the lookout for delicious gluten-free recipes, and this granola certainly fits the bill. It's perfect for anyone who follows a gluten-free lifestyle or has a gluten intolerance.
Overall, I highly recommend this homemade gluten-free granola recipe to anyone who loves a good, crunchy snack that's both healthy and satisfying. Trust me, once you try this granola, you'll never go back to store-bought again.
If you like this recipe, please leave a comment or share it with someone you know.
For more recipes like these try some of our other recipes:
To follow Nikki regularly and stay up to date on what she's doing, follow her on the gram!
Ingredient Lists:
gluten-free oats
pumpkin seeds (or other nuts or seeds of choice)
maple syrup
vanilla
coconut oil
cinnamon
dried fruit
sea salt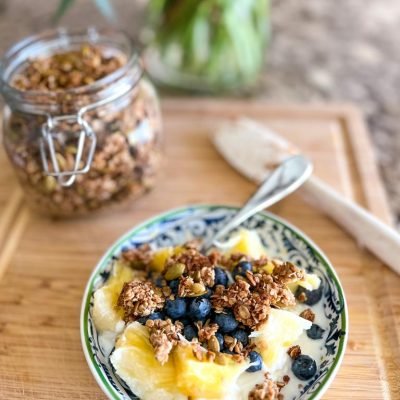 Homemade Gluten-Free Granola
Ingredients
3 cups of gluten-free oats

1 cup pumpkin seeds (or other nuts or seeds of choice)

1/2 cup maple syrup

1 teaspoon of vanilla

1/4 cup coconut oil

2 teaspoons of cinnamon

1 cup of chopped dried fruit (optional)

1/2 teaspoon sea salt
Instructions
Preheat the oven to 350 degrees. In a large bowl, mix the gluten-free oats, cinnamon, and salt together.

Add the oil, maple syrup, vanilla, and seeds and mix together until well combined and a thick paste has been formed.

Line a baking sheet with parchment paper and spread the oat mixture over the top. Making sure to spread it to create an even layer, and place it in the oven for 20 minutes.

Remove and let cool; add the dried fruit if using and break it into pieces; store in an airtight container.

Enjoy with your favorite yogurts and desserts, or alone for a healthy snack.