Baked Apple Crisp Oatmeal is a delicious and healthy breakfast option that is easy to make and customizable to your taste preferences.
Mornings are tough when you are busy. They can often time leave you with little to no time to eat or make breakfast. That's why I love this recipe. It allows you to make a large batch so all you have to do is heat it up each morning when you want a healthy breakfast.
The Best part is that your family will have no idea it's good for them. It tastes like you're eating dessert!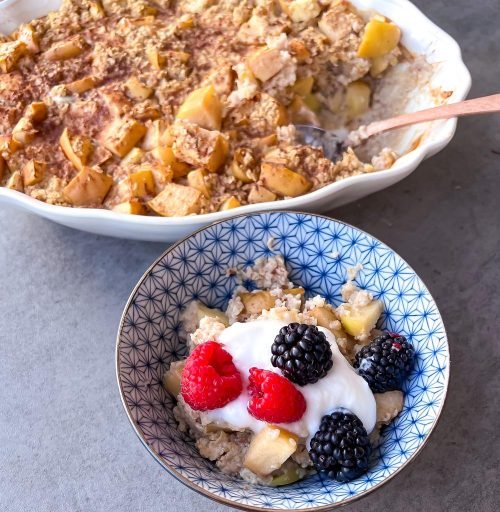 The apple add natural sweetness add a boost of potassium, while the oats provide fiber and complex carbohydrates to keep you fueled throughout the morning.
Enjoy as is, or add your favorite toppings for an extra special treat! Coconut yogurt and berries add a nice and healthy touch.
If you like this recipe, please leave a comment or share it with someone you know.
For more recipes like these try some of our other recipes:
To follow Nikki regularly and stay up to date on what she's doing, follow her on the gram!
Ingredient Lists:
apple
rolled oats
baking powder
cinnamon
salt
milk (any kind)
large eggs
vanilla extract
honey or maple syrup
nuts (such as almonds, walnuts, or pecans)
Apple crisp oatmeal
Ingredients
2

apple

1

cup

rolled oats

1

tsp

baking powder

1

tsp

cinnamon

pinch

of salt

1

cup

milk (any kind)

2

large

eggs

1

tsp

vanilla extract

2

tbsp

honey or maple syrup

1/2

cup

chopped nuts (such as almonds, walnuts, or pecans) (optional)
Instructions
Preheat your oven to 375°F (190°C). Grease an 8x8-inch baking dish with cooking spray.

Mix the apple, oats, baking powder, cinnamon, and salt in a large bowl.

Whisk together the milk, eggs, vanilla extract, and honey or maple syrup in another bowl.

Add the wet ingredients to the dry ingredients and mix until well combined. Stir in the chopped nuts if using.

Pour the oatmeal mixture into the prepared baking dish and smooth out the top.

Bake in the preheated oven for 25-30 minutes or until the oatmeal is set and lightly golden on top.

Serve hot, topped with your favorite fruit, nuts, and/or sweetener. Enjoy!