Get ready to embark on a flavor adventure like no other with my latest obsession: Easy Roast Chicken with Kalamata Olive Chimichurri! This recipe has taken my taste buds by storm, and I can't wait to share my culinary escapade with you.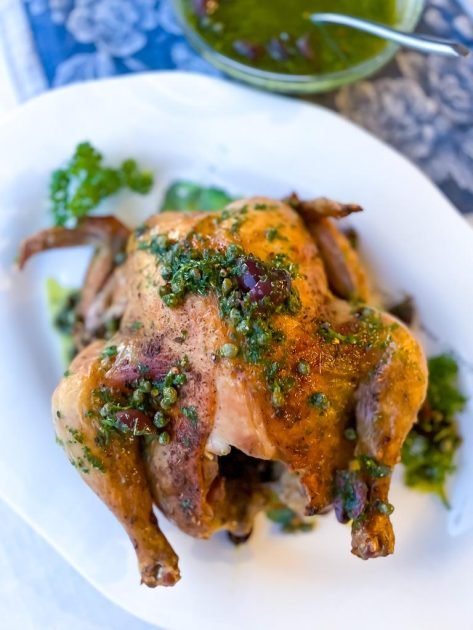 Imagine this: succulent roast chicken with skin so gloriously crispy, it crackles under your fork. The meat is unbelievably tender, infused with a symphony of aromatic herbs and spices that transport you to foodie heaven. It's a masterpiece of simplicity and bold flavors that will leave you begging for seconds.
But wait, there's more! The real showstopper here is the Kalamata Olive Chimichurri. Brace yourself for a flavor explosion as briny Kalamata olives, fresh herbs, and garlic dance together in perfect harmony. A squeeze of tangy lemon adds a burst of zing, completing this mouthwatering symphony of Mediterranean delight. Drizzle it over the roast chicken, and prepare for your taste buds to do a happy dance.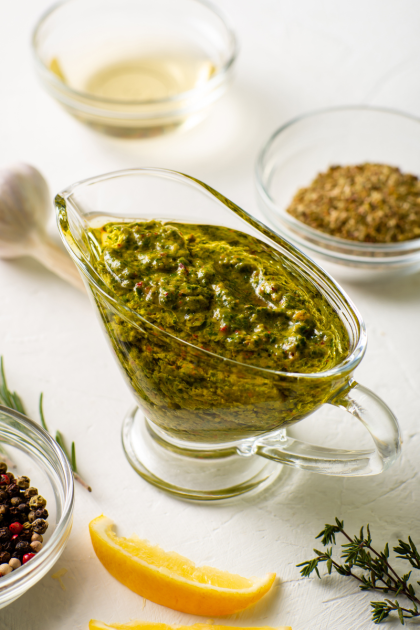 Now, let's talk about the sheer ease of this recipe. You'll be amazed at how effortlessly you can create such culinary magic. Season the chicken, pop it in the oven, and let the aromas seduce you as it transforms into golden perfection. Meanwhile, whip up the Kalamata Olive Chimichurri in a flash, feeling like a kitchen rockstar in the process.
And here's the best part: This dish is as versatile as it is irresistible. Whether you're hosting an intimate dinner party or indulging in a cozy night in, this roast chicken will steal the spotlight. Pair it with your favorite roasted veggies or a vibrant green salad for a complete and satisfying meal that will leave your guests raving.
So, my fellow food lovers, it's time to take your taste buds on an unforgettable journey. Easy Roast Chicken with Kalamata Olive Chumichiri is your ticket to flavor paradise. With its catchy simplicity and personalized touch, this recipe is sure to make you the culinary hero of your kitchen. So roll up your sleeves, grab those ingredients, and prepare to be amazed. Get ready to savor a meal that will make you fall head over heels in love with food all over again.
If you like this recipe, please leave a comment or share it with someone you know.
For more recipes like these try some of our other recipes:
To follow Nikki regularly and stay up to date on what she's doing, follow her on the gram!
Ingredient Lists
organic chicken
olive oil
paprika
garlic powder
salt
pepper
chili powder
fresh garlic
chicken stock
olive tapenade
parsley
garlic,
fresh oregano,
red pepper
sea salt
Kalamata Olives 
capers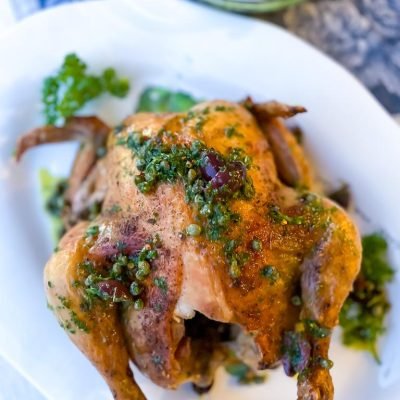 Easy Roast Chicken with Kalamata Olive Chimichurri
Ingredients
1 or 1 three-pound organic chicken

1/2 cup olive oil

1 tablespoon of paprika

1 tablespoon of garlic powder

1 teaspoon salt

1 teaspoon pepper

1 teaspoon of chili powder

3 cloves of fresh garlic

1 cup of chicken stock

olive chimichurri
Kalamata Olive Chimichurri
1/2 cup olive oil

1 cup parsley

2 cloves of garlic

1/2 cup of fresh oregano

1 teaspoon crushed red pepper, optional

2 teaspoons of sea salt

1/8 teaspoon pepper

1 jar of Kalamata Olives, pitted and cut in half

1 jar capers
Instructions
Place the oven at 400 degrees or turn on your grill to high heat on one side, leaving the other side on low.

While the oven or grill is heating up, rinse the chicken and remove the giblets from the inside. Pat the chicken dry with paper towels and place it in a cast iron pot.

In a small bowl, mix the seasonings and olive oil together. Rub the chicken all over with the olive oil mixture and season with additional salt and pepper.

Poor chicken stock into the side of a pot. Be careful not to pour on top of the chickens so you don't wash away the seasoning blend. Add garlic to infuse the chicken, cover it with a fitted lid, and place it in the oven or on the grill.

Note: If you are using a grill, place the cast iron pot on the side where the burner is on low, making sure that the flame is not hitting the pot. Roast for 60 minutes or until the internal temperature reaches 165 degrees.

After we put the chicken on the grill or in the oven, make your chimichurri by adding olive oil, garlic, parsley, oregano, and seasoning to a blender or food processor and pureeing until smooth.

Mix in drained capers and Kalamata olives. Mixed together and set aside.

When the chicken reaches an internal temperature of 165 degrees, place it on a cutting board and let it rest for 10 minutes using a sharp knife. Be very careful to cut the chicken into pieces.

Serve the chicken with olive chimichurri and enjoy.