Hey there, food enthusiasts! Get ready to embark on a delightful culinary journey as we unveil the perfect recipe to beat the summer heat. Introducing our Summer Gazpacho, a chilled soup that will rejuvenate your taste buds and leave you craving more. Packed with vibrant flavors and a refreshing twist, this recipe is an absolute must-try for anyone seeking a cool and satisfying summer treat.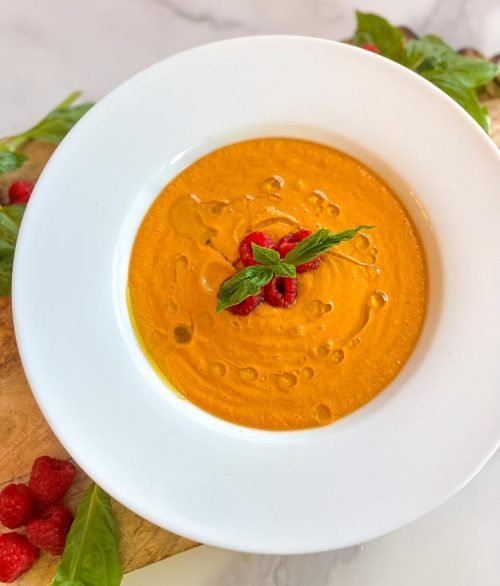 Imagine sitting in your garden with the warm summer breeze gently brushing against your skin and indulging in a bowl of our homemade summer gazpacho. Bursting with the essence of fresh vegetables, this vibrant soup embodies the epitome of summer dining.
The symphony of summer continues with the inclusion of fragrant garlic and tangy red wine vinegar. These ingredients infuse the gazpacho with an extra layer of complexity, adding a zesty kick that dances on your palate. A touch of olive oil brings a silky texture to the soup, ensuring every spoonful is a smooth and luxurious experience.
But wait, there's more! Our gazpacho is not only a feast for your taste buds, but it also provides a nourishing burst of vitamins and antioxidants. Packed with lycopene from the tomatoes and a myriad of other nutrients from the vibrant array of vegetables, this chilled soup is a healthy and guilt-free indulgence.
This chilled soup is a symphony of flavors that showcases the season's best offerings. So gather your ripest tomatoes, embrace the vibrant colors of the market, and prepare to be enchanted by the fresh and invigorating sensations this delightful recipe has to offer. Cheers to the joys of summer and the pleasures of great food!
If you like this recipe, please leave a comment or share it with someone you know.
For more recipes like these try some of our other recipes:
To follow Nikki regularly and stay up to date on what she's doing, follow her on the gram!
Ingredient Lists:
cherry tomatoes
garlic
carrot
raspberries
cucumber
basil
red onion
red bell pepper
olive oil
red wine vinegar
balsamic vinegar
salt and pepper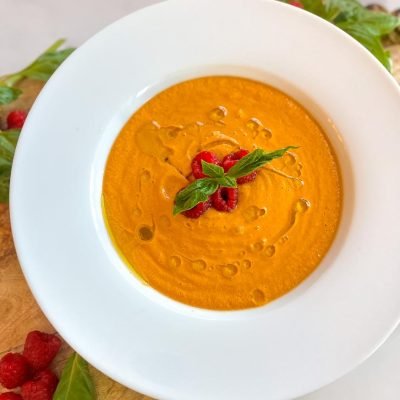 Summer Gazpacho
Ingredients
3 and a half cups of cherry tomatoes, cut in half

2 cloves of garlic, roughly chopped

1 stick of carrot, peeled and roughly chopped

3/4 cup of raspberries

1 cucumber peeled and sliced

1 cup of basil, roughly chopped

1/4 red onion, roughly chopped

1 red bell pepper, seated and roughly chopped

2 cups of olive oil

1/4 cup of red wine vinegar

1/4 cup of balsamic vinegar

salt and pepper to taste
Instructions
Place the vegetables in a large bowl. Drizzle with a touch of olive oil, salt, and pepper, and add both vinegars; mix well.

A little more salt should be added. Cover with plastic wrap and let the mixture marinate for two hours.

When the mixture is done marinating, place the vegetables and their juices into a heavy-duty blender.

Add one cup of olive oil and puree. Continue adding olive oil until a creamy and smooth texture is formed.

If you want the mixture to be velvety smooth, add additional olive oil if needed, taste, and add additional salt and pepper as needed. Place the mixture in a large bowl.

Drizzle the top with additional olive oil and garnish with raspberries and basil.