Hey there, food enthusiasts! Get ready to embark on a flavor-packed journey with our tantalizing Shrimp Ceviche Tostada recipe. Picture this: succulent shrimp, tangy citrus juices, vibrant veggies, and a crispy tostada shell that'll make your taste buds dance. It's a dish that effortlessly blends freshness, zing, and crunch, leaving you craving for more. So, grab your apron, and let's dive into this mouthwatering adventure!
Our Shrimp Ceviche Tostada is a harmonious medley of textures and flavors. The star of the show is the plump, juicy wild-caught shrimp, perfectly marinated in a zesty blend of lime juices. As you take your first bite, the shrimp's tenderness gives way to a burst of refreshing lime juice. Each crunchy bite of the tostada shell brings a delightful contrast, adding a satisfying crunch to every mouthful.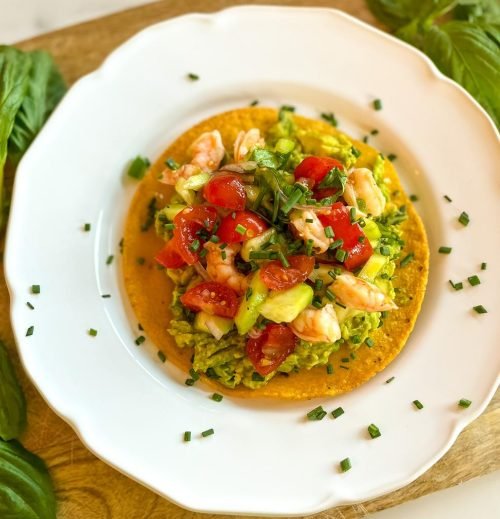 When it comes to freshness, our Shrimp Ceviche Tostada takes the crown. We handpick the freshest ingredients to create a vibrant ensemble of flavors. The diced tomatoes, crisp red onions, and vibrant cilantro complement the shrimp beautifully, enhancing the ceviche's refreshing nature. This dish not only tastes incredible but also showcases the stunning colors and aromas of the ingredients, making it a feast for both the eyes and the palate.
One of the greatest joys of our Shrimp Ceviche Tostada recipe is its versatility. You can unleash your culinary creativity by customizing it to your liking. Prefer a little extra heat? Add a touch more jalapeño or a sprinkle of fiery hot sauce. Craving a touch of creaminess? Top it off with a dollop of tangy avocado crema or a spoonful of cool sour cream. With endless possibilities, each bite can be a new adventure tailored to your personal preferences.
Whether you're planning a casual dinner with friends, a summertime cookout, or even a quick weekday lunch, our Shrimp Ceviche Tostada is the perfect choice. Its refreshing and light nature makes it a go-to dish for warm weather gatherings, while its burst of flavors ensures it stands out on any occasion. Prepare a platter of these delectable tostadas, and watch as your guests' faces light up with pure delight!
Get ready to tantalize your taste buds with our Shrimp Ceviche Tostada! This mouthwatering dish brings together the freshness of shrimp, the tanginess of lime, and the crunch of a tostada shell to create a symphony of flavors you won't soon forget. Dive into a plateful of pure delight and let each bite transport you to a culinary paradise. It's time to savor the joy of a perfectly balanced, personalized Shrimp Ceviche Tostada!
If you like this recipe, please leave a comment or share it with someone you know.
For more recipes like these try some of our other recipes:
To follow Nikki regularly and stay up to date on what she's doing, follow her on the gram!
Ingredient Lists:
wild-caught shrimp
corn tortillas
red onion
cucumber
garlic
cherry tomatoes
cilantro
avocados
lime juice
olive oil
garlic salt
paprika
sea salt
avocado oil
salt and pepper
Shrimp Ceviche Tostada
Ingredients
2 pounds of wild-caught shrimp peeled, devein and cooked

4 to 6 corn tortillas

1/2 red onion, thinly sliced

1 cucumber peeled and diced

1 clove of garlic, minced

2 cups cherry tomatoes cut and quarters

1/4 cup cilantro, finely chopped

2 avocados, pitted and peeled

1/4 cup of lime juice

1 tablespoon of olive oil

1 teaspoon of garlic salt

1 teaspoon paprika

1 teaspoon of sea salt

avocado oil for drizzling

salt and pepper as needed for taste
Instructions
Place a large pan over medium-high heat. Drizzle the bottom with avocado oil to make sure that the entire bottom of the pan is completely coated.

When the pan is hot, take your tortillas and place them in the oil until nice and crispy on one side, and then flip over onto the other side for about one to two minutes on each side.

Place on a clean plate and sprinkle with sea salt. Let the cooling continue until all of your tortillas have been used.

Next, place the shrimp, onions, garlic, cucumber, cilantro, and tomatoes. In a large bowl, add lemon juice, olive oil, and seasonings; mix well and taste. Add additional salt and pepper as needed for taste.

Place it in the refrigerator to sit in the marinade for a few minutes.

While the shrimp is marinating, add avocado to a small bowl. Add a teaspoon of lime juice, salt, and pepper. Using a fork, mash the avocado into a fine paste and mix all of the ingredients together.

Add a touch of garlic, salt, and paprika if desired. Mix well. Taste and add additional seeding seasonings if needed.

To assemble, place one shell on a clean plate. Top with the avocado mixture and spoon the ceviche mixture on top. Sprinkle with additional cilantro if desired. Enjoy.