Welcome to my culinary haven, where we embark on a delectable journey with an extraordinary recipe: Sea Bass with Salsa Verde and Root Vegetable Puree. This masterpiece combines the delicate flavors of tender sea bass, vibrant salsa verde, and velvety root vegetable puree. Prepare to satisfy your taste buds and leave them longing for more!
Our Sea Bass with Salsa Verde and Root Vegetable Puree is a harmonious blend of colors, textures, and flavors. Let's begin with the star of the dish, the sea bass. Renowned for its mild, buttery taste and tender flesh, this fish provides the perfect foundation for vibrant salsa verde and creamy puree.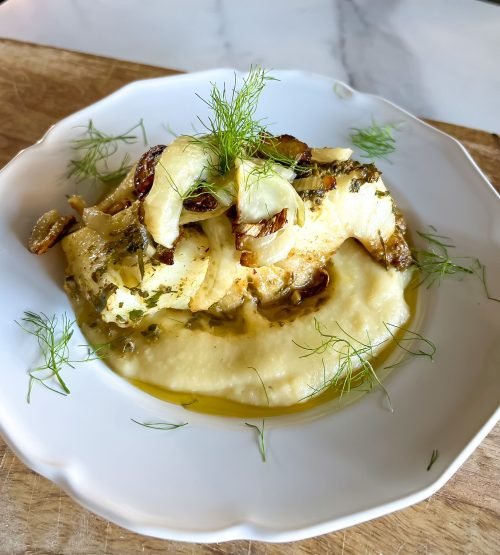 We achieve a delectable balance by expertly pan-searing the sea bass, creating a crispy golden crust while retaining its moist, flaky texture. With each bite, the succulent fish effortlessly melts in your mouth, revealing its subtle oceanic essence.
Enhancing the sea bass is the vibrant salsa verde. Crafted using a medley of fresh herbs such as parsley, and basil, this green sauce adds a refreshing and invigorating burst to every mouthful. The harmonious blend of zesty lemon, tangy capers, and aromatic garlic creates a symphony of flavors, tantalizing your taste buds.
We accompany this dish with a velvety root vegetable puree to elevate it to new heights. This indulgent creation combines roasted parsnips, carrots, and potatoes, resulting in a creamy texture that beautifully contrasts with the crispy sea bass. The natural sweetness of the root vegetables intermingles with savory notes, resulting in a culinary symphony that will leave you longing for more.
As you savor each forkful of Sea Bass with Salsa Verde and Root Vegetable Puree, you'll find yourself transported to a world where flavor sensations reign supreme. This exquisite dish celebrates the ocean's bounty and the earth's treasures, showcasing the artistry that can be achieved when the finest ingredients harmoniously combine.
Unleash your inner culinary maestro and treat yourself to the captivating Sea Bass with Salsa Verde and Root Vegetable Puree. Impress your loved ones with this enchanting recipe that brings together delicate sea bass, vibrant salsa verde, and velvety root vegetable puree in perfect harmony. It's a dish that will take your taste buds on an unforgettable journey, leaving you yearning for an encore.
If you like this recipe, please leave a comment or share it with someone you know.
For more recipes like these try some of our other recipes:
To follow Nikki regularly and stay up to date on what she's doing, follow her on the gram!
Ingredient Lists:
sea bass (white fish)
potatoes
celery root
parsnip
chicken stock or vegetable stock
olive oil
salt and pepper
parsley
1/4 cup of chopped basil
garlic
capers with their juices
red pepper
olive oil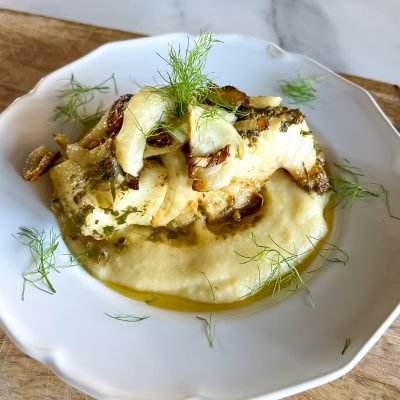 Sea Bass with Salsa Verde and Root Vegetable Puree
Ingredients
1-1/2 pounds of sea bass (white fish)

2 russet potatoes, peeled and corded

1 celery root, peeled and quartered

1 parsnip, peeled and quartered

3 cups of chicken stock or vegetable stock

olive oil for drizzling

salt and pepper to taste
Salsa verde
1/4 cup of chopped parsley

1/4 cup of chopped basil

2 cloves of garlic

1 jar of capers with their juices

1 teaspoon crushed red pepper (optional)

1-1/2 cups of olive oil

salt and pepper to taste
Instructions
Place the salsa verde ingredients in a blender. Start by using one cup of olive oil puree. Add additional olive oil if needed. Taste and add additional seasoning if needed.

In a large bowl, add sea bass and pour salsa verde over top. Place in the refrigerator and let marinate for at least 30 minutes.

Add three cups of vegetable or chicken stock to a large pot over high heat. Bring to a boil. When stock boils, add root veggies. Reduce heat to medium and let the mixture simmer until the veggies are soft when pierced with a fork.

Place a large pan over medium-high heat. Drizzle the bottom with avocado oil. Place sea bass filets in the pan, one at a time, and brown on each side. About two to three minutes on each side.

Pour in the marinade and bring it to a boil. Cover and reduce the heat to medium-low. Let the fish simmer for 15 to 20 minutes, or until fully white and cooked through the center.

When root veggies are tender, strain through a colander, being sure to save the chicken stock or vegetable stock. Set aside. 

Place the root vegetables in a large bowl, and slowly add a little bit of the stock to the vegetables.

Using a hand blender or a food processor, puree the mixture, drizzling in olive oil as you go to create a creamy consistency, and season with salt and pepper. Set aside.

To serve, place the root vegetable puree on the bottom of a plate or shallow dish and top with sea bass and salsa verde sauce.

Note: For extra flavor, you can add sauteed fennel on top. And to do this, just place the sliced fennel bulb in a shallow pan drizzled with olive oil and sauté over medium-high heat until the fennel is tender and slightly caramelized. Place the fennel on top of your fish for added flavor. Enjoy.