Fresh Alaskan Halibut poached in a coconut curry and lemongrass sauce, served with a side of organic Jasmine rice. This dish is so easy and quick! Perfect for the person that wants to eat healthy but is limited on time. From start to finish this dish takes 30 minutes. The Alaskan Halibut goes so well with with this flavorful sauce, thats so delicious you will want to drink it.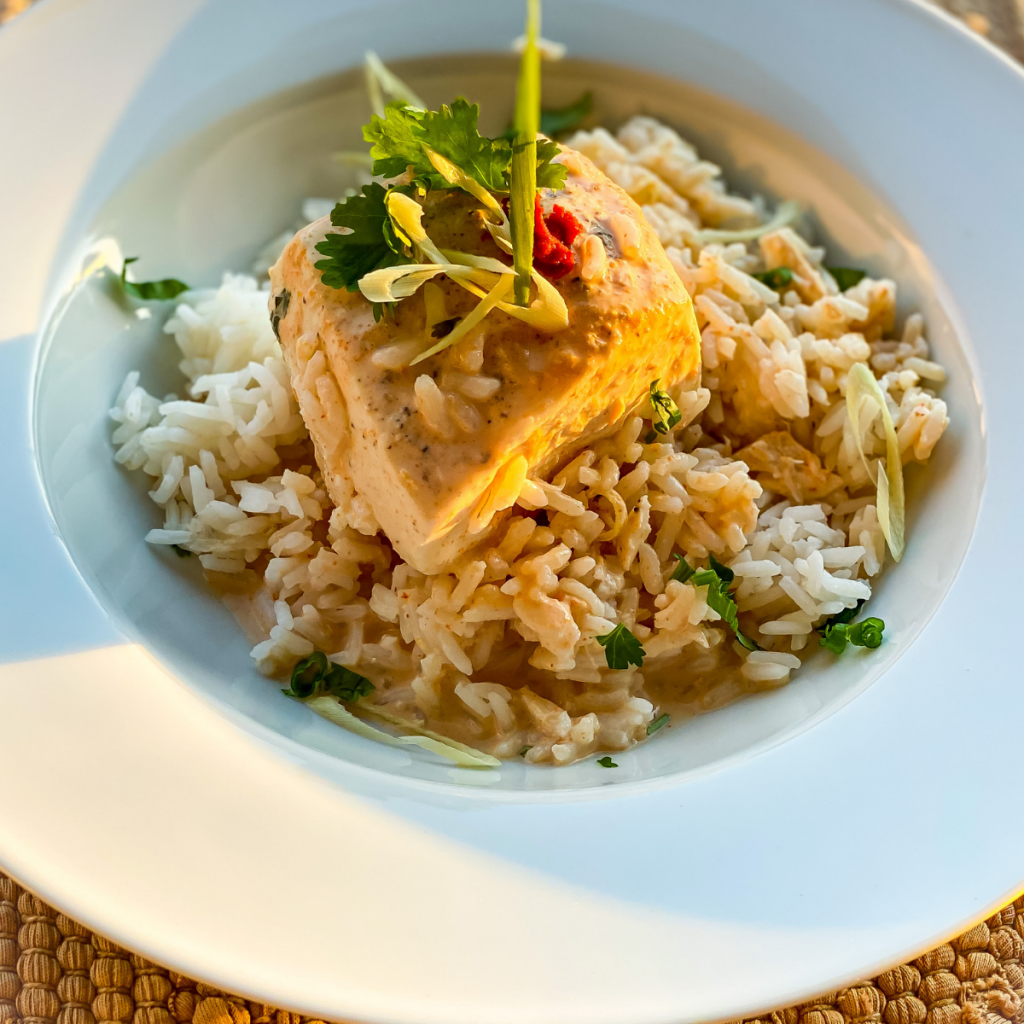 Where can I find Lemongrass?
Fresh lemongrass should be found at your local grocery store. It's usually located in the fresh herb section by all of the produce. Ask your local grocer for help if you cant find it. If you cant find fresh lemongrass dont worry, the curry paste contains some lemongrass flavor.
Where you can find Alaskan Halibut?
Call your local fish market to see if they have Alaskan Halibut in stock. If they dont have it you can use most white fish that is found at the grocery store. If possible buy Halibut or Sea bass because they are good quality cuts of fish and will have the best taste and result.
What does halibut taste like?
Halibut is a very meaty and flaky fish. It does not have a fishy taste or smell to it. Its very hardy and wont fall apart easily. It can be a little on the mild and bland side, so its crucial to make sure to season or infuse the fish with some flavor.
Is Halibut a healthy option?
Halibut is anti-inflammatory and contains a good amount of Niacin, Omega -3, and Selenium. It's high in protein and full of vitamins. Make sure to get a good quality cut of Halibut. Wild is usually best.
What you will need for this recipe
medium pot with fitted lid
large and deep pan with fitted lid
cutting board and chopping knife
wooden spoon for mixing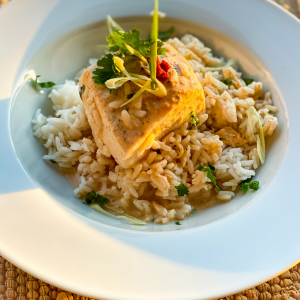 Alaskan Halibut Poached in a Coconut Curry Sauce
Fresh Alaskan Halibut that is poached in a tasty coconut curry. Infused with lemongrass, jalapeño, and fresh cilantro, this sauce is bursting with flavor. Serve this dish on top of your favorite rice for a satisfying and healthy meal.
Ingredients
4

filets

Alaskan Halibut

4

cans

organic coconut milk

1-2

tbsp

red curry paste

start with 1 tbsp, taste and add more if desired

1/4

cup

chopped cilantro

2

Jalapeños sliced

1

cup

white/brown rice

1

tsp

salt/pepper for taste

start with a tsp, taste and add more if desired

1 1/2

cup

water

1/2

stick

fresh lemongrass sliced
Instructions
Make your rice. Follow the instructions on the package.

Place your water and rice in a medium size pan. Bring to a boil over high heat. When water boils cover with a lid and lower heat to low. Let the rice cook for 12-15 minutes until all of the water is absorbed into the rice. When fully cooked place your lid back on the pot and set aside until ready to use.

Season Alaskan Halibut with salt and pepper. Add coconut milk to a deep pan. Place over medium/high heat and bring to a low boil. Add curry paste, jalapeño, lemongrass, and your Halibut filets to the pan. Make sure the coconut milk covers the filets. Bring back to a boil and then cover your pan with a lid. Reduce heat to medium/ low and let fish simmer for 15-20 minutes.

Once fish is done cooking taste your sauce. This is where you will need to add salt and pepper for flavor. Start with a tsp and then taste again if desired taste has not been achieved.

To plate, add a good amount of rice to a large plate and then add Halibut filet on top. Spoon sauce over the fish and rice. Garnish with fresh lemongrass and cilantro.