This recipe for Butterflied Roast Chicken is one of the tastiest and easiest dishes to make at home. To Butterfly a chicken means to remove the back bone, allowing the chicken to lay open nicely. Another term for butterflying is Spatchcock. After the backbone is removed a delicious herb butter is rubbed all over both sides of the chicken to give it a crispy golden skin that is bursting with flavor.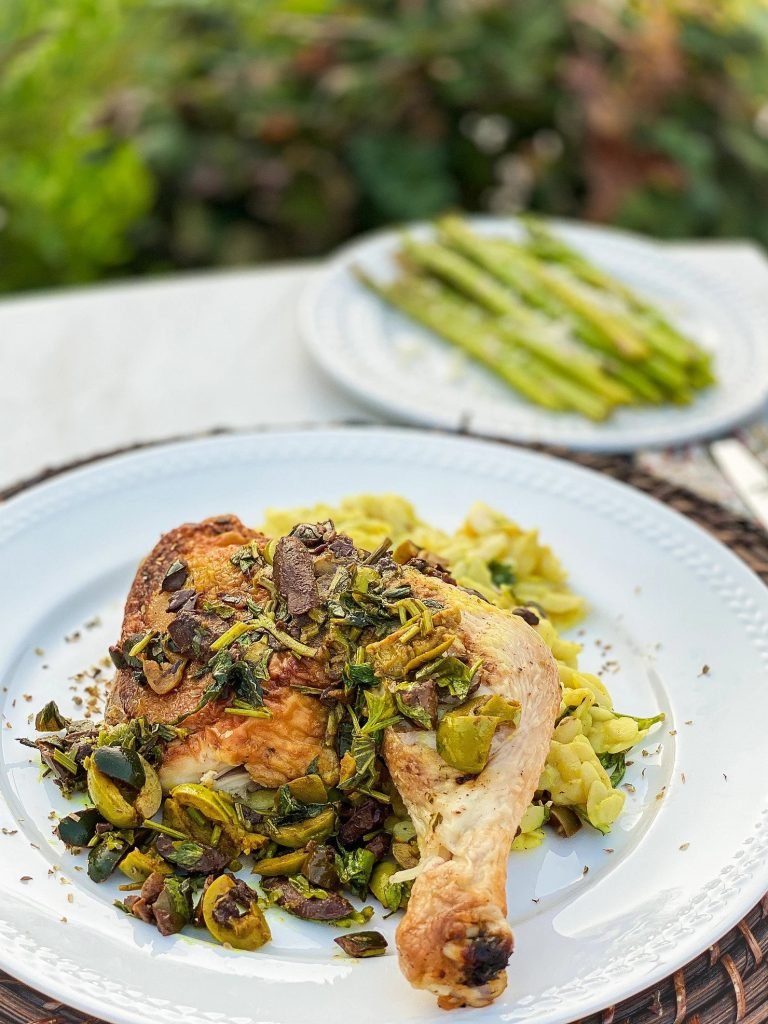 Reasons to Butterfly a Chicken
Speeds up the roasting time
Makes the chicken easer to handle and season
Allows all parts of the chicken to brown nicely
What you will need
Cutting board on a stable surface
Sharp knife. You will want to use a knife that is smaller and skinnier in size, it will make it easier to cut out the backbone.
Grill pan or roasting pan. If using a grill pan make sure to line it with foil to prevent the juices from leaking.
Chopping knife for other ingredients
1 medium saute pan
1 medium pot
Meat thermometer
How to Butterfly a Chicken 
Remove plastic wrap from the chicken and discard.
Reach inside the cavity of the bird to see if you feel a pouch. Remove if you do. Sometimes a whole chicken will contain a pouch full of gizzards. Those wont be used.
Place the chicken under cold water to rinse the inside and outside. Pat dry with paper towels
Place your chicken on a cutting board. Holding the chicken upright with the back facing you, slowly take your knife and carefully start making slices from the top fo the chicken along side of the back bone until you reach the tailbone. Repeat on the other side of the backbone, until the entire backbone has been removed.
Discard the backbone and place your chicken in the grill pan/roasting pan. Wash your hands and the cutting board.
Note: if using a roasting pan follow the recipe and use your oven to roast the chicken. Place your chicken in a 400 degree oven for 30-40 minutes, or until the internal temperature reaches 165 degrees.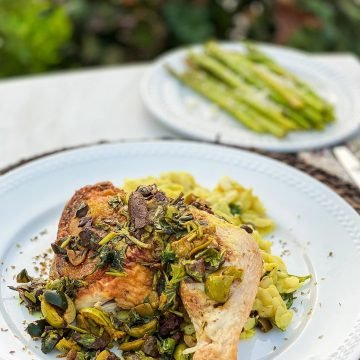 Roast Chicken with Olive Tapenade
Ingredients
1

stick of butter at room temperature

2

tbsp

of olive oil

plus more for drizzling

1/4

cup

of chopped herbs

parsley, basil, oregano, thyme

3

cloves

of grated garlic

1/4

cup

lemon juice

1

tsp

lemon zest

1

whole chicken 3-4 Ibs

1

jar of green olives pitted and chopped

1

jar of kalamata olives pitted and chopped

1/2

can of anchovies chopped

1/4

cup

parsley chopped

1/4

cup

basil chopped

3

cloves

of garlic chopped

1

tbsp

turmeric

salt/pepper for seasoning

1

package of orzo pasta
Instructions
Start by turning on your grill to medium heat. Line a grill pan with foil to prevent leakage.

Take the chicken out of the plastic wrap and rinse. Feel the inside to make sure there are no gizzards that need to be removed. Rinse chicken under cold water and then pat dry, place on a plate and set aside until ready to use.

Prepare the herb butter by mixing butter, olive oil, herbs, garlic, and lemon juice in a small bowl. Set aside.

Get your chicken and place on a secure cutting board. Using a sharp knife, slowly cut along the sides of the backbone. Do this all the way down to the tail bone, repeating on both sides. Remove the backbone with your hand and discard. Place the chicken in the grill pan and season all over with salt and pepper. Next, rub your butter mixture on both sides of the chicken, making sure to fully cover every area.

Place chicken on the grill and roast for 30-40 minutes, until the skin is golden brown and a meat thermometer reads 165 degrees when inserted into the thickest part.

While chicken is roasting prepare the olive tapenade. Place a medium sauce pan over medium heat. Drizzle the bottom with olive oil, add anchovies and chopped garlic. Sauté this mixture for two minutes until anchovies have dissolved and the mixture becomes fragrant. Add the chopped olives, sautéing for a few minutes before adding your parsley, basil, and turmeric. Lastly, add your lemon zest then taste the mixture to see if additional is needed. Finish with freshly ground pepper! Reduce heat to low in order to keep the tapenade warm until ready to use.

Place a pot of water over high heat and bring to a boil. When water starts to boil add the orzo pasta. Reduce heat to medium high heat and cook until pasta is tender. Once pasta is cooked remove from heat and drain water, saving a 1/4 cup of the pasta water. Place pasta into a large bowl and add a splash of pasta water. Add 1/2 cup of the olive tapenade to the pasta mixture. Mix well.

When chicken is fully cooked, remove from the grill and bring inside. Let the chicken rest for about 15- 20 minutes.

When ready to serve cut your chicken into pieces (wings, breasts, and legs). Place pasta on a plate, followed by a chicken piece and the olive tapenade. Garnish with fresh basil and parsley.
Notes
Note: you can also roast the chicken in your oven at 400 degrees.