Asian chicken stir fry recipe with a side of easy fried rice! This recipe is very easy to make when you don't want to spend hours in the kitchen. Using fresh organic ingredients creates a healthy and flavorful meal that will please anyone in your household. Clean up is a breeze because you can cook the entire stir fry in one pan. On the side is an Easy Fried Rice that is full of tasty veggies.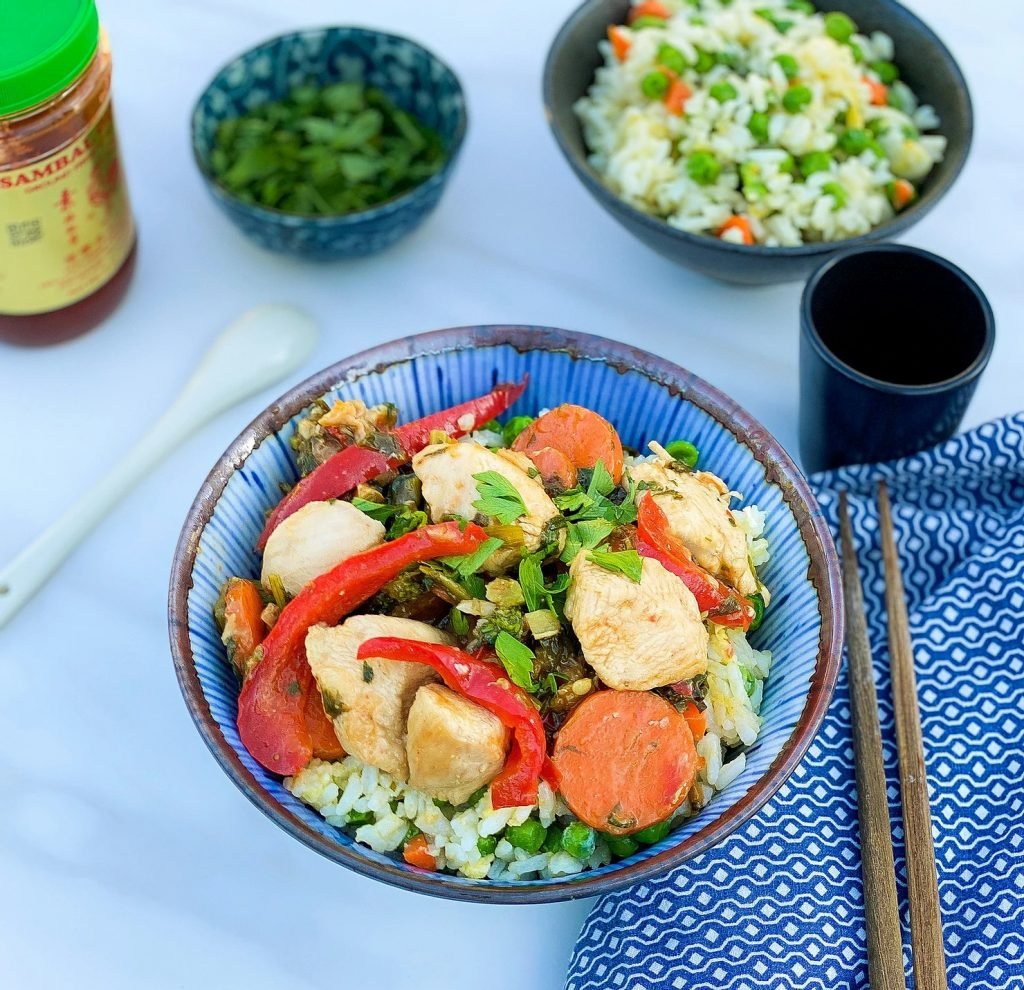 Chicken stir fry is a blend of chicken, vegetables and asian ingredients that are cooked in one pan or wok to create a saucy blend that can be topped on any type of rice.
How long does Asian Chicken Stir Fry take to make? 
From start to finish you can have this meal made in 40 minutes. It will save time if you can multi-task and cook the rice while the chicken is browning. Cutting up all of your produce ahead of time will make the process easier.
What you will need
Wok or large frying pan
Medium pot with fitted lid
Wooden spoon to mix ingredients
Asian fish sauce. Can be purchased at any local grocery store.
What to serve on the side
I serve my Asian chicken stir fry with a side of easy fried rice and certain condiments. The condiments that go best with the stir fry are, Sambal (chili pepper sauce), fresh ginger, scallions, and toasted sesame oil.
If you like this recipe, please leave a comment or share it with someone you know.
For more recipes like these try some of our other recipes:
Salmon Piccata
Grilled salmon with garlic and herb sauce
Lamb Bolognese
To follow Nikki regularly and stay up to date on what she's doing, follow her on the gram!
Ingredient Lists:
chicken breasts
carrots
green onions
red hot pepper
red bell pepper
ginger
garlic
cilantro
broccoli rabe
white rice
green peas
butter
eggs
soy sauce
fish sauce
sambal oelek
sesame oil
arrowroot starch/corn starch
salt
pepper
Avocado oil
Chicken Stir Fry
Ingredients
4

chicken breasts cut into large chunks

2

carrots

one sliced and one chopped

1

bunch of green onions chopped

1

red hot pepper

seeds removed and sliced

1

red bell pepper

seeds removed and sliced

2

inch

piece of ginger

peeled and chopped

3

cloves

of garlic chopped

1/4

cup

chopped cilantro

1

bunch of broccoli rabe

2

cups

of white rice

1

package of green peas

3

tbsp

butter

2

eggs

1/4

cup

soy sauce

1

tbsp

fish sauce

1-2

tbsp

sambal oelek

1

tbsp

sesame oil

1/2

cup

arrowroot starch/corn starch

salt/pepper for taste

Avocado oil
Instructions
Start by making your rice. Place your white rice, 3 cups of water, and 1 tbsp of butter in a medium sauce pot over high heat. When water boils place a lid on the pot and reduce heat to low. Let the rice steam for 15 minutes.

Next, place your chicken in a bowl, add salt/pepper for taste and the arrowroot powder/cornstarch. Mix well to coat the chicken evenly.

Heat a large saucepan or wok on medium high heat. Drizzle avocado oil on the bottom. When oil is hot add your chicken and brown on both sides. When chicken is nice and brown add the green onion and ginger. Sauté this mixture for 2 minutes to release the flavors. Next, add the peppers, sliced carrots, and broccoli rabe. Let the vegetables cook so they soften and reduce in size. When the mixture has reduced in half add your fish sauce, soy sauce, and sambal.

Bring mixture to a boil and then reduce heat to low and let your dish simmer.

While stir fry is simmering get your rice ready. In a large pan heat sesame oil over medium heat. When oil is hot add chopped carrots and peas to your pan. Saute for a few minutes, then add your cooked rice. Spread the mixture evenly over the bottom of the pan and turn the heat on your stove to high. This will toast your rice a little. When rice is slightly brown add the remaining butter and 2 eggs. Mix the rice well until eggs are cooked.

Right before serving add chopped cilantro to the stir fry and mix well.

To serve, place your fried rice in bowl and add your stir fry on top. Garnish with more chopped cilantro.