Hello, fellow flavor adventurers! Today, I've whipped up a culinary masterpiece that's going to have your taste buds doing the tango – the Ultimate Sheet Pan Fish Dinner with Cannellini Beans and Heirloom Tomatoes. 🍽️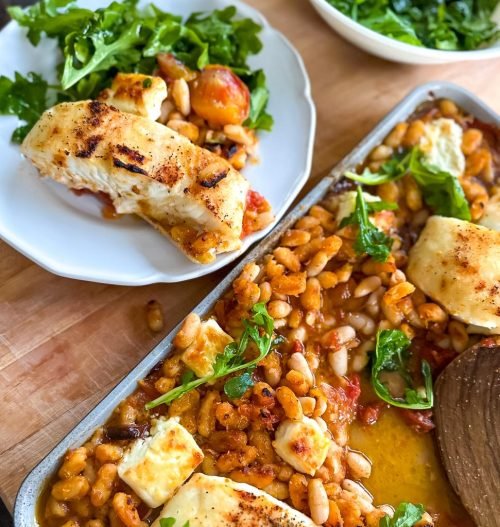 Imagine this: perfectly seasoned halibut (or your favorite white fish) fillets, nestled alongside creamy cannellini beans, burst-in-your-mouth heirloom tomatoes, and the tangy kick of feta cheese. The best part? It all comes together on a single sheet pan for minimal fuss and maximum flavor.
Now, let's talk about that seasoning – a New Bay blend that's nothing short of a flavor explosion. We're talking paprika, sea salt, cumin, coriander, celery salt, white pepper, garlic powder, black pepper, and onion powder all harmonizing to create a symphony of taste.
This dish isn't just a feast for your taste buds; it's a feast for your eyes too. The vibrant colors of the heirloom tomatoes and fresh arugula are a visual treat, and when paired with a drizzle of olive oil, a spritz of lemon, and a sprinkle of sea salt and pepper, you've got yourself a meal that's as beautiful as it is delicious.
So, whether you're a seasoned chef or just looking for a simple yet impressive dinner option, this Ultimate Sheet Pan Fish Dinner is the way to go. Trust me; your family and friends will be begging for seconds! 😋🐟🍅🍋
If you like this recipe, please leave a comment or share it with someone you know.
For more recipes like these try some of our other recipes:
To follow Nikki regularly and stay up to date on what she's doing, follow her on the gram!
Ingredient Lists:
paprika
sea salt
cumin
coriander
celery salt
white pepper
garlic powder
black pepper
onion powder
halibut or other white fish fillets
cannellini beans
feta cheese
heirloom tomatoes
fresh arugula
lemon
Olive oil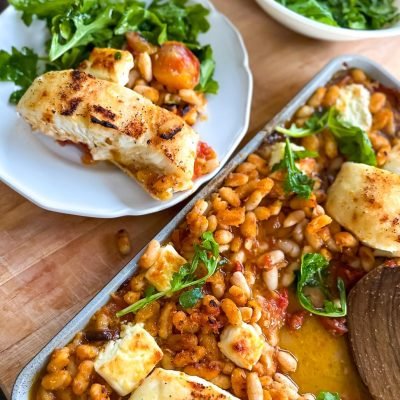 Ultimate Sheet Pan Fish Dinner with Cannellini Beans and Heirloom Tomatoes
Ingredients
New Bay Seasoning Blend
2

tbsp

paprika

1

tbsp

sea salt

1

tsp

cumin

1

tsp

coriander

1

tsp

celery salt

1

tsp

white pepper

1

tsp

garlic powder

A pinch of black pepper

1

tsp

onion powder
Sheet Pan Fish Dinner
4

halibut or other white fish fillets

1

can

of cannellini beans, drained

1

cup

feta cheese, cubed

2

cups

heirloom tomatoes, halved and sliced

1

bunch

of fresh arugula

Juice of 1 lemon

Olive oil for drizzling

Sea salt and pepper to taste
Instructions
Preheat Oven: Preheat your oven to 425°F (220°C).

Prepare Tomatoes and Fish: Place the sliced heirloom tomatoes on a large baking sheet. Add the fish fillets next to the tomatoes.

Season: Drizzle olive oil over the fish and tomatoes. Sprinkle your custom New Bay seasoning blend on top.

Bake: Place the baking sheet in the preheated oven and bake for 20 minutes

Prepare Beans: While the fish and tomatoes are baking, add drained cannellini beans to a large bowl. Drizzle with olive oil, and season with New Bay seasoning and a tad of paprika. Toss to combine.

Broil: Once the fish is done, remove the baking sheet from the oven. Add the bean mixture and cubed feta cheese to the pan. Place the pan back in the oven under the broiler on high heat for 8 minutes or until the cheese is golden and the fish has a crust.

Prepare Arugula: In a bowl, toss fresh arugula with lemon juice, olive oil, sea salt, and pepper.

Serve: Place a portion of the baked fish, beans, tomatoes, and feta on each plate. Top with a generous serving of fresh arugula salad.

Enjoy: Your ultimate sheet pan fish dinner is ready to be savored!