Today, I'm taking you on a flavorful journey to discover the heartwarming delight that is my "Creamy Mixed Lentil Dal." This recipe is a symphony of textures and tastes, combining the goodness of red lentils, green lentils, and yellow split peas to create a bowl of comfort that's simply irresistible.
Picture this: a fragrant dance of fresh ginger and green chili sizzling in a pan with aromatic cumin seeds. As the spices mingle and release their essence, the kitchen fills with an inviting warmth that sets the stage for the magic to come.
We're talking about a blend of chili powder, turmeric, and coriander powders harmonizing with garam masala and a touch of fenugreek, creating a spice profile that whispers promises of a cozy embrace with every spoonful.
But let's not forget the stars of the show: our lentils. Simmered to perfection, they transform into a creamy canvas that absorbs all the spices like a canvas ready to be painted.
As we sauté yellow onions to a caramelized sweetness and introduce fresh tomatoes to the mix, the flavors deepen and the anticipation grows. A swirl of heavy cream gives our dal that luxurious, velvety texture, making each bite a luscious experience you won't want to end.
And when it's finally time to plate up, a sprinkle of chopped cilantro on top adds a burst of freshness that complements the rich depth of the dal.
This creamy mixed lentil dal isn't just a dish; it's an invitation to savor comfort in every bite. Perfect for those chilly evenings when you crave something both nourishing and indulgent. So, grab your apron and get ready to create a masterpiece that'll warm your soul and tantalize your taste buds.
If you like this recipe, please leave a comment or share it with someone you know.
For more recipes like these try some of our other recipes:
To follow Nikki regularly and stay up to date on what she's doing, follow her on the gram!
Ingredient Lists:
mixed lentils (such as red lentils, green lentils, and yellow split peas), rinsed and drained
water
fresh ginger
green chili
avocado oil
cumin seeds
chili powder
turmeric powder
coriander powder
sea salt
black pepper
garam masala
fenugreek powder
yellow onion
fresh tomatoes
heavy cream
cilantro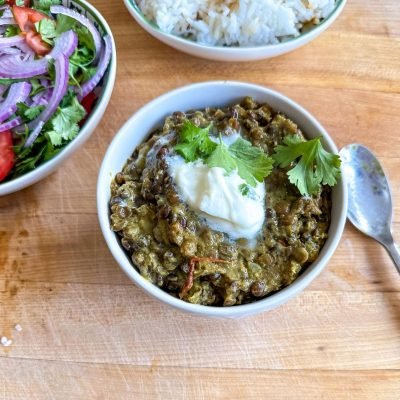 Creamy Mixed Lentil Dal Recipe
Ingredients
2

cups

mixed lentils (such as red lentils, green lentils, and yellow split peas), rinsed and drained

4

cups

filtered water

1-inch

piece

of fresh ginger, roughly sliced

1

green chili, cut in half lengthwise

3

tablespoons

avocado oil

1

teaspoon

cumin seeds

1

teaspoon

chili powder

1/2

teaspoon

turmeric powder

1

teaspoon

coriander powder

1

teaspoon

sea salt (adjust to taste)

1/2

teaspoon

black pepper

1/2

teaspoon

garam masala

1/2

teaspoon

fenugreek powder

1

medium

yellow onion, finely chopped

2

medium

fresh tomatoes, chopped

1/4

cup

heavy cream

Chopped cilantro, for garnish
Instructions
In a large pot, combine the mixed lentils, filtered water, roughly sliced ginger, and halved green chili. Bring the mixture to a boil, then cover the pot with a lid. Reduce the heat to a simmer and allow the lentils to cook until tender, about 20-25 minutes. Once done, reduce the heat to low, cover the pot, and set it aside until ready to use.

In a separate pot, heat avocado oil over medium heat. Add cumin seeds and let them brown for a couple of minutes until fragrant.

Stir in the chili powder, turmeric powder, coriander powder, sea salt, and black pepper. Toast the spices for a minute or two, allowing their flavors to bloom.

Add the finely chopped yellow onion to the pot and sauté until translucent.

Incorporate the chopped tomatoes and continue to sauté until they are soft and the oil starts to separate, around 5-7 minutes.

Discard the ginger slices and green chili halves from the lentil pot. Add the cooked lentils, along with their broth, into the pot with the sautéed masala. Mix well and allow the dal to simmer for about 20 minutes, allowing the flavors to meld.

As the dal simmers, add the garam masala and fenugreek powder. Season with additional salt and pepper if needed.

Towards the end of the simmering time, gently stir in the heavy cream. Simmer for an additional 2-3 minutes.

Serve the creamy mixed lentil dal hot, garnished with chopped cilantro.

Enjoy the rich and aromatic flavors of this comforting mixed lentil dal. Pair it with rice, naan, or your choice of Indian bread.