Hey there, fellow food enthusiasts! Today, I'm bringing you a breakfast recipe that's going to make your mornings a whole lot more exciting – my Spiced-Up Breakfast Potatoes with Garlic Aioli. 🥔🌶️
Imagine waking up to the mouthwatering aroma of crispy Yukon Gold potatoes, kissed with the warmth of a New Bay Seasoning Blend. This blend, with its tantalizing mix of paprika, sea salt, cumin, coriander, celery salt, white pepper, garlic powder, black pepper, and onion powder, transforms ordinary potatoes into a flavor explosion.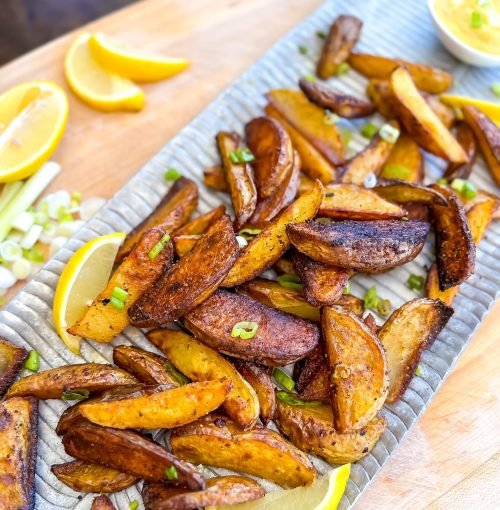 First, we gently coat those golden potato cubes with a drizzle of creamy avocado oil, allowing them to crisp up to perfection in the oven. The result? Potatoes with a delightful crunch on the outside and a tender, fluffy interior.
But wait, it gets even better! We're not stopping there. To take these potatoes to the next level, we whip up a zesty Garlic Aioli. It's a breeze to make with just three ingredients: avocado mayo, garlic cloves, and a squeeze of fresh lemon juice. This aioli adds a creamy, garlicky kick that perfectly complements the bold flavors of our spiced potatoes.
Once you plate up these Spiced-Up Breakfast Potatoes, you'll want to sprinkle them with some fresh green onions and maybe even a little extra New Bay Seasoning for that extra oomph. They're the ultimate way to start your day with a bang!
So, why settle for a ho-hum breakfast when you can elevate it with these delectable Spiced-Up Breakfast Potatoes? Get ready to savor each crispy, flavorful bite dipped in that luscious Garlic Aioli. This recipe is bound to make your mornings the best part of your day. Stay tuned for the step-by-step guide on how to whip up this breakfast sensation! 🍽️🌞
If you like this recipe, please leave a comment or share it with someone you know.
For more recipes like these try some of our other recipes:
To follow Nikki regularly and stay up to date on what she's doing, follow her on the gram!
Ingredient Lists:
paprika
sea salt
cumin
coriander
celery salt
white pepper
garlic powder
black pepper
onion powder
avocado mayo
garlic
lemon
Salt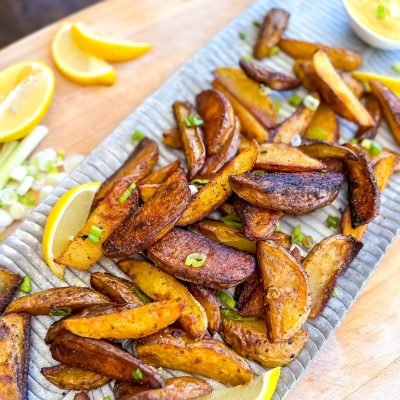 Spiced-Up Breakfast Potatoes with Garlic Aioli
Ingredients
New Bay Seasoning Blend
2

tbsp

paprika

1

tbsp

sea salt

1

tsp

cumin

1

tsp

coriander

1

tsp

celery salt

1

tsp

white pepper

A pinch of black pepper

1

tsp

onion powder
Breakfast Potatoes
4

medium-sized

Yukon Gold potatoes, cut into wedges

3

tbsp

avocado oil

2

tbsp

of your New Bay seasoning blend

Zest of 1 lemon

2

green onions, finely chopped

Salt to taste
Garlic Aioli
1

cup

avocado mayo

3-4

garlic cloves, minced

Juice of 1/2 lemon

Salt to taste
Instructions
New Bay Seasoning
Combine all ingredients: In a small bowl, mix together all the spices until well blended.

Store: Transfer to an airtight container for future use.
Breakfast Potatoes
Preheat Oven: Preheat your oven to 425°F (220°C). Line a baking sheet with parchment paper.

Prepare Potatoes: In a large bowl, toss the potato wedges with avocado oil, ensuring they are well-coated.

Season: Sprinkle your New Bay seasoning blend, lemon zest, and salt over the potatoes. Toss again to evenly coat the potatoes.

Bake: Spread the seasoned potatoes on the prepared baking sheet in a single layer. Bake for 25-30 minutes, flipping halfway through, until they are golden and crispy.

Garnish: Once out of the oven, sprinkle chopped green onions over the potatoes.

Serve: Serve hot with garlic aioli on the side.
Garlic Aioli
Combine: In a small bowl, whisk together avocado mayo, minced garlic, and lemon juice.

Season: Add salt to taste.

Chill: Allow the aioli to chill in the refrigerator for at least 30 minutes before serving.