Indulge in the delightful world of freshly baked goodness with these irresistible Blueberry Muffins! Bursting with plump, juicy blueberries, these muffins are the perfect balance of tangy and sweet. The aroma of warm vanilla and the soft, fluffy texture will transport you to a cozy bakery on a lazy Sunday morning.
Imagine sinking your teeth into a golden-brown muffin, its crumb moist and tender, revealing pockets of juicy blueberries that burst with every bite. These muffins are a celebration of summer's bounty, showcasing the vibrant colors and natural sweetness of the blueberries.
Whether enjoyed as a grab-and-go breakfast treat or savored alongside a steaming cup of coffee, these Blueberry Muffins are an absolute crowd-pleaser. With a hint of lemon zest adding a refreshing zing and a sprinkling of sugar on top for a delightful crunch, each bite is a symphony of flavors and textures.
This easy-to-follow recipe ensures that even the most novice baker can achieve bakery-quality results. So gather your ingredients, preheat your oven, and let the aroma of freshly baked blueberry muffins fill your kitchen. It's time to treat yourself to a little slice of heaven with these homemade delights!
If you like this recipe, please leave a comment or share it with someone you know.
For more recipes like these try some of our other recipes:
To follow Nikki regularly and stay up to date on what she's doing, follow her on the gram!
Ingredient Lists:
brown rice flour
coconut sugar
baking powder
salt
Greek yogurt 
coconut oil
large eggs
pure vanilla extract
fresh or frozen blueberries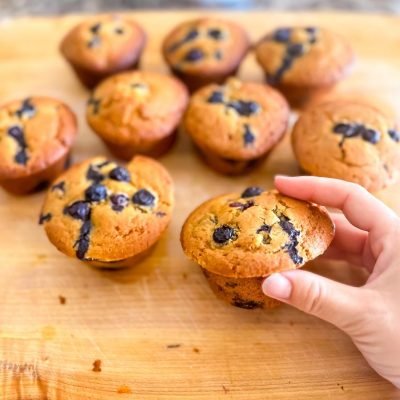 Blueberry Muffins
Ingredients
2

cups

brown rice flour

1/2

cup

coconut sugar

1

tablespoon

baking powder

1/2

teaspoon

salt

1

cup

Greek yogurt

1/3

cup

coconut oil, melted

2

large eggs

1

teaspoon

pure vanilla extract

1 1/2

cups

fresh or frozen blueberries
Instructions
Preheat your oven to 375°F (190°C) and line a muffin tin with paper or silicone liners.

In a large bowl, mix together the brown rice flour, coconut sugar, baking powder, and salt.

In another bowl, whisk together the Greek yogurt, melted coconut oil, eggs, and vanilla extract until well combined.

Gradually add the wet ingredients to the dry ingredients, stirring just until combined.

Fold in the blueberries gently to avoid breaking them up too much.

Scoop the batter into the prepared muffin tin, filling each cup about 2/3 full.

Bake for 20-25 minutes or until a toothpick inserted in the middle of a muffin comes out clean.

Allow the muffins to cool in the tin for about 5 minutes, then move them to a wire rack to cool completely.