Welcome, food enthusiasts! Today, I have a tantalizing treat for you that will transport your taste buds straight to the heart of Japan. Get ready to dive into the world of sushi with my incredibly easy Five-Ingredient Homemade Sushi recipe, featuring two mouthwatering variations: the delightful Veggie Roll and the irresistibly Spicy Shrimp Roll.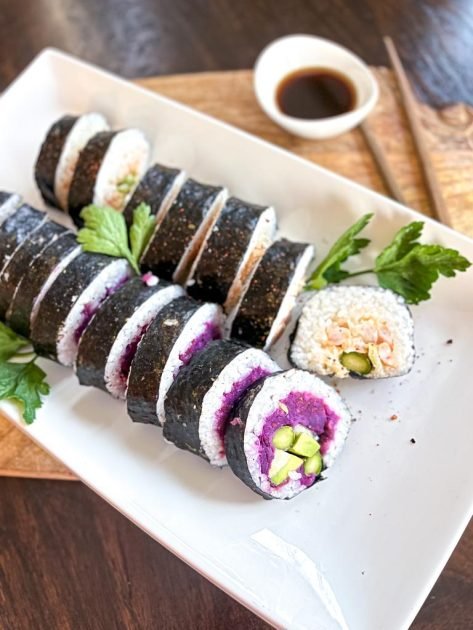 With just a handful of ingredients, you can create sushi rolls that rival those found in your favorite Japanese restaurant. The best part? You don't need any fancy sushi-making skills to whip up these delicious delicacies in the comfort of your own kitchen.
In the Veggie Roll, fresh and colorful vegetables take center stage, offering a delightful crunch and an explosion of flavors in every bite. It's a perfect choice for vegetarians and veggie lovers alike, bursting with vibrant goodness.
For those who crave a bit of heat, the Spicy Shrimp Roll is a tantalizing choice. Tender shrimp mingled with fiery spices, enveloped in a roll of seaweed and rice, create a flavor combination that will make your taste buds dance with joy. It's a true crowd-pleaser that adds an extra kick to your sushi experience.
Whether you choose the refreshing Veggie Roll or the fiery Spicy Shrimp Roll, these five-ingredient homemade sushi options are sure to impress your family and friends. So, put on your sushi chef hat, grab your chopsticks, and embark on a culinary adventure that will leave you craving for more. Let's roll!
If you like this recipe, please leave a comment or share it with someone you know.
For more recipes like these try some of our other recipes:
To follow Nikki regularly and stay up to date on what she's doing, follow her on the gram!
Ingredient Lists:
sushi  rice
cucumber
Japanese sweet potato
 avocado
seaweed paper
 shrimp
Mayo
Sriracha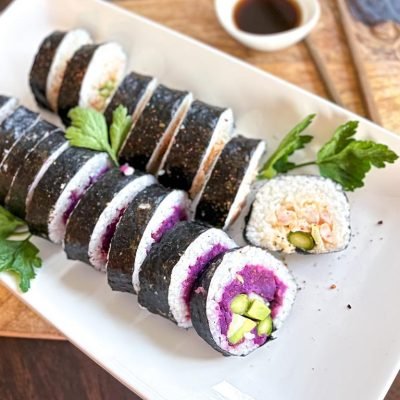 Five-Ingredient Homemade Sushi (Two Ways)
Ingredients
Veggie roll
1

cup

of cooked sushi and rice

1/2

cucumber, sliced into strips

1/2

cup

Japanese sweet potato cooked and mashed (regular sweet potato can be used if desired)

1/2

avocado, thinly sliced

2

sheets

of seaweed paper
Spicy shrimp roll
1

cup

of cooked sushi rice

1

cup

of cooked shrimp, chopped

3/4

cup

of Mayo

1/4

cup

Sriracha

2

sheets

of seaweed
Instructions
Veggie roll
Place a bamboo sushi roller on a large cutting board. Add filtered water to a small bowl and place it on the side.

To make your veggie roll, place seaweed on your bamboo roller. Dip your fingers in the fresh water and add the sushi rice to the seaweed paper. Making sure to leave the top and bottom edges free.

Spread the potato mixture over top of the rice. Add a few pieces of cucumber and a few pieces of avocado. Be sure not to stuff the sushi too much.

Make sure that the rolls are able to close and seal by using your roller slowly. Roll the sushi like a burrito away from you, using your hands to make a tight form on the sushi roll.

Spread water along the edges of the seaweed paper and seal the roll together.

Using a clean knife, spread water along the edges and slice the roll into sushi pieces. Enjoy
Spicy shrimp roll
Put the shrimp rolls together. Cooked shrimp with mayo and sriracha sauce. Season with salt if needed.

Follow the same steps as above, but instead use the shrimp as the filling.

Roll the sushi into a log and use a clean knife. Cut the sushi into pieces.

Serve with a side of soy sauce if desired, and enjoy.