Hey there, fellow foodies! Today, I'm bringing a burst of Indian flavors right to your kitchen with my lip-smacking recipe for "6-Ingredient Chicken Tandoori." 🍗🌶️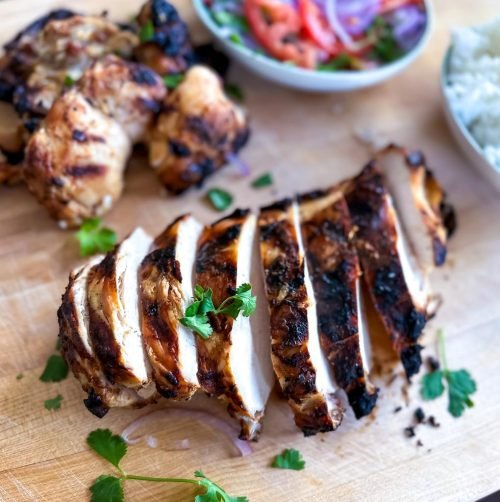 Imagine tender chicken thighs and boneless, skinless chicken breasts, marinated in a delightful concoction of creamy Greek yogurt that lends a silky texture, zesty fresh ginger for that authentic kick, and aromatic tandoori seasoning that will transport your taste buds straight to the streets of Delhi.
But that's not all – a squeeze of fresh lemon adds a tangy twist that perfectly balances the spices and makes every bite a tantalizing experience. The magic of tandoori seasoning does wonders, infusing the meat with its rich blend of warm spices and vibrant color.
Whether you're firing up the grill for a summer feast or simply craving a cozy night in, this 6-ingredient wonder is your ticket to a flavor-packed adventure. So, get ready to impress your friends and family with an Indian classic made right at home. Let's dive into this culinary journey and create a chicken tandoori sensation that'll have everyone asking for seconds! 🍽️🔥
If you like this recipe, please leave a comment or share it with someone you know.
For more recipes like these try some of our other recipes:
To follow Nikki regularly and stay up to date on what she's doing, follow her on the gram!
Ingredient Lists:
Greek yogurt
fresh ginger
fresh garlic
tandoori seasoning
fresh lemon
chicken thigh
chicken breast
Salt
Avocado oil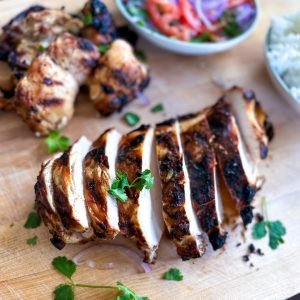 6-Ingredient Chicken Tandoori
Ingredients
1

cup

Greek yogurt

2

tablespoons

grated fresh ginger

2

tablespoons

grated fresh garlic

3

tablespoons

tandoori seasoning

Juice of 1 fresh lemon

4

chicken thighs, boneless and skinless

2

chicken breasts, boneless and skinless

Salt, to taste

Avocado oil spray

Fresh lemon wedges, for serving
Instructions
In a mixing bowl, combine the Greek yogurt, grated ginger, grated garlic, tandoori seasoning, and the juice of one fresh lemon. Mix thoroughly to create the marinade.

Place the chicken thighs and breasts in a shallow dish. Pour the marinade over the chicken, ensuring they are fully coated. Cover the dish with plastic wrap and refrigerate for at least 2 hours, or preferably overnight.

Preheat the grill to medium-high heat.

While the grill heats up, take the marinated chicken out of the refrigerator to allow it to reach room temperature.

Lightly coat the grill grates with avocado oil spray to prevent sticking.

Place the chicken thighs and breasts on the grill. Cook the chicken thighs for about 6-8 minutes on each side, and the chicken breasts for about 5-7 minutes on each side. The chicken should be fully cooked with a lovely char on the exterior.

Use a meat thermometer to ensure the internal temperature of the chicken reaches 165°F (74°C).

Once cooked, remove the chicken from the grill and let them rest briefly before serving.

For the chicken breasts, allow them to rest for a few minutes and then slice them into thin, diagonal pieces.

Serve the delectable chicken tandoori with fresh lemon wedges on the side. Squeeze the lemon over the chicken just before savoring to elevate the flavors.

Accompany your dish with naan bread, rice, or a crisp salad. Garnish with chopped cilantro if desired.