Hey there, foodies! Today, I'm thrilled to share a delightful and hassle-free recipe that's perfect for busy days or when you're simply craving a wholesome, delicious meal—my 5-ingredient Pesto Pasta! And guess what? It's gluten-free, too!
We'll be using some top-notch ingredients in this recipe: tender and organic boneless, skinless chicken breasts, creamy Yukon Gold potatoes, juicy cherry tomatoes bursting with flavor, and, of course, the star of the show, a luscious, aromatic pesto sauce. But that's not all! For those looking to cut down on carbs or embrace a veggie-filled twist, we'll be using cauliflower pasta, adding a subtle and nutritious touch to this delightful dish.
With just five simple ingredients, we're going to create a harmonious symphony of flavors that will leave your taste buds dancing with joy. The chicken and potatoes add a hearty element, while the cherry tomatoes lend their sweet and tangy essence, beautifully complemented by the herbal goodness of the pesto sauce. And let's not forget the cauliflower pasta, which provides a tender, gluten-free alternative that blends flawlessly with the other ingredients.
This Pesto Pasta is not only a breeze to whip up but also a wholesome and fulfilling meal that will satisfy your cravings without leaving you feeling weighed down. So, join me in the kitchen and let's create this mouthwatering, 5-ingredient Pesto pasta—a guaranteed hit for any day of the week! Bon appétit! 🍝🌿
If you like this recipe, please leave a comment or share it with someone you know.
For more recipes like these try some of our other recipes:
To follow Nikki regularly and stay up to date on what she's doing, follow her on the gram!
Ingredient Lists:
organic boneless skinless chicken breasts
Yukon Gold potatoes
cherry tomatoes
pesto
cauliflower pasta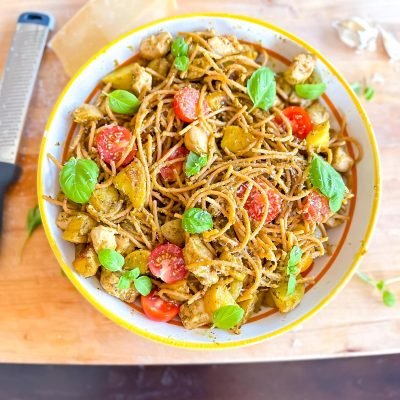 5-Ingredient Pesto Pasta -GF
Ingredients
3

organic boneless skinless chicken breasts, cut into cubes

3

Yukon Gold potatoes, quartered

1

cup

cherry tomatoes, cut in half

1

cup

pesto (with your favorite seasoning, salt, pepper, garlic powder)

cooked cauliflower pasta
Instructions
In a skillet, sauté the cubed cage-free organic chicken in a drizzle of olive oil until golden and fully cooked.

Add the quartered Yukon Gold potatoes to the skillet and cook until tender and slightly golden.

Toss in the halved cherry tomatoes and 1 cup of your favorite pesto, seasoned with a pinch of salt, pepper, and garlic powder.

Mix everything together and let the flavors meld at a light simmer.

Add the cooked cauliflower pasta to the skillet—the gluten-free star of this show!

Toss everything together, ensuring every bit is coated in the mouthwatering pesto goodness!

If desired, sprinkle some parmesan cheese on top for an extra savory touch. Serve immediately, and enjoy!