Hello, food aficionados! Today, we're diving into a culinary romance with our delectable "Caprese Chicken." This recipe brings the flavors of the Mediterranean straight to your table, creating a symphony of tastes and textures.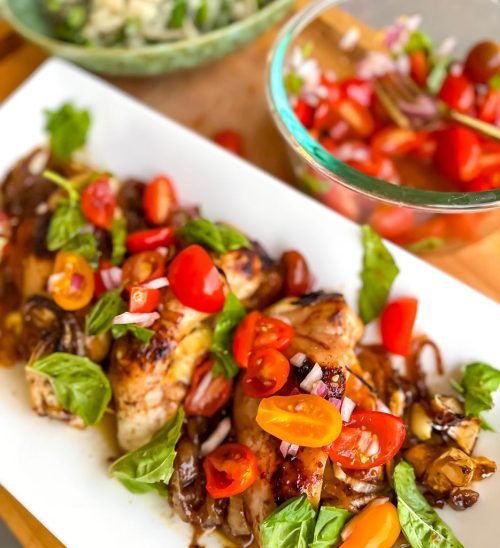 Start with the star of the show, tender boneless, skinless chicken breasts. These will serve as the canvas for our flavorful masterpiece.
For the marinade, we're blending balsamic vinegar, Dijon mustard, and liquid aminos, creating a harmonious blend of tangy, savory, and umami notes. A sprinkle of dried herbs like parsley or basil adds that aromatic Mediterranean touch.
Now, let's talk about the pièce de résistance – the bruschetta topping. Juicy cherry tomatoes, finely diced red onion, and fresh basil come together in a vibrant medley that's both refreshing and bursting with flavors.
As the chicken sizzles on the grill or in the oven, top it generously with mozzarella cheese. When that cheese gets all melty and gooey, you'll know it's time to crown your chicken with the irresistible bruschetta topping.
Each bite is a journey through the sun-soaked coasts of Italy, with the savory chicken, creamy cheese, and zesty bruschetta dancing in harmony on your taste buds.
So, whether you're impressing guests or treating yourself to a taste of the Mediterranean, our "Caprese Chicken" is sure to elevate your dining experience. Savor this love affair on a plate, and let the flavors transport you to a Mediterranean paradise. Buon appetito!
If you like this recipe, please leave a comment or share it with someone you know.
For more recipes like these try some of our other recipes:
To follow Nikki regularly and stay up to date on what she's doing, follow her on the gram!
Ingredient Lists:
boneless, skinless chicken breasts
mozzarella cheese
balsamic vinegar
Dijon mustard
liquid aminos
Salt and pepper
Dried herbs
onion
garlic
cherry tomatoes
red onion
fresh basil
Caprese Chicken
Ingredients
For the Chicken and Marinade
4 boneless, skinless chicken breasts

1 cup mozzarella cheese, cut into small pieces

1/2 cup balsamic vinegar

1/4 cup Dijon mustard

2 tablespoons liquid aminos

Salt and pepper to taste

Dried herbs like parsley or basil

1 onion, sliced

1/2 head of garlic, cut in half
For the Bruschetta Topping
2 cups cherry tomatoes, quartered

1/2 red onion, diced

A handful of fresh basil, chopped

Salt and pepper to taste
Instructions
Prepare the Marinade
In a bowl, mix together balsamic vinegar, Dijon mustard, liquid aminos, a pinch of salt and pepper, and your choice of dried herbs.

Place the chicken breasts in a Ziploc bag and pour the marinade over them. Make sure they're well-coated. Seal and refrigerate for at least 30 minutes.
Prepare the Chicken
Preheat your oven to 375°F (190°C).

Take each chicken breast and make a pocket in the middle using a sharp knife. Stuff this pocket with mozzarella.

Place the stuffed chicken in a baking dish. Add in the sliced onions and halved garlic around the chicken.
Bake
Pour the remaining marinade over the chicken.

Place the baking dish in the oven and bake for 25-30 minutes or until the chicken is cooked through.
Bruschetta Topping
While the chicken is baking, prepare the bruschetta topping. In a bowl, mix together the quartered cherry tomatoes, diced red onion, chopped basil, and season with salt and pepper.
Final Touch
Once the chicken is done, take it out of the oven and immediately top it with your freshly made bruschetta mixture.