Hello, fellow foodies! Today, we're diving into the world of comfort food with a twist – our "Asparagus Mushroom and Cauliflower Risotto." This recipe is a game-changer, bringing together the creamy richness of risotto with a healthy, low-carb twist.
We start with organic pre-made cauliflower rice, which is a genius shortcut to making this dish guilt-free. It's a blank canvas waiting to soak up all the incredible flavors.
Asparagus, the star of spring, adds a vibrant green crunch that's both refreshing and nutritious. Pair that with mushrooms, any variety you prefer – whether it's earthy cremini or exotic shiitake – they bring a depth of umami that's simply irresistible.
To achieve that classic risotto creaminess, we use vegetable broth, slowly simmered into the cauliflower rice, infusing it with all the flavors. A touch of olive oil adds that luscious, silky texture that makes every bite a delight.
And of course, what's risotto without a sprinkle of Parmesan cheese? It adds that salty, nutty goodness that takes this dish to the next level.
This "Asparagus, Mushroom, and Cauliflower Risotto" is a cozy, comforting hug in a bowl, minus the guilt. It's the perfect way to satisfy your comfort food cravings while staying on the healthy track. Try it today and savor the creamy goodness with every forkful!
If you like this recipe, please leave a comment or share it with someone you know.
For more recipes like these try some of our other recipes:
To follow Nikki regularly and stay up to date on what she's doing, follow her on the gram!
Ingredient Lists:
organic pre-made cauliflower rice (from the frozen section)
asparagus
sliced mushrooms (any variety you prefer)
onion
garlic
vegetable broth
Parmesan cheese
olive oil
Salt and pepper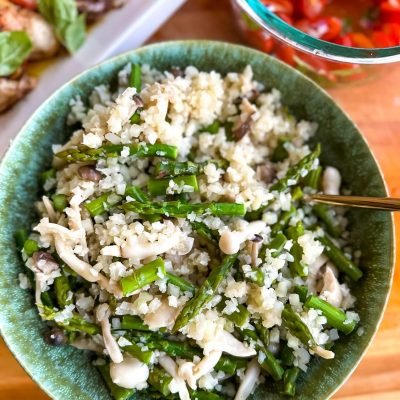 Asparagus Mushroom and Cauliflower Risotto
Ingredients
4 cups organic pre-made cauliflower rice (from the frozen section)

1 bunch asparagus, cut into 1-inch pieces

1 cup sliced mushrooms (any variety you prefer)

1 onion, diced

3 cloves garlic, minced

4 cups vegetable broth

1 cup Parmesan cheese, grated

2 tablespoons olive oil

Salt and pepper to taste
Instructions
Prep Work
Heat the vegetable broth in a saucepan over low heat. Keep warm.
Asparagus & Mushroom Magic
In a large skillet, heat 1 tablespoon of olive oil over medium heat.

Add the asparagus and mushrooms. Sauté until they're softened and have a bit of color. Remove them from the skillet and set aside.
The Risotto Base
In the same skillet, add another tablespoon of olive oil.

Add diced onion and minced garlic. Cook until the onions are translucent.

Stir in the organic frozen cauliflower rice. Cook for about 5-7 minutes, allowing it to soak up the aromatic flavors and thaw thoroughly.
Bringing It All Together
Start ladling in the warm vegetable broth, one cup at a time. Stir often and wait for the liquid to absorb before adding the next cup.

Once the cauliflower rice has achieved a creamy texture (this should take about 15-20 minutes), stir in the cooked asparagus and mushrooms.

Add in the grated Parmesan cheese and season with salt and pepper to your liking. Enjoy!