Hey there, foodies!  As the leaves begin to turn and the air gets crisper, it's time to savor the flavors of fall with a salad that's as vibrant as the autumn foliage. Introducing the "Autumn Chopped Salad with Creamy Herb Dressing," a delightful medley of seasonal ingredients that will tantalize your taste buds.
Fresh arugula forms the base, providing a peppery bite that harmonizes beautifully with the other components Nestled within are plump currants, lending a touch of sweetness, and creamy slices of avocado, adding a luxurious creaminess.
For an extra layer of indulgence, consider grating some Parmesan cheese on top, offering a rich, salty contrast to the salad's freshness Juicy cherry tomatoes burst with flavor, infusing each forkful with a burst of summer's last hurrah.
But wait, there's more Smoked salmon, a fall favorite, brings a smoky, savory element to the party. Its silky texture plays off the crunchy red onion (or shallots) and the satisfying crunch of pistachios.
And now, let's talk about that dressing! Creamy and herbaceous, it's a blend of Greek yogurt and avocado mayo A sprinkle of dried or fresh parsley imparts a garden-fresh aroma, while a touch of lemon juice zings things up. Liquid aminos add depth, salt and pepper lend balance, and a pinch of garlic powder ties everything together.
Drizzle this luscious dressing over your autumn chopped salad, toss it all together, and prepare to be amazed. This salad is a symphony of textures and tastes, perfectly capturing the essence of fall in every bite.
So, whether you're planning a cozy evening in or a dinner party with friends, this autumn chopped salad is a must-try. It's a culinary celebration of the season, and every mouthful is a reminder of why we love autumn so much.
Stay tuned for more delectable recipes to elevate your kitchen adventures!
If you like this recipe, please leave a comment or share it with someone you know.
For more recipes like these try some of our other recipes:
To follow Nikki regularly and stay up to date on what she's doing, follow her on the gram!
Ingredient Lists:
Fresh arugula
Currants
Avocado
Parmesan cheese
Cherry tomatoes
Smoked salmon
Red onion or shallots
Pistachios
Greek yogurt
Avocado mayo
Dried or fresh parsley
Lemon juice
Liquid aminos
Salt
Pepper
Garlic powder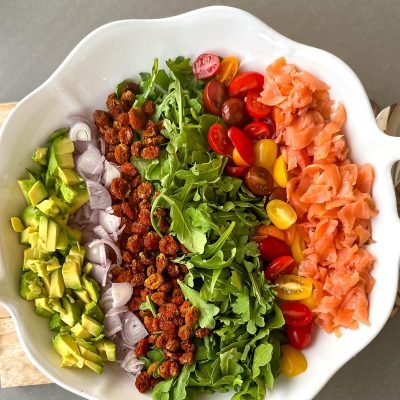 Autumn Chopped Salad with Creamy Herb Dressing
Ingredients
For the Salad
Fresh arugula

Currants

Avocado, chopped

Parmesan cheese (optional)

Cherry tomatoes, halved

Smoked salmon, flaked

Red onion or shallots, thinly sliced

Pistachios, roughly chopped
For the Dressing:
1 cup Greek yogurt

1 ¼ cup avocado mayo

Dried or fresh parsley, to taste

Touch of lemon juice

Liquid aminos, to taste

Salt, to taste

Pepper, to taste

Garlic powder, to taste
Instructions
The Dressing:
Combine the Greek yogurt and avocado mayo in a mixing bowl.

Add in the parsley, lemon juice, and liquid aminos.

Season with salt, pepper, and garlic powder, mixing well until smooth and creamy.
The Salad:
On a large serving plate, line up each ingredient side by side, almost like a colorful, edible mosaic: fresh arugula, currants, chopped avocado, halved cherry tomatoes, smoked salmon, sliced onion or shallots, and chopped pistachios. If you're using Parmesan cheese, sprinkle it over the top.
The Final Touch:
Drizzle your homemade dressing generously over the lined-up ingredients.