Hey there, fellow foodies! 🍽️ Today, I'm bringing a taste of Greece to your plate with a tantalizing dish that's as easy as it is delicious— my cherished "Greek Pasta Salad with Chicken" recipe! 🍗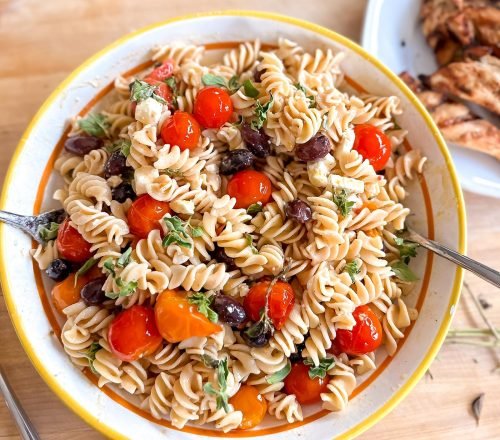 Imagine perfectly cooked rotini pasta mingling with the juiciest heirloom cherry tomatoes, the rich, briny bite of Kalamata olives, and the creamy goodness of feta cheese. But wait, there's more—we're taking it up a notch with fragrant fresh herbs, either the aromatic basil or the zesty oregano, to infuse every bite with Mediterranean magic.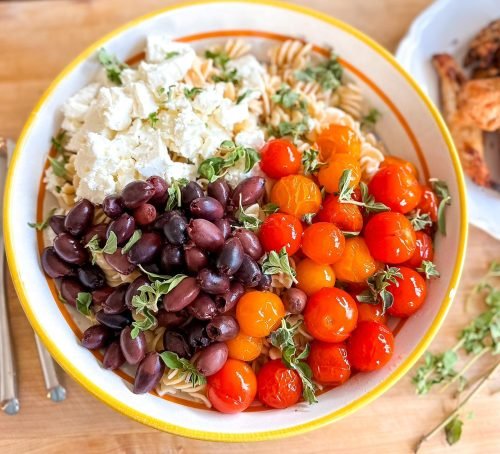 And let's not forget the star of the show: tender and succulent chicken tenders, adding a protein punch that turns this salad into a satisfying meal. But what truly elevates this recipe is the heart and soul poured into every drizzle of Oma's special salad dressing. Passed down through generations, this dressing brings all the flavors together in a harmonious dance that's a true homage to tradition.
Whether you're craving a light lunch, a delightful dinner, or a potluck showstopper, my Greek Pasta Salad with Chicken is your go-to. It's a celebration of fresh ingredients, bold flavors, and a legacy of taste that's been cherished in my family for years. So, gather your ingredients, embrace the spirit of the Mediterranean, and let's create something unforgettable together! Opa! 🥗🍷
If you like this recipe, please leave a comment or share it with someone you know.
For more recipes like these try some of our other recipes:
To follow Nikki regularly and stay up to date on what she's doing, follow her on the gram!
Ingredient Lists:
rotini pasta
heirloom cherry tomatoes
kalamata olives
feta cheese
fresh herbs (basil or oregano)
chicken tenders
Salt and pepper
avocado oil
Greek Pasta Salad with Chicken
Ingredients
8 oz.

rotini pasta

1

cup

heirloom cherry tomatoes, halved

1/2

cup

kalamata olives, pitted and halved

1

cup

feta cheese, crumbled

2

tbsp

fresh herbs (basil or oregano), chopped

1

lb.

chicken tenders

1/2

cup

of Oma's salad dressing

Salt and pepper to taste

avocado oil for drizzling
Instructions
Cook the Pasta: Bring a large pot of salted water to a boil. Add the rotini pasta and cook according to package directions until al dente. Drain and rinse under cold water to stop the cooking process and cool the pasta.

Prepare the Chicken: Season the chicken tenders with salt, pepper, and 1 tablespoon of chopped fresh herbs. Heat the grill or a large skillet. Add the chicken tenders and cook for 6-7 minutes per side, or until cooked through and golden brown. Remove from heat and let cool, then slice into bite-sized pieces.

Assemble the Salad: In a large bowl, combine the cooled pasta, halved cherry tomatoes, kalamata olives, crumbled feta cheese, and remaining fresh herbs.

Dress the Salad: Pour this dressing over the pasta mixture and toss until well mixed.

Add the Chicken: Gently fold the sliced chicken tenders into the pasta salad.

Chill and Serve: Cover the salad and refrigerate for at least 30 minutes to allow the flavors to meld together. Optional: Before serving, give the salad a good stir and adjust the seasoning if necessary.

Enjoy! Serve the Greek pasta salad chilled as a refreshing lunch or dinner option. Note: You can also serve the chicken on the side.