Hey there, foodies! Today, I've got a delightful culinary journey awaiting you with my "Simple Veggie Risotto" recipe. 🍚🌱 Whether you're a seasoned chef or just starting your cooking adventures, this dish is a perfect blend of comfort and flavor.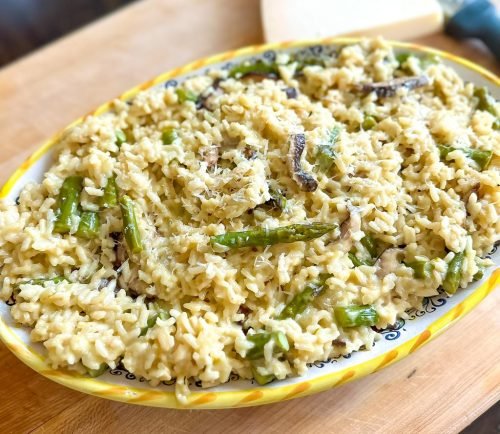 Imagine perfectly cooked Arborio rice, each grain soaking up the warmth of vegetable stock as it transforms into creamy deliciousness. But that's not all – we're adding a vibrant touch of asparagus and earthy mushrooms that'll take your taste buds on a rollercoaster of flavors.
For those looking to elevate their risotto game, a splash of white wine can be your secret weapon, infusing the dish with a subtle richness. And of course, what's a risotto without a sprinkle of Parmesan cheese? It's like a cozy blanket of flavor enveloping every bite.
So, gather your ingredients and let's embark on a journey of savoring the simple joys of cooking. From the satisfying stir of rice to the aromatic dance of vegetables, "Simple Veggie Risotto" is a culinary experience that'll warm your heart and make your taste buds sing. Stay tuned for the full recipe and step into your kitchen with a dash of enthusiasm! 🍽️🌟
If you like this recipe, please leave a comment or share it with someone you know.
For more recipes like these try some of our other recipes:
To follow Nikki regularly and stay up to date on what she's doing, follow her on the gram!
Ingredient Lists:
Arborio rice
vegetable stock
onion
garlic
asparagus
mushrooms
white wine
Parmesan cheese
Salt and pepper
Olive oil
Simple Veggie Risotto
Ingredients
1 1/2

cups

Arborio rice

4

cups

vegetable stock, warmed

1

onion, finely chopped

3

cloves

garlic, minced

1

bunch

asparagus, trimmed and cut into 1-inch pieces

1

cup

mushrooms, sliced

1/2

cup

white wine (optional)

1/2

cup

grated Parmesan cheese

Salt and pepper to taste
Instructions
Prep Ingredients:
Warm the vegetable stock over low heat in a medium pan.

Clean and slice the mushrooms, and cut the asparagus into 1-inch pieces.
Start the Risotto:
In a large pan, heat a drizzle of olive oil over medium heat.

Add the chopped onion and cook until it becomes translucent.

Stir in the garlic and cook for an additional 1 minute.
Toast the Rice:
Add the Arborio rice to the pan with the onions and garlic.

Cook, stirring constantly, until the rice becomes translucent around the edges (about 2 minutes).
Add Wine (if using):
Pour the white wine into the pan.

Stir constantly until the wine has mostly evaporated.
Cook the Risotto:
Add the chopped asparagus and a ladleful of warm vegetable stock to the rice.

Stir regularly, allowing the liquid to be mostly absorbed before adding more stock.

Continue this process until the rice is cooked to your desired level of doneness (usually about 18-20 minutes).
Cook the Mushrooms:
While the rice is simmering, heat a drizzle of olive oil in a separate pan over medium heat.

Add the sliced mushrooms and cook until they are brown and tender.

Season with salt and pepper to taste.
Finish the Risotto:
When the rice is cooked and all the liquid has been absorbed, stir in the cooked mushrooms and the grated Parmesan cheese.

Taste and add additional salt and pepper if needed.
Serve:
Spoon the risotto onto plates or into bowls.

Drizzle with a little more olive oil, if desired, and serve hot.

Enjoy your simple and delicious veggie risotto!