What is Masla? Masala is a mixture of spices used to create a paste or sauce for Indian cuisine. In this recipe I took a traditional Masala recipe and made a sauce out of it to accompany the rack of lamb. The lamb was marinated over night in a flavorful Tandoori style marinade, before browning in a pan and then roasting in the oven. On the side of this juicy lamb is a creamy risotto with just a hint of ginger and chili, that marry the all of the flavors of the dish. Serve the lamb with a nice drizzle of the Masala sauce and a side of sautéed spinach. Risotto recipe will follow.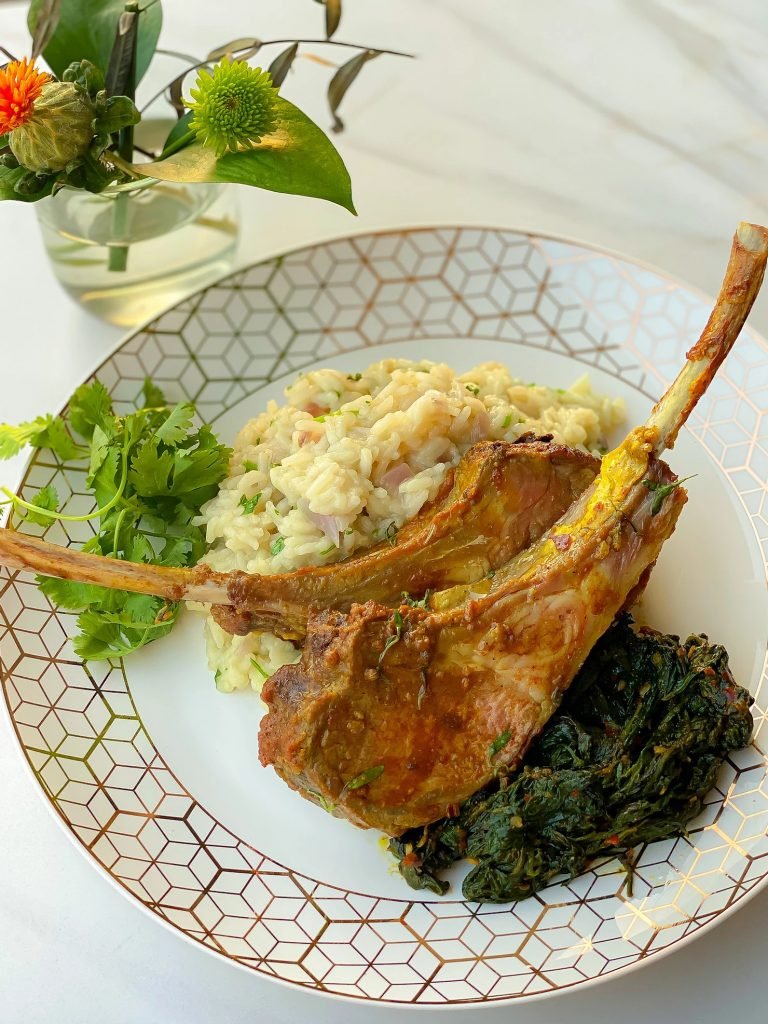 Serving: 4-6 people
Prep/Cook Time: 60 minutes
Ingredients
Lamb Marinade:
1 rack of lamb (usually comes pre-packaged)
1 cup greek yogurt
1 tbsp fresh ginger chopped
1 tbsp garlic chopped
1 tbsp turmeric
1 tbsp chili powder
1 tbsp cumin powder
1 tbsp coriander powder
Masala Sauce:
2 inch piece of ginger peeled and roughly chopped
3 cloves of garlic
4 green cardamom pods
2 black cardamon
3 cloves
10 black peppercorns
2 cinnamon sticks
2 tsp cumin seeds
1 bay leaf
1 white onion chopped
2 tbsp tomato puree
1 tsp garam masala
1 tbsp ground coriander
1 tsp red chili powder
1 tsp ground turmeric
salt/pepper to taste
avocado oil to coat your pan
1 cup vegetable stock
Directions:
For the Lamb, you can start the night before or at least 4 1/2 hours before you're ready to eat. I recommend marinating the lamb over night to get your lamb nice and tenderized. Mix all of the marinade ingredients in a bowl. Place your rack of lamb in a large bowl or large dish, using a paper towel soak up any liquid from the lamb. Rub your marinade all over the lamb, making sure there is a nice and thick coating on both sides. Cover with plastic wrap and put in the fridge over night or at least for four hours.
Make your sauce for the lamb. Place your ginger and garlic in a food processor and puree until you have a nice paste. Set aside until ready to use.
In a medium pan over medium heat, pour avocado oil to coat the bottom.
Once oil is hot add your whole spices, cardamon, cloves, cinnamon sticks, peppercorns, cumin seeds, and bay leaf. Once the spices are toasted, but not burnt, add your onion and sauté.
Saute onions until they are soft and carmelized, this may take a little bit. Reduce heat if you see the onions start to burn. Once onions are caramelized and brown add your ginger/garlic paste and sauté for a couple of minutes. Next, add the remaining spices and tomato puree to your mixture. Sauté for a minute or two before adding your vegetable stock. Bring your mixture to a boil and then reduce heat to a low simmer. Cover and simmer on low for 20 minutes. When the 20 minutes is up turn heat off, taste and add salt/pepper for taste. Place mixture in a fine mesh sieve that is placed over a bowl. The liquid from the mixture will drain into the bowl, use a spoon to push down on the mixture to make sure all of the liquid drains. Set sauce aside until ready to use. You can keep the liquid in a small saucepan on low heat to keep warm.
Heat your oven to 450 degrees.
Once your lamb is done marinating, scrape off any existing marinade from the rack and place on a plate until ready to use.
Heat a large pan over medium/high heat. Add avocado oil to cover the bottom, when oil is hot place the lamb in the pan and brown for 3 minutes on each side.
Put your rack of lamb in an oven safe dish and rub with Garam Masala on both sides. Place your lamb in the oven and roast for 20 minutes. Once lamb is done cooking remove from the oven and place on a cutting board. Slice the lamb in-between the bones to seperate each piece. Place on a plate with risotto (recipe will follow) and spinach.
Drizzle warm Masala sauce on top and serve.
Note: This dish was inspired by Atul Kochhar, an incredible Indian Chef who makes traditional Indian dishes and adds a modern twist.