Hey there, foodies! Today, I've got a culinary masterpiece that's sure to redefine your comfort food game: Chicken and Broccoli Lasagna with Creamy White Sauce. It's a symphony of flavors and textures that will leave you craving more.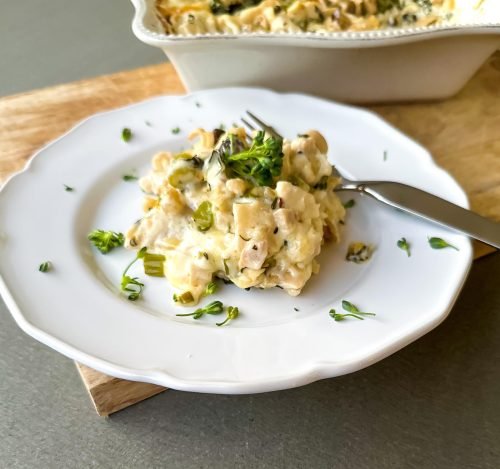 We're starting with gluten-free lasagna noodles as our canvas. They're the perfect backdrop for this gluten-conscious creation.
Now, let's talk about the star of the show—tender, succulent chicken. It's seasoned to perfection and layered generously throughout the lasagna, adding a hearty dose of protein.
But that's not all; we're throwing in some broccolini and mushrooms for a burst of earthy goodness. These veggies not only bring color to the dish but also provide a delightful contrast to the creamy white sauce.
Speaking of which, our velvety white sauce is a blend of cassava flour and half-and-half, resulting in a luscious, gluten-free alternative to the traditional roux. It's a game-changer!
A drizzle of olive oil or avocado oil adds a touch of richness, while an Italian cheese blend crowns this masterpiece. And for those who like a little kick, a pinch of crushed red pepper is the finishing touch.
The result? A harmonious medley of flavors that'll transport your taste buds to lasagna heaven It's the kind of dish that brings the whole family together for a memorable meal.
So, roll up your sleeves and get ready to savor every bite of this Chicken and Broccoli Lasagna with Creamy White Sauce. Your taste buds will thank you!
If you like this recipe, please leave a comment or share it with someone you know.
For more recipes like these try some of our other recipes:
To follow Nikki regularly and stay up to date on what she's doing, follow her on the gram!
Ingredient Lists:
Gluten-free lasagna noodles
chicken
broccoli
mushrooms
shallots
garlic
cassava flour
half-and-half
Salt and pepper
Olive oil or avocado oil
Italian cheese blend
Crushed red pepper
Chicken and Broccoli Lasagna with Creamy White Sauce
Ingredients
Gluten-free lasagna noodles

2 cups cooked chicken, shredded or chopped

2 cups broccolini, chopped

1 1/2 cups mushrooms, sliced

2 shallots, thinly sliced

4 cloves garlic, minced

3 tablespoons cassava flour

2 cups half-and-half

Salt and pepper to taste

Olive oil or avocado oil for drizzling

1 1/2 cups Italian cheese blend

Crushed red pepper (optional)
Instructions
Preheat Oven:
Preheat your oven to 375°F (190°C).
Sauté Vegetables:
In a large pan, heat a drizzle of olive or avocado oil over medium heat.

Add shallots and garlic, and sauté until translucent.

Add broccolini and mushrooms to the pan and sauté until tender. If you want a little kick, add a touch of optional crushed red pepper. Season with salt and pepper.
Bechamel Sauce:
Heat a drizzle of olive or avocado oil in another pan over medium heat.

Add cassava flour to make a roux, stirring constantly for about 2 minutes to cook out the flour taste.

Gradually pour in the half-and-half, bringing the mixture to a boil.

Add a handful of Italian cheese blend, stirring until a creamy sauce forms. Taste and add salt as needed.
Assemble the Lasagna:
Drizzle a small amount of the creamy sauce on the bottom of a baking dish.

Lay down a layer of gluten-free lasagna noodles.

Add the cooked chicken to the broccolini and mushroom mixture, mixing well.

Spread the chicken and vegetable mixture over the noodles.

Pour more of the creamy sauce over the layer.

Sprinkle some Italian cheese blend on top.

Repeat these layers until all ingredients are used, finishing with a generous layer of cheese on top.
Bake:
Cover the dish with foil and bake for 25 minutes.

Remove foil and bake for an additional 10 minutes, or until the cheese is bubbly and slightly golden.
Serving Suggestion:
Serve hot, and maybe pair it with a glass of your favorite wine.