Hey there, foodies! Today, I'm bringing you a cozy autumn treat that'll have you reaching for your favorite sweater and a steaming cup of tea. Get ready to indulge in the warm, comforting embrace of these Pumpkin Chocolate Chip Muffins.
These muffins are a symphony of flavors, blending the earthy richness of pumpkin with the sweet decadence of chocolate chips. The best part? They're gluten-free, thanks to a combination of cassava and brown rice flour. Perfect for those with dietary restrictions or anyone looking for a healthier alternative.
To achieve the perfect rise and texture, we've enlisted the help of baking powder and baking soda. And let's not forget the aromatic dance of pumpkin pie spice and a hint of salt to balance it all out.
Now, let's talk about the wet ingredients. Eggs, pumpkin puree, coconut milk, coconut oil, and a dash of vanilla extract combine to create a velvety pumpkin base that's simply irresistible.
But it doesn't stop there! We're taking these muffins to the next level with a generous sprinkling of chocolate chips. The melty, gooey chocolate bits will have you savoring each bite.
Whether you're craving a sweet breakfast, an afternoon pick-me-up, or a comforting dessert, these Pumpkin Chocolate Chip Muffins are your answer. Your taste buds will thank you for this delightful autumn treat. So, gather your ingredients, preheat that oven, and let's get baking!
If you like this recipe, please leave a comment or share it with someone you know.
For more recipes like these try some of our other recipes:
To follow Nikki regularly and stay up to date on what she's doing, follow her on the gram!
Ingredient Lists:
cassava flour
brown rice flour
coconut sugar
baking powder
baking soda
pumpkin pie spice
salt
large eggs
pumpkin puree
coconut milk
coconut oil
vanilla extract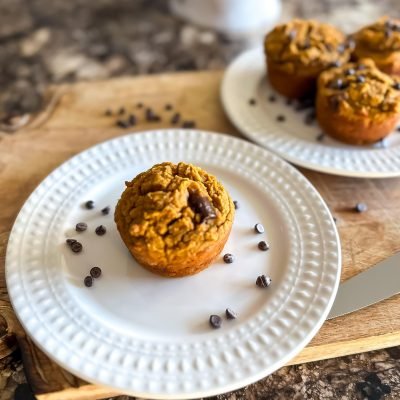 Pumpkin Chocolate Chip Muffins
Ingredients
Dry Ingredients
1 cup cassava flour

1/2 cup brown rice flour

1/2 cup coconut sugar

1 teaspoon baking powder

1/2 teaspoon baking soda

1 1/2 teaspoons pumpkin pie spice

1/2 teaspoon salt
Wet Ingredients
2 large eggs

1 cup canned pumpkin puree

1/2 cup coconut milk

1/4 cup melted coconut oil

1 teaspoon vanilla extract
Add-ins
3/4 cup chocolate chips (make sure they're gluten-free)
Instructions
Prep Steps
Preheat your oven to 375°F (190°C). Line a muffin tin with paper liners or lightly grease it.
Dry Mix
Combine cassava flour, brown rice flour, coconut sugar, baking powder, baking soda, pumpkin pie spice, and salt in a large mixing bowl. Mix well.
Wet Mix
In a separate bowl, whisk together the eggs, pumpkin puree, coconut milk, melted coconut oil, and vanilla extract until well blended.
Combine and Add the Chips
Pour the wet mixture into the dry ingredients and stir until just combined. Don't overmix; a few lumps are okay.

Fold in the chocolate chips.
Fill and Bake
Divide the batter evenly among the muffin cups, filling each about two-thirds full.

Bake for 20-25 minutes or until a toothpick inserted in the center comes out clean.

Allow the muffins to cool in the pan for about 5 minutes before transferring them to a wire rack to cool completely.