I always love homemade treats, these tasty cookies have been such a big hit lately, so I thinks its time I share the deliciousness. This Easy Biscotti Recipe is so versatile, if you like your Biscotti cookie less sweet you can opt out of the chocolate. You can customize your Easy Biscotti Recipe however you prefer them. Including using different types of milk, dark, or white chocolate depending on your preference. As well as the variety of different ways you can enjoy them. One of my favorites is with a warm cup of coffee, or as a lighter snack.
Homemade Biscotti
To begin with the cookie part of our recipe, you're going to want to pre heat your oven to 325 degrees and line a baking sheet with parchment paper. While your oven is pre heating, add 1 stick of room temperature butter, 2 tsp of vanilla extract, and 3/4 cup of sugar to a large mixing bowl (you will be adding your dry ingredients to this bowl, so make sure its large enough for the dough). Then I used a hand mixer on a low speed to combine the three ingredients. Once combined I added in 2 eggs and continued to combine with the hand mixer on low.
For our dry ingredients, grab a medium bowl, and combine 2 cups of flour, 1 tsp of salt, and 1 1/2 tsp of baking powder. Whisk these together and slowly incorporate the dry ingredients into the egg mixture. Again this recipe is very versatile, I added 1 cup of pistachios into my dough, but you can eliminate nuts altogether for allergies, or add different nuts if you choose. Either way, using a spatula, fold in 1 cup of pistachios into your batter.
The dough
Once you have formed your dough, flour a flat surface and knead your dough for a minute or two. I formed my dough into a large ball, in order to divide it into 3 sections more evenly. Forming the dough into long logs, that are about 1 1/4 in diameter.  Place the logs on the baking sheet and bake for 40 minutes.
Once the Biscotti dough is finished cooking, let it cool fully. When they are fully cooled, I use a serrated knife and slice the Biscotti logs diagonally into slices that are about 1/2 an inch thick. Biscotti's are traditionally, a harder cookie, so in order to achieve this texture, lay out all your cookies back onto the baking sheet and cook them for another 10 minutes at 325.
Chocolate sauce
While the Biscotti's are in the oven, I brought a small pot of water to a boil over medium to high heat. Then in a separate heat safe bowl, I typically use glass bowls for this. Place 8 ounces of your preferred chocolate chips in the heat safe bowl. When the water in the pot is at a slow boil, place the heat safe bowl on top of the pot, this creates a double boiler so the chocolate chips will melt smoothly. Whisk the chocolate chips slowly until they are melted thoroughly.
After the cookies are done browning in the oven, dip one end of the cookie into the chocolate melt. I dipped the cookies about half way, but you can dip more or less if you prefer. Once you've dipped all your Biscotti's space them back on the cookie sheet with fresh parchment paper. Then place the dipped cookies into the freezer or refrigerator to harden.
Once the chocolate is hardened the Biscotti's are ready to enjoy! The traditional Italian cookie is so delicious dunked in a cup of coffee, you'll be hooked I promise. I hope you enjoyed this recipe and that it gives you all the joy of being in Italy.
If you like this recipe, please leave a comment or share it with someone you know.
For more recipes like these try some of our other recipes:
Autumn Zucchini Muffins with Cinnamon and Pumpkin Spice Butter
Best Chocolate Chip Banana Bread Recipe
Strawberry Shortcake Recipe
To follow Nikki regularly and stay up to date on what she's doing, follow her on the gram!
Ingredient Lists:
flour
sugar
butter
eggs
vanilla extract
star anise powder
baking powder
pistachios
salt
chocolate chips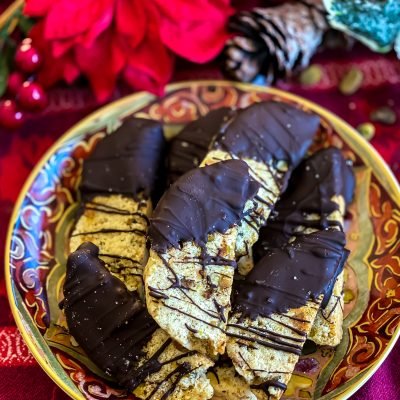 Chocolate Biscotti
Homemade biscotti dipped in creamy chocolate
Ingredients
2

cups

flour

3/4

cup

sugar

1

stick

butter- room temperature

2

eggs

2

tsp

vanilla extract

1

tsp

star anise powder

optional

1 1/2

tsp

baking powder

1

cup

pistachios

1

tsp

salt

8

oz

chocolate chips
Instructions
Pre-heat the oven to 325 degrees. Line a baking sheet with parchment paper.

Add butter, vanilla and sugar to a bowl. Using a hand mixer beat the mixture on low. Add in your eggs and continue beating.

In a second bowl whisk together flour, salt and baking powder. Slowly pour in the flour mixture into the egg mixture. Using a spatula, fold in the pistachios to the batter.

Place dough on a floured surface and knead for a minute or two. Form into a large ball. Using a knife, divide the ball into three equal parts and form into long logs that are 1 1/4 inch in diameter. Place the logs on the baking sheet and bake for 40 minutes.

When cookies are done baking let them fully cool. Place each log onto a cutting board and use a serrated knife to slice the logs into diagonal pieces, about 1/2 inch thick. Place back into the oven and bake for another 10 minutes.

Next, bring a small pot of water to a slight boil over medium/high heat. Place the chocolate chips into a heat safe bowl. When water is at a slow boil, place the bowl of chocolate chips over top to create a double boiler. Using a whisk, slowly stir the chocolate chips until fully melted.

When cookies are done browning, dip each cookie into the melted chocolate. Dip the cookie about halfway. Place back on the parchment paper to let cool. When all cookies are dipped, place the cookie sheet into the freezer or refrigerator to let harden.

When chocolate is hard and set, remove from the freezer and place cookies on a serving platter. Enjoy these cookies with coffee, as a snack, or for dessert!