Looking for a delicious way to reduce inflammation? This chicken and broccoli stir-fry is packed with anti-inflammatory ingredients that will leave you feeling amazing!
The combination of juicy chicken and tender broccoli in a savory sauce makes it a satisfying meal that is perfect for a busy weeknight.
You can make this dish your own by substituting different vegetables, adjusting the spiciness, or adding your favorite seasonings. Try this delicious stir-fry today and enjoy!
If you like this recipe, please leave a comment or share it with someone you know.
For more recipes like these try some of our other recipes:
To follow Nikki regularly and stay up to date on what she's doing, follow her on the gram!
Ingredient Lists:
boneless, skinless chicken breasts
broccolini, chopped
avocado oil
garlic
ginger
liquid aminos
hoisin sauce
rice vinegar
cassava flour or cornstarch
Salt and pepper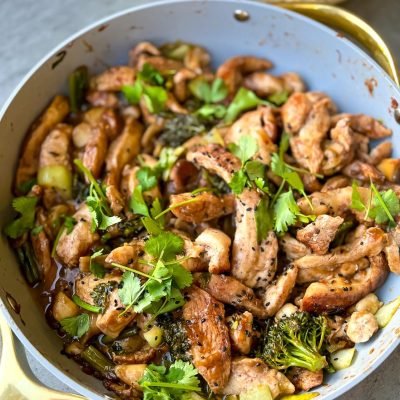 Chicken and Broccoli Stir-fry
Ingredients
1

lb

boneless, skinless chicken breasts, diced

2

heads

of broccolini, chopped

2

tbsp

avocado oil

2

cloves

garlic, minced

1

inch

ginger, grated

2

tbsp

liquid aminos

2

tbsp

hoisin sauce

2

tbsp

rice vinegar

1

tbsp

cassava flour or cornstarch

Salt and pepper to taste
Instructions
Whisk together the liquid aminos, hoisin sauce, rice vinegar, cassava flour/cornstarch, salt, and pepper in a small bowl. Set aside.

Heat the oil over high heat in a large wok or frying pan. Add the diced chicken and stir-fry.until browned, about 5 minutes. Remove the chicken from the pan and set it aside.

In the same pan, add the minced garlic, grated ginger, and chopped broccoli. Continue to stir-fry until the broccoli is bright green and just tender after about 3–5 minutes.

Add the chicken back into the pan, along with the sauce mixture. Stir-fry until the sauce has thickened and the chicken is cooked through, about 2-3 minutes.5. Serve over a bed of cooked rice or noodles, and garnish with chopped scallions or sesame seeds, if desired. Enjoy!