This post may contain affiliate links, please see our privacy policy for details.
Who doesn't love fresh piping hot pizza straight from the oven? The weather is cooling down and comfort food is all the rage right now, especially pizza. Most of us have to call pizza delivery or pick up when we are craving this classic favorite, but what if you could make fresh pizza at home? With this Easy Homemade Pizza Dough you can make fresh pizza right from the comfort of your own kitchen. The best part about this recipe is it only requires four ingredients!
Use this dough recipe to make any kind of pizza you wish, or add it to a deep dish baking pan and make a fresh focaccia loaf. The possibilities are endless!
To watch me make this pizza from start to finish don't forget to visit my Amazon Live to see this recipe made from start to finish.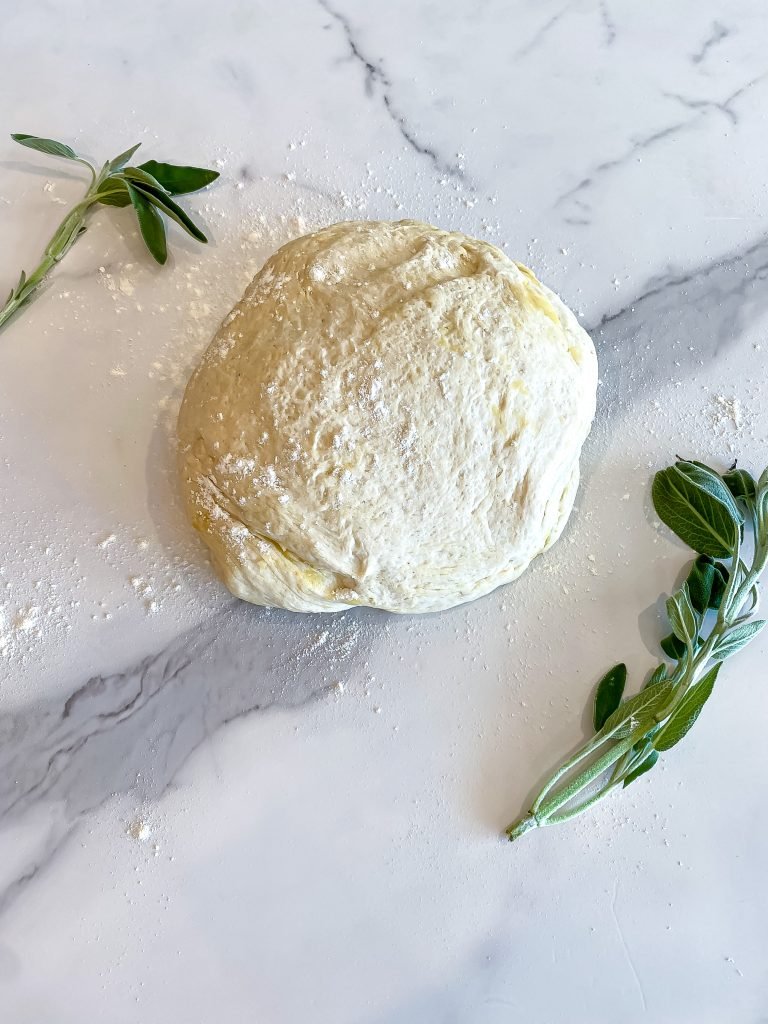 To make this dough it does require a little bit of time. The prep is easy and quick, but this dough does need time to rest and rise. If you can give the dough at least 90 minutes to fully develop, you will have a beautiful piece of dough that will create the fluffiest breads and pizzas.
To start, you want to mix the dry ingredients in one bowl and yeast and water in a second bowl, or measuring cup.
Make a well in your flour mixture and then slowly add the water and yeast mixture. While you're slowly pouring in the water mixture, use a fork to incorporate the flour at the same time. Continue this process until a ball of dough as formed. If the dough is too sticky add a little bit of flour until the dough is workable. Place the dough on a floured surface and knead for 5-10 minutes.
To knead the dough, push the dough ball away from you and then pull it back. Continue this process for the remaining time, adding flour as needed.
Place the dough in the bottom of a bowl that has been coated with olive oil. Drizzle extra olive oil on top and cover with a towel or plastic wrap. Place the dough in a dark and warm place and let rise for at least 1 hour.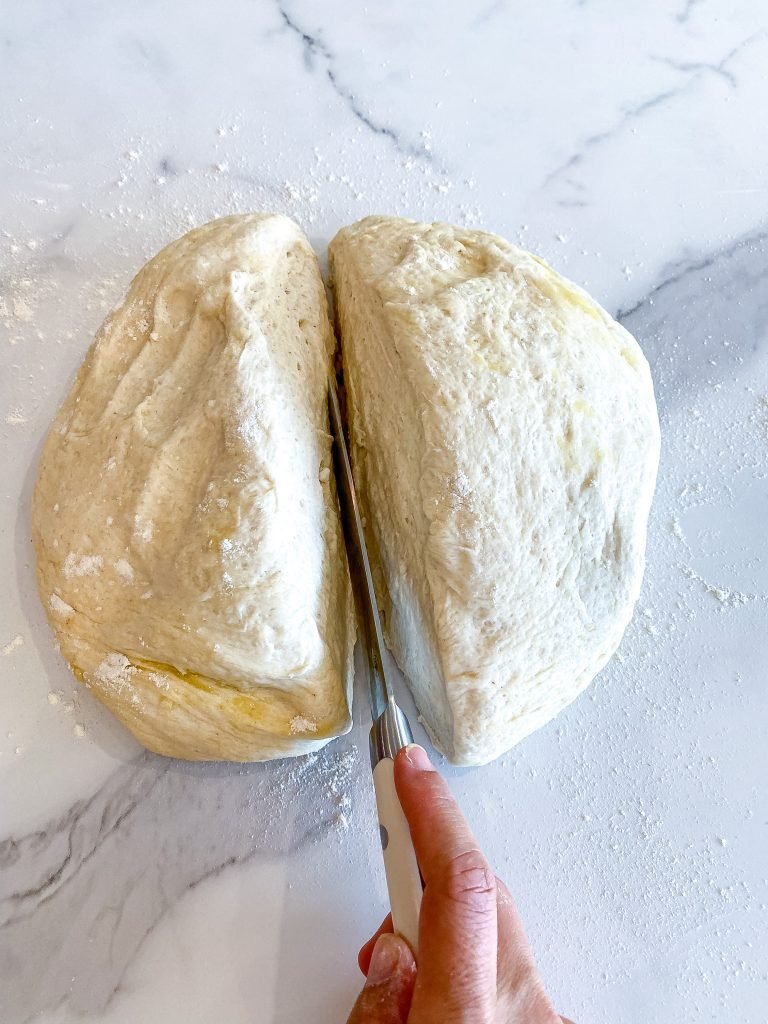 When does is done rising, remove from the oiled bowl and place on a floured workspace. Using a sharp knife, cut the dough in half.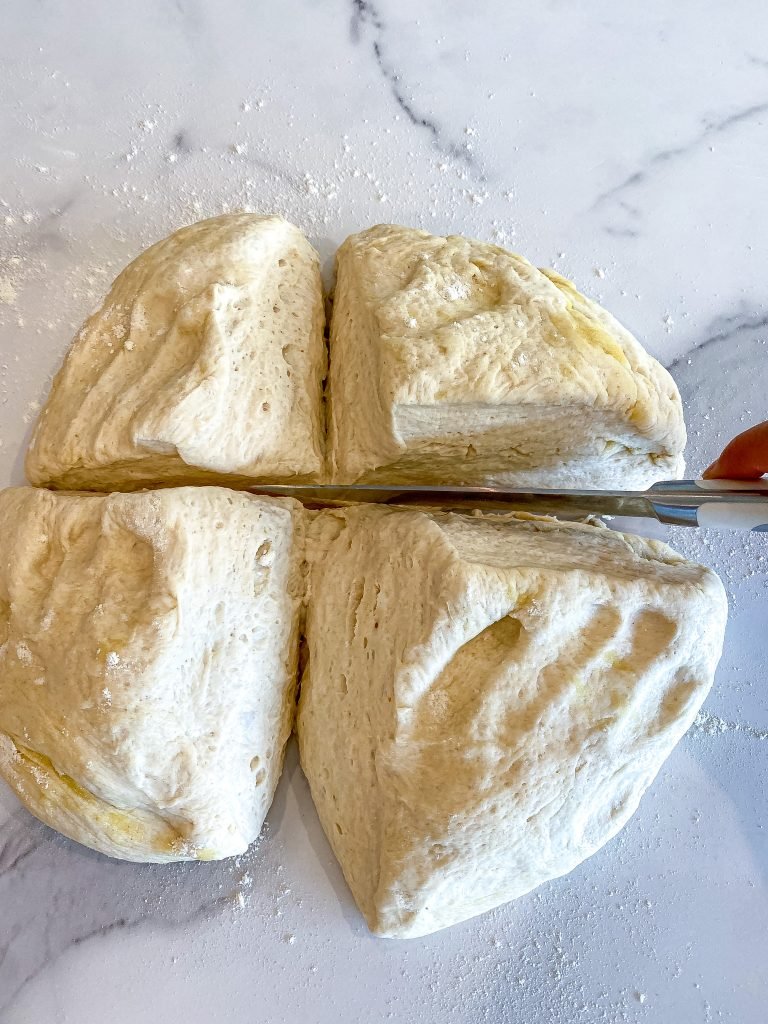 Then cut it into quarters.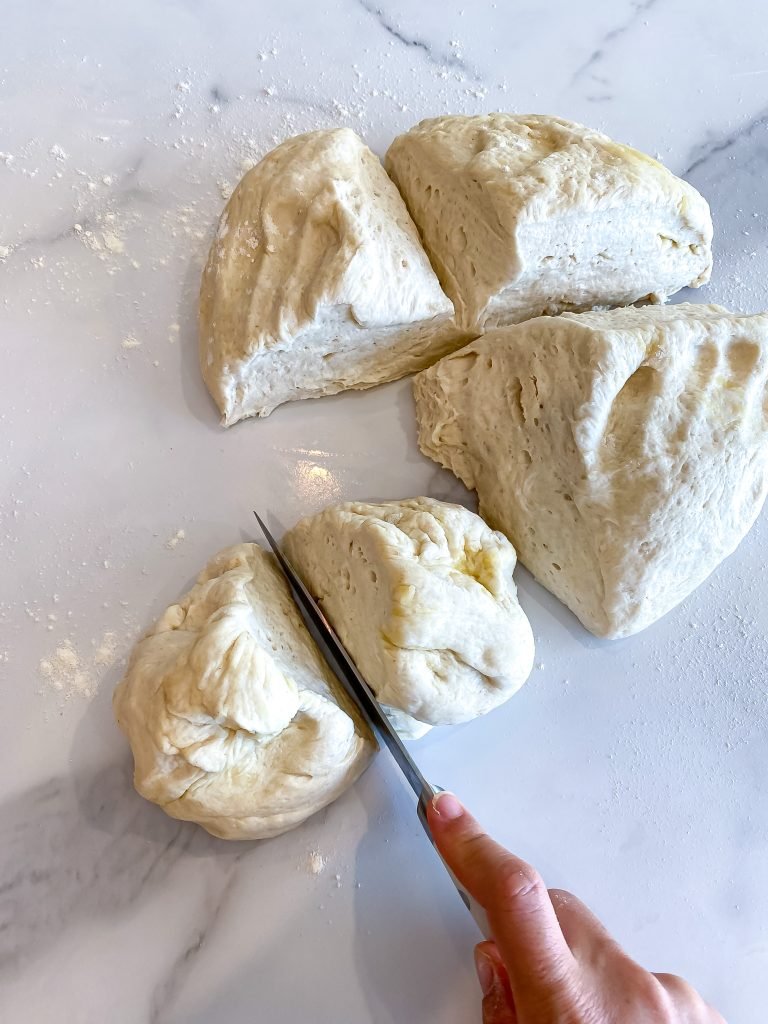 Then cut each quarter in half.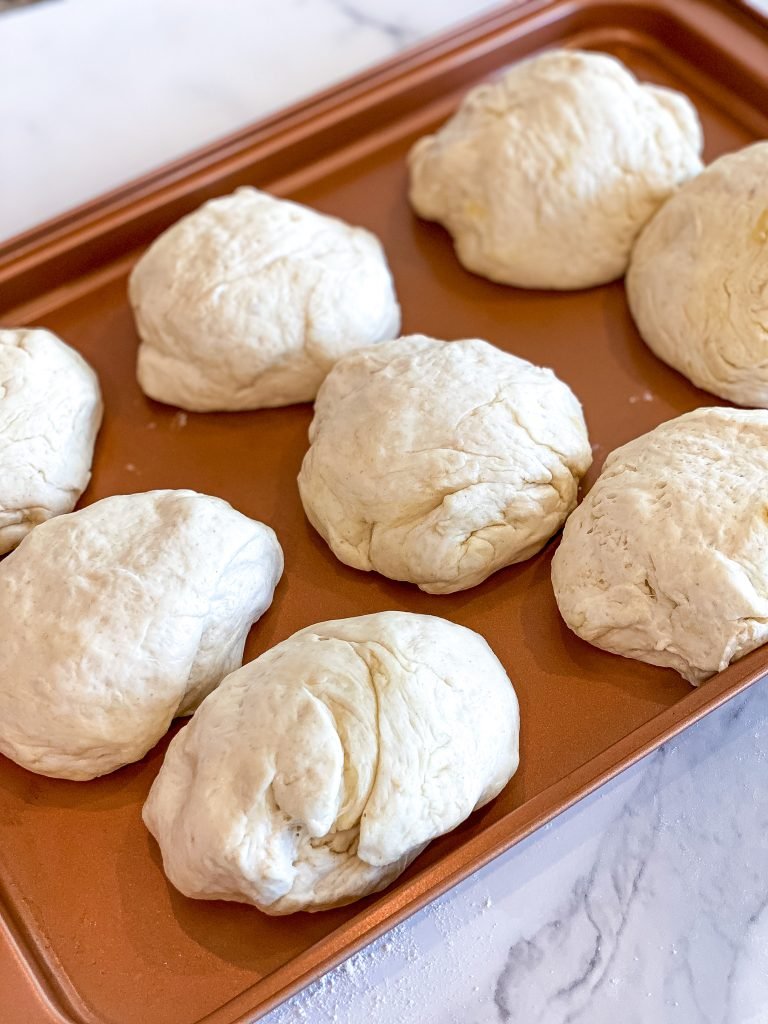 You will have eight small balls of dough. Place them on a cookie sheet and then cover with a towel and place in a warm dark place to continue rising for another 30 minutes.
When the dough is ready, roll it out into desired shape and add your favorite toppings. Place the pizza in the oven or in your favorite pizza oven.
I use the OONI Pizza Oven at home. It's truly amazing! For a more cost friendly option I have included the Betty Crocker Pizza Oven.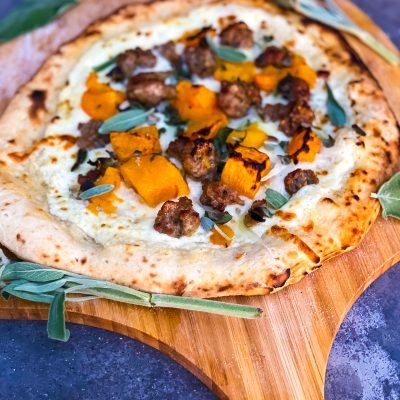 Easy Homemade Pizza Dough
Fresh homemade pizza dough using only four ingredients. This recipe makes it easy to create restaurant quality pizza at home. Use this recipe for pizza or turn it into a focaccia loaf.
Ingredients
5

cups

00 flour

2 2/3

cup

warm water

2

tbsp

active yeast

2

tsp

sea salt

olive oil
Instructions
In a large bowl add flour and salt. Using a whisk mix well.

Mix the yeast into the water. Making a well in the flour, slowly pour the yeast water into the hole and start mixing in the flour. Do this until all of the flour is mixed into the water and a ball of dough is formed.

Flour a clean surface. Add ball of dough and start to knead. If the dough is to sticky (wet) add a little bit more flour. Do this until you have a nice clean ball fo dough that is easy to knead.

Knead the dough for 5-10 minutes. To knead the dough, push the dough away from you and then bring it back. Continue this motion for the duration of the time.

Drizzle olive oil at the bottom of a bowl and place the ball of dough inside. Drizzle olive oil on top as well. Cover with a towel and place in a warm dark place. Let the dough rise for at least an hour.

When dough has doubled in size, remove from the bowl and place on a floured surface. Cut the dough in half. The cut each half in half. The cut those pieces in half. You should be left with eight equal pieces of dough. Roll into small balls and place on a cookie sheet. Cover with a towel and place in dark warm place to continue rising for 30 minutes.

When dough is done rising place one ball of dough on a clean, floured surface. Using a rolling pin, roll the dough into a circular shape. Top with your favorite toppings and place in your pizza oven to enjoy a home cooked pizza!
If you like this recipe, please leave a comment or share it with someone you know.
For more recipes like these try some of our other recipes:
Oma's Arugula Salad
Pumpkin Risotto
Creamy Italian Potatoes
To follow Nikki regularly and stay up to date on what she's doing, follow her on the gram!
Ingredient Lists:
00 flour
warm water
active yeast
sea salt
olive oil