It's that time of year when pumpkins are all the rage, except why stick to basic fall recipes, when you can try something new that will satisfy all your fall desires? This creamy pumpkin risotto is the perfect combination to quench that taste of fall. Risotto might seem like a challenge at first, but rest assured you'll want to overcome any challenge to enjoy the creamy texture and versatility this dish brings. The oven roasted pumpkin is pulpous with vibrant flavors, paired flawlessly with a creamy risotto that is so simple to make, yet will deliver joy with every savory bite.
We'll start using a large knife to cut up your pumpkin or squash into sections, placing them into a large mixing bowl, combine your sage, garlic cloves, and salt and pepper. Then drizzle olive oil onto the slices to cover them in their entirety. Roast mixture for 15 minutes on a baking sheet at 425 degrees.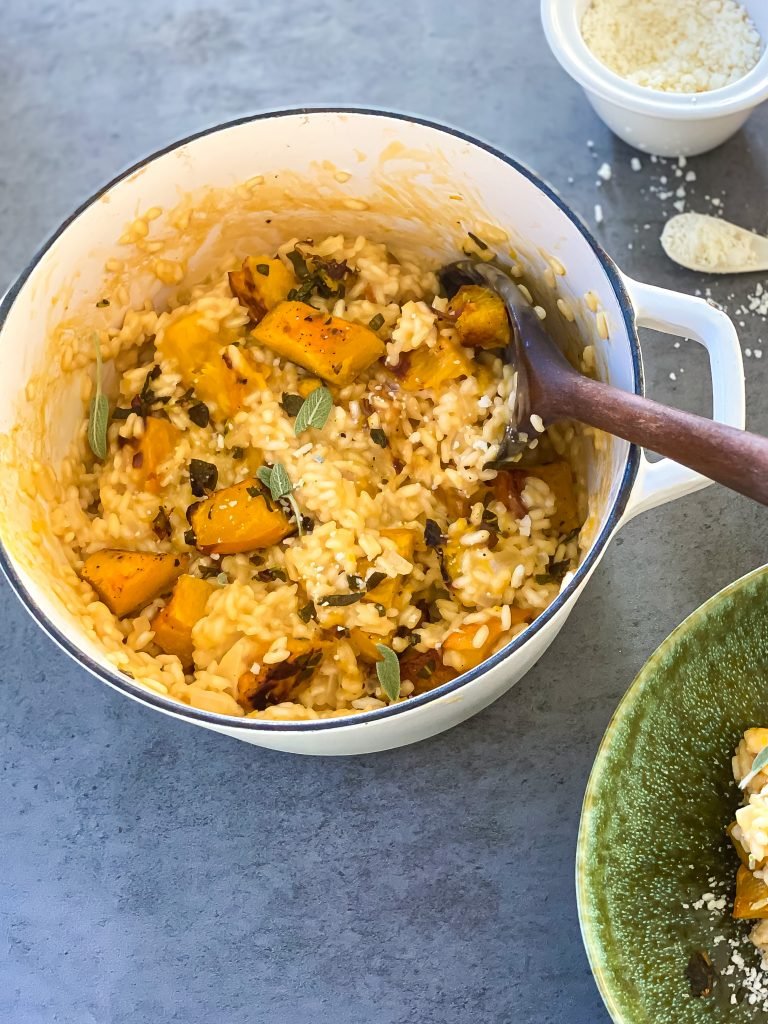 While the pumpkin is in the oven, with a medium pan, add 2 tbsp of butter and you olive oil. When butter is melted add onions and sauté until soft. While the onions are sautéing , in a small pot add your preferred vegetable or chicken broth over low heat, when onions are soft, add your rice and sauté for a couple minutes, add wine into the mixture and let it reduce by half. The broth should be warm before adding it to the risotto, wine mix.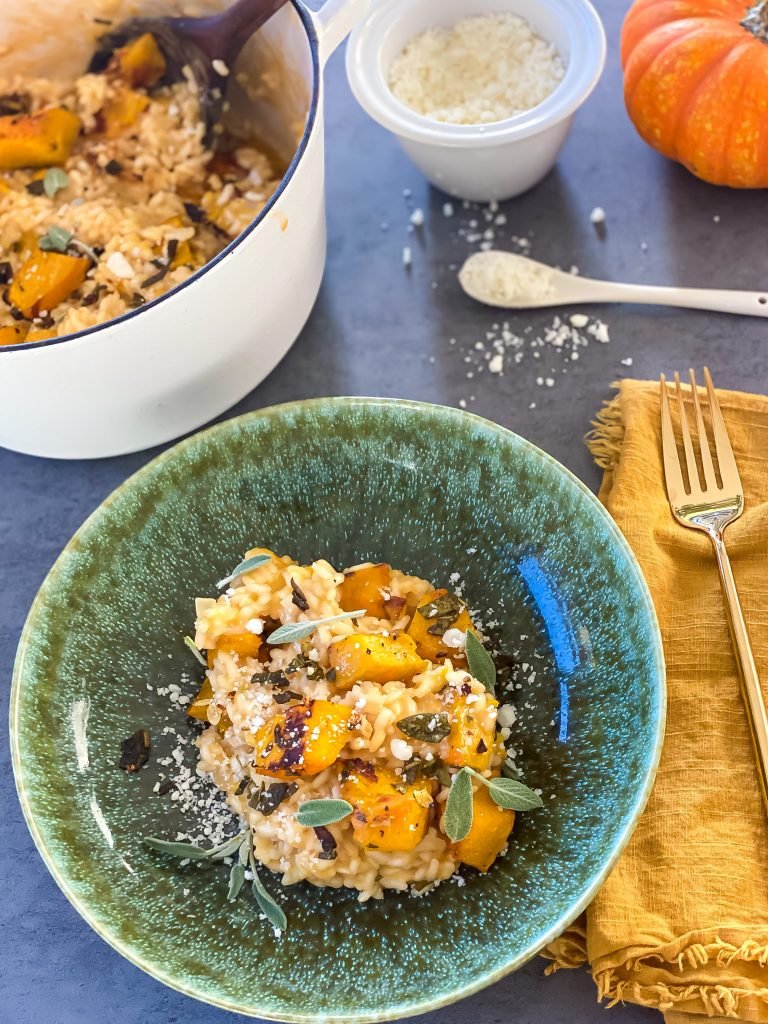 Ladle in your broth and stir it into the rice mixture, so that the rice will absorb the broth more effectively. The rice shouldn't be mushy, but al dente, meaning soft but firm when bit into. Finally add the remainder of the butter, slowly adding your desired amount of cheese and stirring to combine.
Remove pumpkin mixture form the oven and incorporate it with the risotto, adding anymore desired cheese to the top of the dish.
I hope you enjoy with fall dish as much as I did, and I hope that it brings new light onto the endless possibilities food can bring into our lives. New creations can bring the biggest smiles to our faces and warm feelings in our full bellies.
Roasted Pumpkin and Sage Risotto
Ingredients
1

cup

aborio rice

3

cups

chicken or vegetable broth

1/4

cup

white wine

2

cups

pumpkin or butternut squash

1/2

onion- finely chopped

1/2

cup

sage-chopped

1

clove

garlic- minced

3

tbsp

butter

1/4

cup

heavy cream (optional)

1

cup

parmesan cheese- grated

salt/pepper for taste
Instructions
Pre-heat oven to 425 degrees.

Place pumpkin or butternut squash in a large bowl. Add sage and garlic clove. Season with 2 tsp salt and 1/4 tsp of pepper. Drizzle olive oil over the mixture until nicely coated. Mix all of the ingredients together. Pour mixture onto a baking pan and place in the oven for about 15 minutes.

While pumpkin is cooking start making the risotto. Place a medium pot over medium heat. Add 2 tbsp of butter and 1 tbsp of olive oil. When butter has melted add onion and saute until soft and translucent. While onion is cooking add chicken/vegetable broth to small pot over low heat. Note: you want the broth to be warm when you start adding it to you risotto mixture.

When onion is soft add the rice and saute for a few minutes. Next, add the wine and cook until reduced by half. Using a ladle start adding your broth one ladle at a time. Stir the rice mixture with a spoon to allow the rice to absorb the liquid. Continue this process until all of the liquid has been absorbed and the rice is soft, but not mushy. You want an al dente texture.

Add cream and remaining tbsp of butter. Stir in cheese a little at a time. It's optional if you want to use the entire cup. Taste as you go to get the desired flavor. Season with salt and pepper as needed.

Finally, remove the pumpkin mixture from the oven and add to the risotto mixture, stirring to combine all of the ingredients.

Serve with extra cheese (if desires). Enjoy!
If you like this recipe, please leave a comment or share it with someone you know.
For more recipes like these try some of our other recipes:
To follow Nikki regularly and stay up to date on what she's doing, follow her on the gram!
Ingredient Lists:
aborio rice
chicken or vegetable broth
white wine
pumpkin or butternut squash
onion
sage
garlic
butter
heavy cream
parmesan cheese
salt
pepper